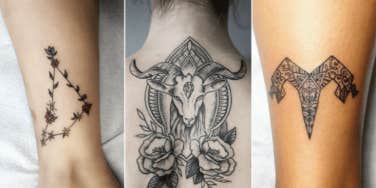 Get ready to be inspired.
Tattoos tend to carry a lot of meaning with them, so when you put permanent ink on your body, you better make sure it has a damn good meaning.
Some people get tattoos in honor of loved ones, important experiences or daily reminders of how to live their best life. Since it will be forever a part of you, it's best to choose something that you won't regret in a few weeks. So getting "b*tch" on your forehead probably isn't the smartest move.
---
---
Many people opt for tattoos of things that will always be in their lives, whether or not it's on their skin. When thinking of something meaningful enough and forever to tattoo onto your skin, it may be a hard and thoughtful process.
But it can also be an easy decision because your zodiac sign is something that will never change and will stick with you forever.
Not only is your zodiac sign forever a part of you, but it also sends a message to the world about who you are. We use our zodiac sign to define us and our personality. Getting a tattoo of your zodiac sign is expressing a very inner part of yourself.
Sure, you could focus on updating your wardrobe or post a bunch of Deepak Chopra quotes on your Facebook page if you're wanting to display a little self-expression. But rather than chase something that you'll forget you did in a few years, why not opt for something you'll never forget, like some of the best zodiac tattoos?
---
---
Zodiac tattoos are not only full of meaning, but they can be absolutely beautiful when displayed as a piece of art. Some people go for the big, over the top tattoos with intricate designs and themes, and others chose to have little, hidden tattoos that offer a subtle, yet still valuable meaning.
Tattoos are an art form that leaves a permanent mark of beauty on your skin. Choose a zodiac sign tattoo to represent what would not only be meaningful but also beautiful. Plus, it's always fun to show off the things you love, and this tattoo could be a good chance.
No matter which level of art you chose to have on your body, a zodiac tattoo isn't something that will go out of style anytime soon. If you're looking for inspiration on how to design your zodiac ink, check out some of the best zodiac tattoos we've compiled.
---
---
Emily Blackwood is an editor at YourTango who covers pop culture, true crime, dating, relationships and everything in between. Every Wednesday at 10:20 p.m. you can ask her any and all questions about self-love, dating, and relationships LIVE on YourTango's Facebook page. You can follow her on Instagram (@blackw00d) and Twitter (@emztweetz).
ARIES (March 21 - April 19)
TAURUS (April 20 - May 20)
GEMINI (May 21 - June 20)
CANCER (June 21 - July 22)
LEO (July 23 - August 22)
Known for being proud, a Leo should have a big, proud tattoo.
---
VIRGO (August 23 - September 22)
LIBRA (September 23 - October 22)
SCORPIO (October 23 - November 21)
SAGITTARIUS (November 22 - December 21)
CAPRICORN (December 22 - January 19)
AQUARIUS (January 20 - February 18)
Use beautiful blue colors to show of your water sign Aquarius.
---
PISCES (February 19 - March 20)
Previous
Next
BEGIN