Find out...
Everything about you changes when you're part of a couple and sometimes those changes are weird, wonderful, and awkward. When you were single, you could do what you wanted to, say anything, and you were encouraged to put yourself first, always.
Once you're in a long-term relationship, it's no longer just about you and you have to take what the other person wants, needs, and thinks into consideration. I can only think that if you're in a polyamorous relationship it gets even more complicated.
We all know that change is good, but sometimes it just sucks and you must put all your energy into being OK with the fact that you no longer have a whole closet to yourself or that you have to share the bathroom. You need to be OK with showing your true self to another person.
You don't want to be a jerk, but some of the things your partner does annoy you, although you're fairly certain that nothing you do is annoying or irritating at all. There's a period of transition when you go from dating to a serious relationship, and then when you go from in a relationship status to moving in together.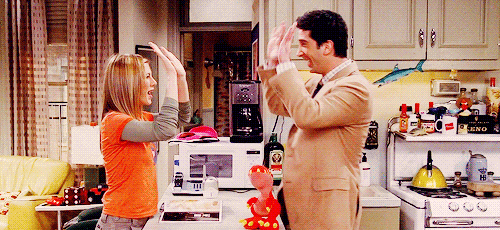 Giphy
The good news is that over time, you get comfortable with each other. You still might be annoyed but you learn to live with it or look at it as something lovable about your partner.
You get into a groove with your significant other and it can feel as if you're almost one person. You share with each other — not just your secrets and your success, but you share the behind-closed-doors stuff that even your best friends don't know about.
You become comfortable enough to share your flaws, idiosyncrasies, quirks and any other weird habits and behaviors with them.
But what's really strange is that these things don't seem out of the ordinary to your partner and some of them you create together. Here are some of the things awkward couples do when in a relationship, according to your zodiac sign.
Aries (March 21 - April 19)
Taurus (April 20 - May 20)
Gemini (May 21 - June 20)
Cancer (June 21 - July 22)
Leo (July 23 - August 22)
You don't even blink an eye when your partner comes home to find you in your underwear singing at the top of your lungs to an old song or posing in the mirror like you're some kind of porn star. This is the real you, Leo.
Virgo (August 23 - September 22)
Libra (September 23 - October 22)
Scorpio (October 23 - November 21)
Sagittarius (November 22 - December 21)
Capricorn (December 22 - January 19)
Aquarius (January 20 - February 18)
Pisces (February 19 - March 20)