Shine some light on that dark side.
Do you ever wonder what your dark side looks like? Well, you do have some darkness in you, whether you know it or not. OK, so maybe it's not an entire 50 percent side; perhaps you only have about a fourth of your personality that's dark, but no one is 100 percent light and good.
We all have elements of dark and light and everything in between as far as our personalities go. Even if you were the standard comic book villain, you'd still have good qualities; in fact, it's the mix of good and bad that make characters and people interesting.
Hopefully, you have more light and good in you than a completely dark and angry soul.
When you look back on the things you've done and the actions you've taken throughout your life, you'd probably find some shining moments of kindness and love, but sprinkled through those positive things would be some more negative actions.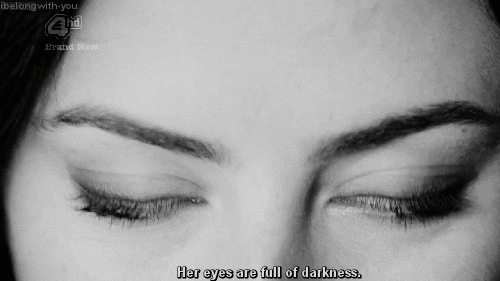 Giphy
We're not always conscious when we're doing something dark and only realize it after the fact which can make it a little easier to take. If you're fully aware that you're doing something that's going to affect a negative change and could possibly end up hurting someone, that just makes it worse.
Sometimes we only inflict our dark tendencies on ourselves, and we do things that we know are wrong and hurtful but we do them anyway. We don't protect ourselves from our worst instincts.
But if we want to get rid of our behaviors that hurt ourselves and others, we need to be fully aware of what they might be, and astrology can help. The stars know which of the zodiac signs have more of a dark soul than the others, and they know what your dark side is like.
It's good for us to recognize all the parts of our personality and to know how much darkness is buried deep within us. So, how much of a dark side do you have?
Aries (March 21 - April 19)
Taurus (April 20 - May 20)
Gemini (May 21 - June 20)
Cancer (June 21 - July 22)
Leo (July 23 - August 22)
Leo, you don't have much of a dark side, which is a relief as you're often a leader and have the ability and influence to lead others to commit acts of darkness if you wanted them to. So, no, you'll stay positive and happy and ignore any darkness that you may have buried deep inside your soul.
Virgo (August 23 - September 22)
Libra (September 23 - October 22)
Scorpio (October 23 - November 21)
There's no way around it but, yes, Scorpio definitely has a dark side and all somebody has to do to see it in its full force is to betray, hurt, or lie to you. You're a big believer in revenge and for teaching others a lesson they'll never forget. You're a master at vengeance and holding a grudge. You're not one to let it go and believe that everyone must pay if they owe you a debt of some kind.
Read: 14 Brutal Truths About Loving A Scorpio, As Written By One
Sagittarius (November 22 - December 21)
Capricorn (December 22 - January 19)
Aquarius (January 20 - February 18)
Aquarius is quirky and unorthodox but not especially dark, though some may see your aloofness as a bit dark... but you don't care. You're going to do what you want to do and follow your own path. If people want to see you as some kind of mystery, that's OK, but you're not going to let it affect your mood or your disposition in any way.
Read: 7 Brutal Truths About Loving An Aquarius, As Written By One
Pisces (February 19 - March 20)