Photo: Columbia Pictures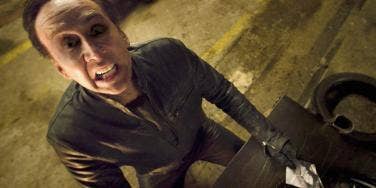 Apparently, even just BEING rich is expensive.
The average person doesn't really understand the economics behind being famous. Most people think that famous people are just rich, and they have no idea where that money comes from. They don't really understand how royalties work and things like that, so regular people make a lot of assumptions about celebrity bank accounts.
You know who else makes those same assumptions? Celebrities. It turns out, very few people understand economics and budgeting and boring-yet-super-important stuff like that. Someone might be famous, but that doesn't mean that they're still making money. Sometimes, they make a lot of money really quick, and then make almost nothing for several years ... but keep on spending money like it's still rolling in.
That's why it shouldn't be surprising to find out that celebs often go broke. They live like they're making millions a year, but that's usually not the case. Here are ten celebrities that didn't realize they were running low on dough until it was too late.
1. Kim Basinger
Kim Basinger was once so rich that she bought an entire town in Georgia (at least, she was rich enough for that rumor to spread about her, I'm not sure you can actually buy a town). In the early '90s, she had to declare bankruptcy after losing a lawsuit when she dropped out of a movie.
2. Pamela Anderson
Former Baywatch star Pam Anderson got into trouble when she was hit with a tax bill while she was having major construction done on her mansion in 2009. Apparently, she didn't have enough money to cover the cost of even one of those, nevermind both at the same time.
3. Nicolas Cage
Ever wonder why Nicolas Cage does so many weird movies? Because he's still digging himself out of a gigantic financial hole he dug himself by spending money like he was a king. He literally has to say yes to every role that's offered to him.
4. Lindsay Lohan
If you keep living the movie star lifestyle long after you've stopped being an actual movie star, it's going to catch up to you. That's what happened to Lindsay Lohan. She stopped getting roles because she notoriously difficult to work with because of her partying. When the work stopped, the party didn't, and neither did the taxes nor legal fees from her long-suffering attorney. Not a good financial decision. It was so bad that Charlie Sheen actually helped her out with some of her bills.
5. Kelis
Remember that song "Milkshake?" Well, Kelis' bank account has long forgotten about it. The singer completely ran out of money, which was revealed during her divorce from Nas — and is probably in part because she admits she wants to keep dripping in diamonds and flying first class.
6. MC Hammer
Being a one hit wonder will only buy so many pairs of parachute pants. MC Hammer realized too late that you can only live off one song for so long ... and that hiring an enormous entourage of buddies who may or may not be gang rapists gets really, really expensive. He filed for bankrupty in 1996.
7. Gary Busey
This former action star declared bankruptcy in 2012. Gary Busey was once in serious motorcycle accident in 1988, and it's believed that his injuries caused serious brain damage. Since the accident, his behavior has become more erratic and impulsive, which makes his career downturn not very surprising.
Photo: Paramount Pictures
9. Billy Joel
Don't let family handle your finances. Billy Joel found this out the hard way after his now-ex brother-in-law mishandled Joel's money and he lost everything.
10. Mike Tyson
Back in 2003, Mike Tyson was out of money. He claimed it was door to bad financial advice, but based on his face tattoo and legal troubles, it's safe to assume that other things (like a history of making terrible decisions) played a factor in his financial woes.
Previous
Next
BEGIN