Photo: WeHeartIt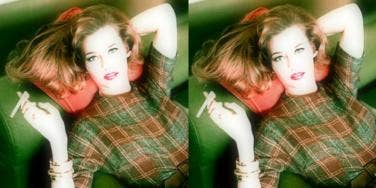 Look familiar? Probably not.
I'll be frank, I'm only 22 (not old), and up until now, I've often wondered why women start lying about their age and when the lies begin. When should I be ashamed of my age?.
However, as I approach 23, I'm being constantly reminded that I'm a couple years from 25 (i.e. not so far from youth dwindling), and I know there's no going back. And, no, there never was any going back ... but when you're bubble wrapped in youth, it doesn't matter so much.
Anyway, I think I've answered my own question. It's not so much of the aging that bothers us, but the regret and the nostalgia of good times we'll never get back — both nostalgia of adventure and a time when your face wasn't a road map for every emotion you've felt throughout your life, but undoubtedly sexy.
While looks aren't everything, they are a constant reminder that you didn't always look this way, as you stare at your unfamiliar face in the mirror.
We're all guilty of letting nostalgia consume us, but here are 20 celebrities who are old now and were smoking hot back in the day. If nothing else, they serve as a reminder for us to live in the now and enjoy our youth while it's here ... before it's unrecognizable.
And might I add, they looked damn good without any filters.
1. Meryl Streep
Streep is still a solid force, giving us face in the entertainment industry, well into her 60s (and since her 20s). She's most recently known by us young folks from movies like The Devil Wears Prada, but she's been in the game for quite some time.
2. Honor Blackman
Blackman, now 90, is best known for her role as a Bond Girl in Goldfinger and the 1961 Avengers series.
3. Olivia de Havilland
Havilland was born July 1, 1916 — yes, she's approaching the grand age of 100. She's best known for her role as Melanie Hamilton (ahmm, aka, Ashley's cousin and wife) in Gone with the Wind. While, she's had roles up until the 80s, she's led a fairly quiet life.
4. Priscilla Barnes
Barnes is known for her role as the foxy nurse, Terry from Three's Company. Unfortunately, age hasn't done her much justice as she's approaching 60; although, I must admit that her role in Jane the Virgin probably didn't intend for her to look all that good looking.
5. Hugh Hefner
The Playboy himself has always been handsome with his smoke jacket and flock of women — and not much has changed for him at 89.
6. Clint Eastwood
Not only has Clint Eastwood still got it at 85, but he also passed it down to his son. We're hoping this is a genetic thing and we'll always have an Eastwood to lock our eyes on.
7. Jane Fonda
It's not much of a shocker that Fonda was stone cold in her hay days, because let's face it she's still got it at 77 and she reminded us of that in her recent Netflix series, Grace and Frankie.
9. Faye Dunaway
Best known for her bag girl Bonnie role, in Bonnie and Clyde and her interesting parenting tactics in Mommie Dearest; Dunaway was undoubtedly quite beautiful during her youth.
10. Diane Keaton
I'll cut to the chase, nobody despises Diane Keaton and her annoying, squeaky voice — so much so, that I truly don't even enjoy looking at her face. She's cringe worth! But, I have to admit she's got this sexy librarian thing going for her in her youth.
11. Muhammad Ali
Ali was a very handsome and even a ladies man in his prime, his number of wives might've let you in on that though. His looks haven't completely abandoned him, but his struggle with Parkinsons has aged him a bit.
12. Henry Winkler
Winkler has a pretty decent resume, but even with his 70th birthday approaching this hallows eve, he will forever and always be known as the Fonz. His role in Happy Days put him on the map and we can't help but remember the iconic, leather jacket, cycle riding character he played — the ladies loved Fonz and the fellas wanted to be him.
13. Aretha Franklin
The 73 year old "Queen of Soul" retired her looks about the same time she retired from the music industry. These days she resembles Miss Piggy far too much.
14. Betty White
White was true to her name being that she was a "Betty" back in the day and all; it's hard to imagine since we've come to new her as Rose Nylund from Golden Girls — the ditzy, grey hair grandma. The package doesn't get any better than funny, smart, and good looking.
15. Martha Stewart
The 74 year old business woman, cook, and convicted felon never ceases to amaze us. Although, she's never been hard on the eyes, it surprised us to see that she was a babe in her younger years.
16. Jayne Kennedy
The actress and sportscaster was crowned Miss Ohio in 1970, but that was once upon a time.
17. Jim Brown
A football player turned actor, Jim Brown was very talented and handome to match.
18. Sophia Loren
It's hard to tell now but the Academy Award winning actress was super fine when she started out.
19. Steven Colbert
No stranger to late night tv, Colbert has blessed us with much of it. But, who could've guess that he'd blessed us with some good lucks in his past, too?
Previous
Next
BEGIN