Photo: weheartit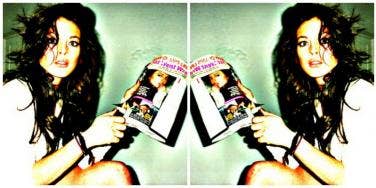 Fame always comes with a price and they certainly paid it (or didn't?).
Of all the dreams children have when they're younger, when it comes to their future occupation — firefighter, policeman, and even a fairy — I have to say that being a celebrity has to be at the top of the list.
As a child, you imagine yourself demanding all the creamiest ice cream, getting the hottest toys on the market, and doing whatever the hell you want just because you're you. Essentially, you get to be a big brat.
However, the one thing these childhood stars have taught us is that it's not all that cracked up to be. Here are 12 childhood celebrities who, sadly, lost it all when they grew up.
Photo: weheartit/weheartit
1. Dustin Diamond
Diamond, better known as "Screech," filed for bankruptcy back in 2001, citing that he received an income of $5,300 from NBC, monthly.
However, his ultimate low point was in 2006, when he began selling t-shirts at $15 each, as a secondary source of income. This was a month after he received notice of foreclosure.
2. Gaby Hoffmann
Hoffmann had numerous roles in her youth, from Uncle Buck to Sleepless in Seattle. Sadly, according to her, the bank doesn't reflect the numerous roles. Yep! In 2013, the former star admitted that she only had two dollars to her name (later explaining it was a euphemism for $4,000) and going on to say that's not much when there's no real idea when the "next $4,000" is coming in.
3. Edward Furlong
Furlong got his big break in Terminator 2, alongside Arnie. We're not sure when he fell but in recent years, it's been reported that Furlong is a broke addict (no stranger to drugs like heroin).
5. Jaimee Foxworth
Foxworth played on the popular sitcom, Family Matters, as Judy Winslow. While this was her only significant role, we're thinking she should've had more than enough to avoid moving into the adult film industry — which she eventually transitioned to in 2000 for the extra cash.
6. Dylan Sprouse
Only one half of the "Zack and Cody" duo, Sprouse is best known for his role in the Disney show and movies like Big Daddy. However, he reportedly doubles as a host at a New York restaurant to feed his vicious video game addiction. Call us skeptics but this just sounds a little sus.
Photo: weheartit/weheartit
7. Willie Aames
Aames came to stardom from roles in Charles In Charge and Eight Is Enough, but the stardom he came to know faded faster than it came. After the bank reportedly foreclosed on his home and filing for bankruptcy, he was sleeping under a bush in a parking garage.
Aames is a great example of how most don't plan to be homeless, and we're all just one bad decision (financially) away from the streets — during his time on Eight Is Enough, he was bringing in "a little over a million dollars a year" when it abruptly ended, there was no rainy day savings. Fortunately, he's turned his life back around and is now a financial advisor.
Photo: weheartit/weheartit
8. Danny Bonduce
Bonaduce is best known for his role in the 1970s sitcom, The Partridge Family. While for many kids being on television is a dream come true, life quickly became a nightmare for Danny after the show ended. At only 15-years-old he was living on the streets and abusing drugs — and although it was he who left home, it doesn't make us any less sympathetic for the kid — especially as he divulged the details of living in his car, behind a dumpster on Oprah: Where Are They Now?.
Photo: weheartit/weheartit
9. Lindsay Lohan
Lohan was the childhood star we all loved (my millennials, that is). She made us want a twin, a rock band, and showed us the ropes to writing a proper "Burn Book." Unfortunately, these days Lohan a great majority of the content inside Hollywood's Burn Book. With a druggin' and drunkin' infused spiral, it's been reported that her income from her OWN series wasn't enough to remove the star from debt.
It's also been documented that she borrowed 100,000 from her, Scary Movie 5 co-star, Charlie Sheen. (Who's probably not the best company to keep, but that's not my business.)
Photo: weheartit/weheartit
10. Jodie Sweetin
With Michelle, we tend to forget that Sweetin played the original, cute and sassy muchnkin running around the tanner household on our favorite sitcom Full House. Growing up on the show, we'd never expect little Stephanie Tanner to turn out the way she did, IRL. Nonetheless, she struggled with hardcore drugs like meth and three divorces. In 2008, she admitted that their (her and then husband, Cody Herpin) water had been shut off (not once, but twice) and their home was in foreclosure. The couple was making ends meet through Full House risiduals and parental help.
Photo: weheartit/weheartit
11. Taran Noah Smith
Remember this guy? Smith played Tim Allen's youngest son, in Home Improvement, Mark Taylor. When the actor was 16, he took his parents to court for full access to his $1,500,000, that they were apparently squandering ... and won. However, it didn't do much because he squandered through the rest, as his home was later foreclosed.
Photo: weheartit/weheartit
12. Bow Wow
Many millennials grew up on Bow Wow's music (mostly, some acting) — hell, we watched him go from Lil Bow Wow to Bow Wow to sometimes, Shad Moss. But, we also watched him land himself on the worst of the worst reality show Love and Hip Hop, which in my opinion is a major red flag.
I find it even more alarming that he has claimed he couldn't afford child support for his love child.
Previous
Next
BEGIN