Newly-minted Oscar winner Lupita Nyong'o is PEOPLE's Most Beautiful Woman. Find out more about her.
Newly-minted Oscar winner Lupita Nyong'o is having a moment. Actually, make that Lupita Nyong'o is having a year!
The actress, who nabbed the Best Supporting Actress statue at this year's Academy Awards for her affecting work in 12 Years a Slave, all the while establishing herself as a style icon and a fashion force to be reckoned with via her couture clothing choices during the entire awards season, was named the Most Beautiful Woman in the World by PEOPLE for its annual Beautiful issue.
She takes the crown from fellow Oscar winner and actress Gwyneth Paltrow.
So, while we know Lupita, who was recently named the face of Lancôme Paris, can act and move mountains with her talents in front of the camera and that she has impeccable taste in clothing, did you know she is also a director? That she speaks several languages? That she was inspired by two very different actors?
Here are 8 Things You Need to Know About Lupita Nyong'o. It will only serve to make you crush even harder on her. She is a beauty on the inside and out!
The Oscar winner was born in Mexico to a Kenyan family. At the time, her family sought politician asylum; her dad is Kenya politician Peter Anyang' Nyong'o. The family then moved back to Kenya when little Lupita was a year old and she was raised there. She returned to Mexico for seven months as a teen.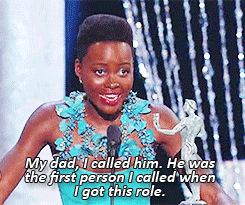 She is not just an Academy Award-winning actress. She is also a director. Nyong'o wrote, directed and produced In My Genes, a 2009 documentary about the treatment of the albino population in Kenya. Clearly, beauty is a woman of many talents.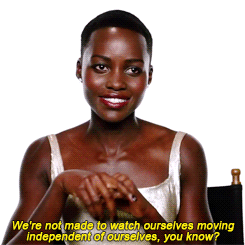 She is a Yalie! Ivy League Lupita went to Yale School of Drama. Beautiful? Check. Talented? Check. Smart? Check.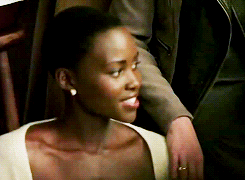 Lupita is multi-lingual. She speaks Luo, English, Spanish, Swahili and some basic Italian, making her a true citizen of the world.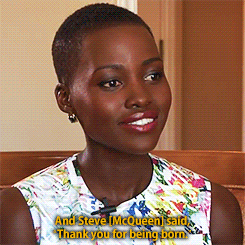 She first shaved her head at 19. Her reason? Oh, she simply wanted to spend less time grooming herself and more time doing other stuff. Forget the blonde ambition. She has "shaved head ambition."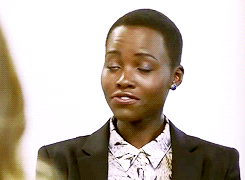 Whoopi Goldberg inspired her to be an actress. She saw the Whoopinator and her amazing work in The Color Purple and was hooked.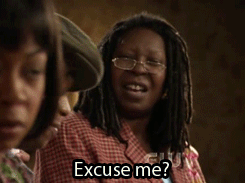 She has good taste in TV and loves Orange Is the New Black.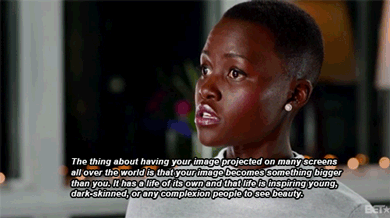 She was a runner on the set of The Constant Gardener, which filmed in Nairobi. Ralph Fiennes starred in the film and was a profound influence on her, as well. Nyong'o revealed, "He asked me, 'So what is it you want to do?' I very shyly, timidly admitted that I wanted to be an actor. He sighed, and he said, 'Lupita, only be an actor if you feel there is nothing else in the world you want to do – only do it if you feel you cannot live without acting.'" #Truth.