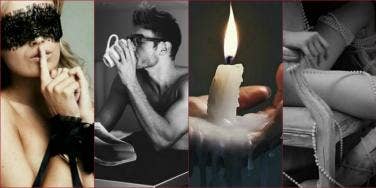 BONUS: Find out what turns you on MOST.
When most people imagine what "kinky" sex must be like, their thoughts jump immediately to people wearing leather masks and/or balls gags while chained in a some grimy dungeon.
Nothing wrong with that as long as all involved are consenting adults (or even consenting non-consenting adults). It's just there is a MUCH wider constellation of kinky treats and sexy games to explore than you may have ever considered.
I may not be an educator per se, but I do love the idea of sharing knowledge with others that they may just find useful — and what could possibly be more useful than knowing exactly which of the vast variety of kinks out there is likely to be the most satisfying, exciting, heart-racing, blood-pumping, mind-blowing, and, of course, orgasm inducing specifically for YOU?!
And because I care about you, my friends, I want to be extra sure to use only ultra-scientific, highly-reliable methods for assessing the play-style that suits you best.
Yes, that's right.
I'm going by the stars of the zodiac to introduce you to THE kinky treat guaranteed to land you (and maybe even your partner) directly on the moon!
After all, our zodiac signs determine so much about us. The signs we're most compatible with. The way we express love and anger. Even which ice cream flavor suits our own starry taste-buds! It only makes sense that your zodiac sign is THE way to in figuring out what unexplored sexual avenue has your name written all over it.
So take a look to find out which style of kink fits your zodiac sign like a skin-tight latex glove.
And don't forget to take a peek to what your best friends (and frenemies) are up to, especially if voyeurism is your thing.
Afterall, #nojudging — unless that's your thing.
ARIES (March 21 - April 19)
Bondage
When it comes to Aries, bondage is the most exciting kink. Whether using cuffs, bondage tape or rope — there is always fun to be had.
Just remember. Safety (and whoever Master says) comes first.
TAURUS (April 20 - May 20)
Sapiosexuality
When you're a Taurus (or with one), it's all about the mind. Sapiosexuals are attracted to intelligence — and that fits Taurus to a "T." Try some role play as the "sexy librarian," or a complex and titillating conversation, because smarts are the surest way to get these bulls on the move.
GEMINI (May 21 - June 20)
CANCER (June 21 - July 22)
Daddy/babygirl
For Cancers, it's all about Daddy and his girl (or Mommy and her boy, etc. etc.). Cancers love nothing more than curling up at home by a crackling fire while snuggling or being snuggled in a warm, spicy cocoon of love, tenderness, and — as needed — discipline.
If anyone ever felt the need for a good spanking, Cancer's the one.
LEO (July 23 - August 22)
Cosplay
Leos adore kinky cosplay. These playful zodiac cats love the idea that they can transform into anyone — living or dead, fictional or real. Cosplay doesn't have to stop at outfits. The sheer excitement of taking on a larger than life personality makes the whole experience come alive!
VIRGO (August 23 - September 22)
Spanking
For Virgos, a good spanking is one of life's biggest thrills. Dragging around that old "virgin" thing can get pretty dull, and there's nothing like be called out — and punished! — to spice things right up and snap you back into the mindset of that good girl or boy you know you are deep down inside.
LIBRA (September 23 - October 22)
Striptease
Libras love to be surrounded by beauty and art, so taking part in a sensual striptease — as either the performer or audience member — pushes all their best buttons (or rather, un-buttons). Music always delights a Libra soul, so make sure to set the atmosphere with just right tunes and your in for the time of your life!
SCORPIO (October 23 - November 21)
Sensation Play
It may be no surprise that Scorpios are all about the sting, but that's not the only physical sensation they like to play with. Scorpios are well known for just how deeply they feel everything. Blindfolded, the ecstasy of freezing cold or warm drops of candle intensifies the passion in that big and bold way Scorpios crave.
SAGITTARIUS (November 22 - December 21)
Pet Play
The Sagittarius nature evolves from their half-man, half-beast Centaur symbol, so it can hardly shock anyone who knows one that pet play is definitely their thing. Fiery Sagittarians find their passion fueled when they are kept challenged, stimulated and on the move by a loving Master. Keep in mind that any Sagittarius will need a long leash, as they thrive on the freedom to roam. No worries, though. Home is what they love most. Well, coming home to please you ...
READ: 8 Reasons Sagittarius Women Are The BEST Women To Love
CAPRICORN (December 22 - January 19)
Shibari
Capricorns are never happier than when slipping together the pieces of a puzzle or organizing and mapping out solutions to a complicated plan. This makes Shibari, the highly complex ancient and erotic Japanese art of rope bondage, a Capricorns sexiest of pleasures. As if nothing could get more perfect, Capricorns happen to be the most loyal and honorable of the signs, making a Capricorn exactly the kind of part you can trust to tie you up in such a tricky — SEXY — situation.
AQUARIUS (January 20 - February 18)
Edging
As a mysteriously complex air sign, Aquarians are never ones to rush themselves into anything — not even into the bliss of an orgasm. The suspenseful build up and pull back from the brink that comes (or actually, doesn't) from the practice of edging is right up the unconventional Aquarius alley.
After all, an Aquarius loves leisure time like no one else, so what's the rush? And when you finally get to the point of no return — let's just say they don't call Aquarius the water bearer for nothing ...
PISCES (February 19 - March 20)
Blindfolds
A Pisces insights and knowledge are stronger than just about anyone, so why limit their imagine to only what they can actually see in front of them? Covering Pisces eyes with a soft, silky blindfold allows their other senses to carry them along the tides of their deeply emotional, sexual connections with their lover.
Pisces are generally quite content to remain in the shadows as they devote themselves to those they adore. When a blindfolded Pisces is led on a journey of pure satisfaction, they will move mountains to please in return.
Previous
Next
BEGIN