Photo: WeHeartIt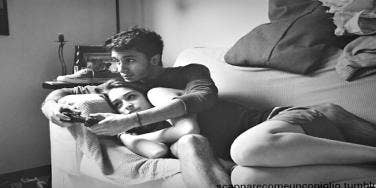 Put on some Marvin Gaye, pour a glass of wine and get your game on.
My husband and I rolled the dice, shuffled the cards and broke all the rules to bring you a roundup of the 10 hottest sex games to spice things up for couples (and others if you're into that sort of thing).
Among the dozens of sex positions and activities we reviewed, we found that the best sex games were usually the ones with the simplest rules and the fewest playing pieces (which aren't very fun to find in your sheets). These romps made it easiest to get down to business, which, after all, is the real objective.
Let's be honest: no one wants to follow a bunch of rules and regulations while having sex. I mean, isn't the whole idea to go crazy and let loose without holding back? Activities that involve paying close attention to getting it done right is kind of a buzz kill. Simplicity is key.
No one wants to have sex in the same mundane way with his or her significant other. You can change up the location, intensity, or whatever else you desire, but sometimes you just need something more. The usual gets boring after a while and you crave new experiences that take your romp in the hay to the next level.
But how, you ask? Listen up, because you're gonna want to take some notes.
Trying sex games to spice things up is a great way to step outside the box and try something new. No, I'm not talking about 7 Minutes In Heaven or Spin the Bottle like you played in your school days — these games have been changed for the better, folks.
These sex games are a surefire way to spice things up a bit if you're looking to add a little diversity to your sexy night together. I've rated the fun and sexiness of each sex game on a scale of 1–5. So, let's get down to it:
1. Body Bingo
Body Bingo is simple, straightforward and easy to play in bed. Spin the spinner, find the corresponding body part on your game board, then kiss, massage and tickle your partner as commanded. A "bingo" yields a special reward from a stack of cards, like a hot date or a massage. Grandma would be so proud!
Fun: 4
Sexiness: 4
Price: $16
Number of Players: 2 or more
(Available at BedroomJoys)
2. Penthouse Sweet Surrender: The Game of Dominance & Submission
Sweet Surrender is a good entrée into the world of S&M, especially for those a bit squeamish about all those whips and chains. The game comes with props like a feather tickler, a flogger, a blindfold and some flavored massage oils — they're not the highest quality accessories, but you can always invest in better ones once you learn what you like. The cards you draw throughout the game issue mostly tame challenges to participants, like, "order your partner to massage your feet."
Fun: 4
Sexiness: 5
Price: $25
Number of Players: 2
(Available on Amazon)
3. Loaded Questions: Adult Version (All Things Equal)
The regular version of Loaded Questions is a riot, and the adult version does not disappoint. It's more of a getting-to-know-you kind of game as opposed to a can't-wait-to-get-into-your-pants kind of game. I loved playing this with my girlfriends and a few glasses of wine — we laughed so hard while trying to guess each other's answers to equally silly and sexy questions.
Examples: "If you were an adult film star, what would be your screen name?" "What television show would you watch if it included full nudity?" To amp up the intimacy, consider asking the questions to your partner alone.
Fun: 5
Sexiness: 3
Price: $30
Number of Players: 4-6
(Available at Walmart)
4. Strip Chocolate
Strip Chocolate combines all the best things in life: sex, chocolate, and fun. You and your partner move around the game board landing on STRIP, CHOCOLATE or DARE spaces. The more naked you are, the more fun you'll have painting chocolate frosting designs on each other's bodies and taking "dares," (which mostly involve licking aforementioned chocolate sketches). A truly tasty take on the sexy board game.
Fun: 5
Sexiness: 5
Price: $32
Number of Players: 2
(Available on Amazon)
5. Naughty Charades (Sexy Slang)
We kicked off a fun game night playing this with another couple, and we were hysterical by the time it was over, trying to pantomime terms like "junk in the trunk" and "sex in the shower." You'll really beef up your raunch vocabulary with words for sex acts you might never have encountered. Suggested game mod: grab a timer from another board game to keep the charades from going too long.
Fun: 4
Sexiness: 3
Price: $16
Number of Players: 4 or more
(Available on SexySlang)
6. Spin Me
I'm a sucker for great packaging, so I couldn't wait to tear into this game, which features a beautiful genie-worthy bottle to spin just like that game you played in middle school. After the spin, simply pull out a strip of paper with your assignment.
For example, "For five minutes, pretend you've never met before." As a two-player game, some of the magic is lost in anticipating who the bottle lands on ("Oh, you again?"). And as a multi-player game, well, let's just say you should be prepared to get to know your friends really well.
Fun: 2
Sexiness: 4
Price: $35
Number of Players: 2 or more
(Available on JimmyJane)
Photo: California exotics
7. Entice
Entice is a compact board game where the goal is to advance around the board, answering questions separated by gender. I consider this the Trivial Pursuit of sexy board games. You'll get an education through questions like, "What percentage of women tell a friend about a sexual experience within a week?" Answer: 22 percent.
Fun: 3
Sexiness: 4
Price: $13
Number of Players: 2
(Available on Amazon)
8. Let's Fool Around
Another really simple game. Just roll two dice — one with a body part and one with an action word, for example, "blow on" and "inner thighs," and see what happens. Let's Fool Around is also an easy game to take on the road with you or stow away in your bedside table and can be played by as many people as you want.
Fun: 3
Sexiness: 4
Price: $5
Number of Players: 2 or more
(Available on Amazon)
9. An Enchanting Evening (Time for Two)
Launched in 1981, you might consider this the grandfather of sexy board games. If, like me, you don't like thinking about "sexy" and "grandfather" in the same sentence, don't worry—this game has stood the test of time. Players advance around a board answering questions or doing special favors for each other, for example, "Pretending your fingers are your lips, 'kiss' your partner on the mouth."
Though the packaging looks a bit dated, An Enchanting Evening's cards contain several well-thought-out questions and suggestions, which skew more toward "romantic" than "naughty." Note that this game is sometimes called An Enchanted Evening.
Fun: 3
Sexiness: 3
Price: $26
Number of Players: 2
(Available on Amazon)
10. Bumps & Grinds
Available in both a board game version and a DVD, Bumps & Grinds is one part cheesy, one part strangely sexy. The DVD version (which we played) makes playing especially easy — just wait your turn and let your TV tell you what to do. Stripping and drinking are the name of the game, and if swinging's your thing, this might be a good bet for you, as it seems to be geared toward multiple players.
Fun: 4
Sexiness: 5
Price: $16 for board game; $19 for DVD
Number of Players: 2 or more
(Available on Amazon)
Previous
Next
BEGIN