More than one person thought these were OK.
Bloomingdale's is coming under fire a caption in its holiday catalog that is blatantly (and creepily) date-rapey. But this isn't the first time a company has done something like this. Here are five times advertisers thought using implied sexual violence against women (and in one case men) would help them sell their products.
2015: Bloomingdale's
This sleazy caption in the Bloomingdales 2015 holiday catalog seems to say "Go ahead. Date rape your best girlfriend."
The Twitter was not amused.
That Bloomingdales ad is horrific. How was that ever approved let alone thought of as a good idea?! Despicable.

— Kirby (@oc_11) November 10, 2015
Can we just all take a moment to imagine the concept meeting for #Bloomingdales catalogue ad? How did we get from selling clothes to that..? — Emma Martin (@emma_l_martin) November 11, 2015
An apology doesn't cut it #Bloomingdales; dish the ad and run a campaign on #DateRapeAwareness. Take a stand. https://t.co/CSSutnP4Q9

— Jeff (@Jeff_McE) November 11, 2015

Bloomie's apologized, but we still dirty and violated.
We heard your feedback about our catalog copy, which was inappropriate and in poor taste. Bloomingdale's sincerely apologizes.

— Bloomingdale's (@Bloomingdales) November 10, 2015
2015: Bud Light
"The perfect beer for removing the word 'no' from your vocabulary for the night. #upforwhatever" Yes, you read the label on the Bud Light beer label right. But they didn't mean for it to imply taking advantage of a drunk woman (or man).
And they (half-heartedly) apologized: "It's clear that this particular message missed the mark, and we regret it. We would never condone disrespectful or irresponsible behavior. As a result, we have immediately ceased production of this message on all bottles."
"Missed the mark." That's quite an understatement.
2007: Dolce & Gabbana
This Dolce & Gabbana ad, along with others in this series, was banned by the Italian advertising agency, which said the photo "offended the dignity of the woman" and because of "the passive and helpless position of the woman relative to the men around her, and the representation of abuse or the idea of violence towards her."
You'd think the agency was stating the obvious. But having to STATE it mean it wasn't obvious to everyone.
The Internet outraged (again) over this ad after the house of D&G came under fire for its controversial stance against gay adoption in early 2015, thanks to this tweet by high-profile publicist Kelly Cutrone:
I GUESS SIMULATING GANG BANGS ARE FINE - BUT IVF AND SAME SEX MARRIAGE ARE NOT - LIFE ACCORDING TO @dolcegabbana pic.twitter.com/JUaDYVXxpC

— Kelly Cutrone (@kellycutrone) March 15, 2015
Oh, the ad campaign also included this equally disturbing ad implying a gay gangbang: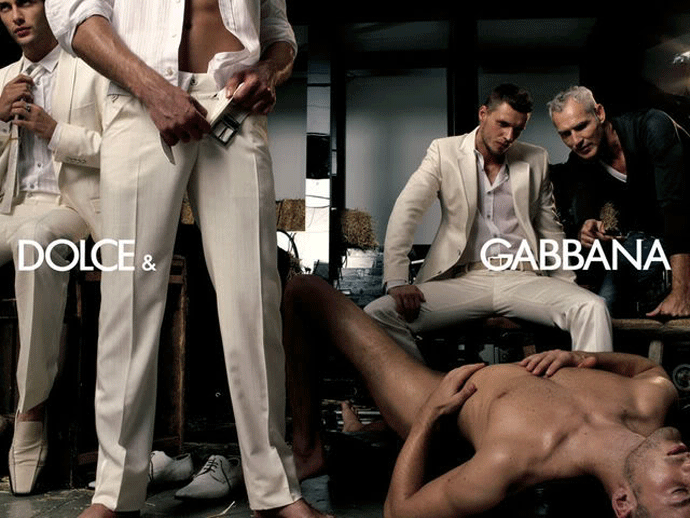 The fashion designers didn't have much to say except to refer to Spain, which also banned the ads, as "a bit backward." Stay classy, D&G!
2010: Calvin Klein
Calvin Klein loves creating controversy and is well aware that sex sells. But back in 2010, the fashion designer pushed things a little too far with this advertisement featuring Dutch model Lara Stone.
The ad was banned in Australia for being "suggestive of violence and rape" and because it "was demeaning to women by suggesting that she is a plaything of these men. It also demeans men by implying sexualized violence against women."
2012: Belvedere Vodka
One thing's for sure with this (pulled) ad by Belvedere Vodka: This guy wants something from this woman that she doesn't want to give him. And he's physically trying to get it. Textbook definition of assault. Add in the caption, and what you've got is a creepy rape ad.
Belvedere quickly realized it messed up after posting the ado n Twitter. But how did this thing ever get out of the conference room much less into print?
We apologize to any of our fans who were offended by our recent tweet. We continue to be an advocate of safe and responsible drinking.

— BELVEDERE (@belvederevodka) March 23, 2012