Reality TV is often anything but real. The same can be said for couples that populate reality shows.
Reality TV is often anything but real, with many of the stars pandering to the camera and doing whatever they need to in order to grab ratings, media placements and more, which often lessens and negates some of their original charm. The same can be said for reality relationships and couples, as Brody Jenner, a satellite member of the Kardashian clan (his father Bruce is married to family matriarch Kris) knows better than anyone. Brody Jenner recently spilled the beans about his "fake" relationships with Lauren Conrad and Kristin Cavallari, which were portrayed as very real, thanks to camera angles and creative editing.
On his podcast, Jenner confirmed that he never dated LC, his co-star on The Hills, saying they "have always been just friends" and that "we worked together on a show called The Hills where we had to pretend like we were dating but we never dated."
Jenner also confirmed that he was not dating the now-married Cavallari while they were filming The Hills, either. They had dated prior and briefly, but not during filming.
While some reality TV couples, like The Bachelorette's Trista and Ryan Sutter, have gone the distance and are the exception and not the rule, there are a lot of couples out there who seem or seemed to be going through the motions, mainly for the camera.
Our fave reality TV couple, BTW? Oh, just Adam Levine and Blake Shelton from The Voice. That bromance is the stuff of legends and is as real as it gets!
Photos: Instagram/IMDB
Kim Kardashian and Kris Humphries:

72 days. Need we say more? No, we don't. They wed in a lavish ceremony in 2011 and the marriage was over less than three months later. It felt like the whole relationship existed for the camera (or "kamera") and its lens.


Nikki Ferrell and Juan Pablo Galavis:

This The Bachelor romance has been plagued from the get-go and they are already in Couples Therapy. No, really. That's a reality show on VH1 and they are booked for it. But the fact that JP didn't propose nor did he say he loved Nikki are serious signposts and suggests there are huge credibility issues at play with this "relationship."
Heidi Montag and Spencer Pratt:

Speidi, oh, Speidi. Everything about these two feels as manufactured as Heidi's boobs and her body, which endured 10 plastic surgery procedures in a single day. While Montag and Pratt are still together and are mostly out of the public eye, perhaps they are like a couple in an arranged marriage that LEARNED (or were forced) to like (and love) one another as they chased that elusive mistress known as fame. Maybe?

Courtney Stodden and Doug Hutchison:

Everything about this pairing seemed wrong and false, like her beach ball-sized boobies. There was a big age difference and a lot of camera pandering. She got famous when she wed her much-older, actor husband as a teen and ditched him so she could enjoy her 20s after she became a household name. Sad. Faux, faux and faux.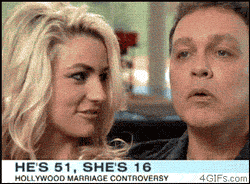 Sammi Giancola and Ronnie Oritz-Magro:

While JWoww and Snooki are moms, having put their wild days behind them, remember Sammi Giancola aka Sammi Sweetheart? Who fought with Ronnie Ortiz-Magro all the live long day on Jersey Shore? Their antics on the show were ridiculous and while it is believed they are still together, we can't help but wonder if all of their battles were turnt up for the cameras.
Tanisha Thomas and Clive Muir:

Tanisha Thomas of Bad Girls Club, among other shows, is larger than life and she flies off the handle at a moment's notice, yet her hubby Clive Muir, who she divorced, is still around and going on the reality stars edition of Marriage Boot Camp with her. How real can any of that be? Most men would not put up with her behavior in such a public forum, so either her antics, which are fun to watch, are amplified for ratings or their relationship is a sham. Take your pick.