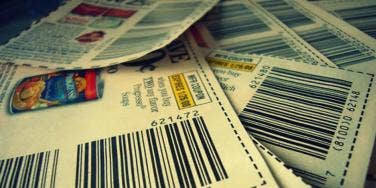 Just when you thought there were coupons for any and everything.
My coupon use is pretty much nonexistent. Outside of using the occasional discount code for Seamless, because of course, I really can't be bothered to spend an afternoon clipping coupons. But based on what I've gathered, coupons are usually something you use to get discounts on food and products. I know Groupon offers discounts on services like laser hair removal, massages, and other sort of spa services, but I thought that's where discounts in the world came to end. I was wrong. I hate being wrong.
In news that all but blew my mind, Coupons.com has every type of coupon you could possibly imagine and more. The "more" part being here is that they have just the selection of coupons you need for pretty much every stage of your relationship, from the rocky patches, the good times, and, if it should come to pass, the final days.
With divorce rates being what they are, you can't be totally surprised if you find yourself in divorce court someday, but at least it will probably involve a discount thanks to Coupons.com, and that's what really matters: Saving money while saying goodbye. How frugal of you!
But the fun doesn't stop there, here are some of the other coupons that will make you exclaim, "What the wha—?"
Photo: WeHeartIt
1. Free Sex Therapy Consultation
Free Sex Therapy Consultation
Are things not going so great with your partner? Maybe you just can't get on the same page, sexually speaking? No worries! Thanks to Dr. Kimberly Flemke, Ph.D's coupon, you can get a free sex therapy consultation and, hopefully, put the spice back in your sex life, before you reach the point of no return.
Photo: DataSphere
2. 5% Off STD Testing Packages
5% Off STD Testing Packages
Uh-oh! So maybe the sex therapy didn't work out so well, huh? I mean, why else would you have had strayed and gone home with that really hot bartender? Don't worry; it happens to the best of us. But now you need to make it right, by first using your STD testing coupon to get things checked out, then coming clean with your partner.
Photo: Coupons.com
3. $200 Off Your Prenup Consultations
200 Off Your Prenup Consultations
You've been forgiven and now you've been proposed to? Good for you. But let's be honest: your sex life isn't all that and you did cheat. Your best bet, to protect everyone involved, is to cash in that coupon for $200 off your prenup agreement consultation with Diana Adams Law & Mediation, PLLC. It's a pricy process, so you want to cut down on the costs as much as possible. Lawyers, man, they'll suck you dry!
Photo: Local Saver
4. Free Shipping On Early Pregnancy Tests
Free Shipping On Early Pregnancy Tests
Congratulations! You've only been married for a hot minute and you already think you're preggers. Not really sure what an "early pregnancy test" is, or why it should be shipped, but like I said, I don't use coupons, but I'm sure some of you know what this is all about… and it's free, so go you!
Photo: Retail Me Not
5. Free Divorce Consultation
Free Divorce Consultation
Oh, dear. You have become a statistic, and I'm sorry for that. But chin up! Yes, divorce is going to be pricey has hell, but click on over to Coupon.com, and you can get a free divorce consultation from DivorceFilers. It probably won't make much of a dent in all those legal fees, but it's something. And maybe, just maybe, halfway through the consultation, you'll realize that you want to work it out and go for baby number two. Maybe.
Photo: DataSphere
6. Discounts On Getting Your Pre-Baby Body Back
Discounts On Getting Your Pre-Baby Body Back
Once you've healed up from brining that little bundle of joy into your world, it's time to tuck your tummy and doing something about those sagging breasts, right? Groan. I say love your body as it is, but Lohner Plastic Surgery has coupons that will give you some great discounts on your "Mommy Makeover," to get your body looking banging again! Woohoo.
Photo: DataSphere
Previous
Next
BEGIN