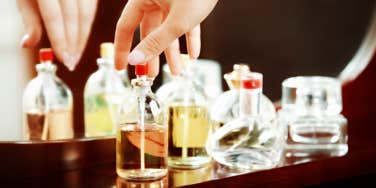 Your relationship has never smelled so good.
Believe it or not, your partner's scent played a bigger part in your initial attraction than you realize. In fact, psychologists are starting to think physical attraction may be entirely based on scent. Scent is directly linked to your body chemistry and an experiment even showed that women were more likely to be attracted to a scent of a shirt owned by a man that had the opposite body chemistry as her.
But once you're in a relationship, and somewhat acclimated to your partner's scent, how do you keep the uniqueness of your chemistry alive?
Since scent plays such a big part in couples magnetism, it only makes sense that the fragrances you wear are compatible. It'll compliment your attraction, and your chemistry will be undeniable.
Given that there's so many fragrances out there, though, the task to find the right one(s) can be daunting-- especially since no one wants to leave the house smelling less than great. Fear not, scent seekers: we're making it a little easier with these 7 ways the two of you can effortlessly, and aromatically, salute your attraction.
1. Keep it in the family.
When mixing and matching fragrances, the best combinations are going to be the ones that are in the same "note family." In the scent world, this means they both fall under the same category of fragrance: fougere (common for colognes), floral, oriental, chypre, marine and citrus. Your two fragrances could be as drastically different as your personalities but their common base notes will always unite them, leaving you two smelling perfectly matched. Poetic, no?
Ex. Aquawoman by Rochas + Kenzo Por Homme
Image source: RotemStore, Vesira
2. Combine products.
Always remember: Any scented body product you can buy is fair game! Not a fan of perfume but your partner loves it? Match your body lotion or shower gels in similar styles. The result will be a lasting scent for the both of you, but you'll still get the fragrance level you prefer. When matching a lotion or shower gel to a perfume or cologne, keep in mind that the lotion and shower gel fragrance molecules are designed to last longer. So make sure that the scent isn't too complicated or it'll stomp all over your S.O.'s. You don't want that!
Ex. Dolce & Gabbana Light Blue Body Cream + Versace Por Homme
Image source: ScentSplash, Delion Parfum
3. Under the same roof.
One of the key go-tos in fragrance matching is always going to be keeping both of them in the same house. Companies and brands aren't going to stray too far from each other scent to scent, so you can rest assured that while the fragrances smell great separately, they won't spoil the second the two of you are standing next to each other. Smelling like you both just walked out of the same sexy perfume ad is just a bonus.
Ex. Tom Ford Noir + Tom Ford Violet Blonde
Image source: Sephora, The Scented Salamander
4. Celebrate your individuality.
One of the best ways to match your scents is to mix single-note fragrances with a more complexly-noted one. If your man is more of simple-noted fellow, let him wear a singular note while you don your mysterious scent. Or vice versa, wear a straightforward scent and have your partner echo it in their fragrance notes. Your through-line note between both scents will be your touchstone--- while the more intricate scent will blow it out.
Ex. Demeter Basil + Versace Crystal Noir (a combo not for the faint of heart!)
Image source: Eporia, Gordon's Direct
Photo: Jo Malone™ 'Amber & Patchouli' Cologne Intense, Nordstrom
5. Watch for the "shot of light."
According to Debbie Wild, the lifestyle director for Jo Malone London, mixing and matching your scent should always be done with the "shot of light" in mind. That means don't go mixing dark scents with dark scents. Too much musk is going to weigh you both down and create a scent cloud that's way too heavy and overpowering. There should always be a shot of freshness and lightness between the two of you. It's all about balance, so pair a light and fresh scent with a more musky tone or both wear a fragrance that has a hint of subtle sunshine.
Ex. Citron de Vigne + Jo Malone Amber & Patchouli
6. Classic, meet modern.
Just like how you celebrate your unique relationship and identities, use your fragrances to show off how well both of your viewpoints mold together. Classic and modern notes hit off well because they balance each other out-- classic fragrances tend to be very base-centric and distinguishable while modern fragrances from contemporary designers give a pop of outrageous uniqueness. When you combine the two as a couple, the results are a refreshing blend of the old and the new.
Ex. Fracas by Robert Piguet + DSQUARED2 Potion
Image source: Nordstroms, Fragrantica
7. Do a unisex mix and match.
If you're hesitant about mixing two scents, especially two made for different genders, the pairing of two unisex fragrances might be the way to go. With a unisex fragrance, neither of you have to worry about smelling too outside your comfort zone. Both scents will also be perfectly matched to either one of you, no matter who's wearing it! You can trade off days for a fun mix up or pick a signature to match your style perfectly. The trick is so match two fragrances that, while they should share similar notes, still smell entirely unique.
Ex. Calvin Klein CK One + Everyone by Lamis
Image source: Hey Do You, Amazon
Previous
Next
BEGIN