There's something about playing a vampire onscreen that revs an actor's real-life romantic engines!
There must be something about being a vampire — or at least playing one in a mega successful film franchise or on a TV series — that makes an actor or actress exceedingly amorous and/or attractive. That would explain the romances that develop between the celebs who play these parts. Maybe it's the writing? Maybe it's the dialogue? Maybe it's the material? Maybe it's the bloodsucking? The garlic? The crosses? All that intense acting? Who knows!
Whatever's at play, it appears that these roles clearly awaken some sort of primal and animalistic instincts in the actors who play them, since many vampy co-stars have sucked blood, er, face and have embarked on real-life relationships.
Twilight star Nikki Reed, who played vampire Rosalie Hale and recently split with musician hubby Paul McDonald, is reportedly hooking up with Ian Somerhalder, who vamps it up as Damon Salvatore on The Vampire Diaries, which reminded us of other couples that formed as a result of their work on vampire-themed series or films.
While Reed and Somerhalder, who is quite the hunk and is a repeat, uh, offender, did not appear in the same vamp franchise, that's of little consequence.
Members of the Hollywood Vamps Club (that should be a "thing") may avoid that damned daylight but they clearly have an attraction to each other.
Stephen Moyer and Anna Paquin:

The True Blood pair couldn't stifle, snuff out or stop the onset flames that spread and erupted in their personal lives! In real life, Bill Compton and Sookie Stackhouse married, had twins and remain as in love as ever. The show is currently in its seventh and final season, but the Brit and former child actress are a strong, solid pairing. They've been together since 2007 when True Blood first began filming. So yeah, they're in it for the long haul. Plus, Charlie and Poppy, their boy-girl fraternal twins, are the cutest!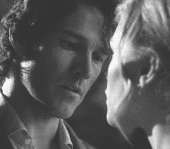 Stephen Moyer and Anna Paquin on "True Blood" - Giphy
Ian Somerhalder and Nina Dobrev:

Somerhalder and Dobrev are both insanely and unfairly good looking — is it us or does he look like a younger, more virile Rob Lowe? — and they were co-stars and a couple on The Vampire Diaries. The real-life romance didn't last, but they remain on good terms, something the actress confirmed in her recent Nylon cover interview. That means there won't be any bloodsucking awkwardness on set when they step into their roles of Elena and Damon.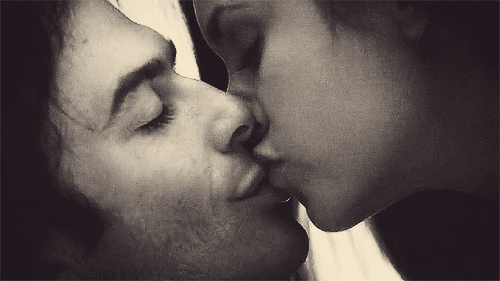 Ian Somerhalder and Nina Dobrev on "The Vampire Diaries" - Giphy
Robert Pattinson and Kristen Stewart:

The chemistry of Edward and Bella erupted onscreen and it spilled over into real life. It was thermonuclear, to put it mildly. He sparkled, she pouted. Together, they smoldered. Despite her high-profile cheating scandal (who cheats on Edward Cullen?!) these two were enraptured by one another on multiple levels. But a fire that burns that bright tends to burn out, and that's just what theirs did.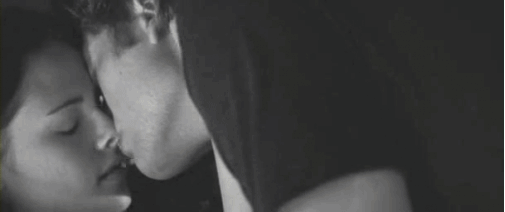 Robert Pattinson and Kristen Stewart in "Twilight" - Giphy