One of the most divisive figures in recent political history.
James Comey is a complex man.
When he first started his career as a lawman, he probably never imagined that, one day, he would be accused of sabotaging the political campaign of one presidential candidate and, a few months later, be accused of trying to undermine the presidency of that failed candidate's opponent.
But, unfortunately for him, that is the reality that the former FBI director has found himself living in.
While Comey has a long and distinguished career of civil service under his belt, he is perhaps best known — and may forever be known — as the man who, more than anyone else, ultimately influenced the fates of Hillary Clinton, President Donald Trump, and the modern American political landscape.
In 2016, Comey was accused of influencing the electorate against Democratic Presidential candidate Hillary Clinton by issuing statements regarding an investigation of Clinton's handling of sensitive emails — an issue that had been debated ad nauseam throughout the campaign — just a few weeks before the election itself.
Then, in 2017, President Donald Trump, who had praised Comey's handling of Clinton's email investigation, fired Comey as FBI Director allegedly due to Comey's unwillingness to stop an ongoing federal investigation into potential ties between Russian operatives and Trump's presidential campaign.
(Trump blamed Comey's dismissal on "this Russia thing with Trump and Russia." Comey will be testifying in front of the Senate Intelligence Committee on these allegations on June 8th.)
It's unusual how, in the span of just a few months, Comey went from being the scourge of the Democratic Party to potentially one of the biggest threats to Republican Trump's political career.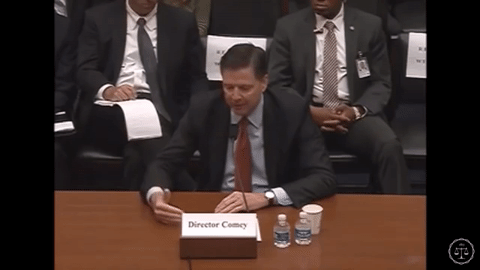 However, despite his recent headline-grabbing intrigue, it would be unfair to judge Comey's ENTIRE career over the drama surrounding the 2016 Election.
In his early days as a lawyer, James Comey worked in the U.S. Attorney's Office for the Southern District of New York, where he assisted in the prosecution of the Gambino crime family. He was a law professor, a research scholar, and served as the United States Deputy Attorney General from December 2003 to August 2005.
President Barack Obama appointed Comey as the Director of the FBI in 2013, a position he held until he was terminated by President Donald Trump in 2017.
While Comey's career in the FBI remains controversial, he is unquestionably an educated, erudite legal expert who has spent his career offering opinions and quotes on topics ranging from politics, personal freedoms, privacy, and law enforcement, among many others.
If you're struggling to figure out how you feel about the man, consider these 16 quotes about life, law, and morality from former FBI Director James Comey.
If you're looking for a little inspiration, we've got the best quotes to share and savor. For quotes from the most inspiring celebs, activists, and poets, look no further! You might even find the quote that motivates the best parts of your life (and love!) forever.
On why we fight.
"Our obligation is to refuse to let bad win, to refuse to let evil hold the field." — James Comey
On the importance of "stuff."
"Stuff doesn't matter — boats, cars, fancy things don't matter. What matters, what will matter to me, is the love of the people around me, and did I take a chance? Did I seize an opportunity to do something for people with the talents that I was lucky enough to be given? Did I make a difference in the lives of people who needed me?" — James Comey
On political ideology.
"I try very hard not to engage in any isms of any kind — including McCarthyism." — James Comey
On the limits of privacy.
"The notion that privacy should be absolute, to me just makes no sense given our history and our values." — James Comey
On the importance of privacy as well.
"Privacy is tremendously important. I believe the American people, and all people, should be skeptical of government power, should ask hard questions: What is the authority? What is the oversight? That's the way it ought to be." — James Comey
On what it means to be brave.
"We have perpetrated a myth in our society that being brave means not being afraid, but that's wrong." — James Comey
On the appeal of the law.
"I'm a big fan of the rule of law." — James Comey
On the influence of power.
"I believe that Americans should be deeply skeptical of government power. You cannot trust people in power. The founders knew that. That's why they divided power among three branches, to set interest against interest." — James Comey​
On how law enforcement should behave.
"We shouldn't be doing anything that we can't explain."— James Comey
On prejudice.
"It's hard to hate up close." — James Comey
On the price of freedom.
"No matter how you feel about it, you have to acknowledge there are costs to this new world." — James Comey
On the reality of data privacy.
"There are two kinds of big companies in the United States. There are those who've been hacked by the Chinese and those who don't know they've been hacked by the Chinese." — James Comey
On the 2016 Election.
"It makes me mildly nauseous to think [the FBI] might have had some impact on the election. But honestly it wouldn't change the decision." — James Comey
On the police and racism.
"All of us in law enforcement must be honest enough to acknowledge that much of our history is not pretty. At many points in American history, law enforcement enforced the status quo, a status quo that was often brutally unfair to disfavored groups." — James Comey
On leaving the FBI.
"It is very hard to leave a group of people who are committed only to doing the right thing." — James Comey
On the work ahead of us.
"We all have work to do — hard work to do, challenging work — and it will take time. We all need to talk, and we all need to listen, not just about easy things, but about hard things, too." — James Comey