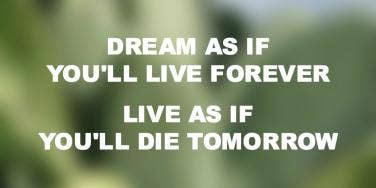 Tell it like it is, world.
Everyone loves a sweet saying about the world, or a cute quote about how to live a better life. Seriously, gentle reminders to appreciate what's in front of us can make our day, because it helps us look up from the monotony of our daily routine and BREATHE.
So we've rounded up 11 life quotes that gave us that warm, fuzzy feeling. These quotes will inspire you to be a better person in all aspects of your life — be it in your relationships, work life, or even your general interactions with the rest of the world. They came from all corners of the internet, and we've chosen them as the BEST OF THE BEST in life quotes.
So sit back, click through and feel the inspiration. Take notice of these words and grow as a person, and remember to live your life the way you want to, and NEVER forget your dreams.
As James Dean wisely said, "Dream as if you'll live forever. Live as if you'll die today."
If you're searching for the best quotes and memes to share with the people you love (or just want to feel inspired yourself) ... look no further! From the sweetest love quotes, inspirational sayings, and hilarious friendship truths, we've got you covered.
Look to the future.
"There are far, far better things ahead than any we leave behind."
Take that first step.
"Sometimes the smallest step in the right direction ends up being the biggest step of your life."
Keep dreaming.
"Dream as if you'll live forever. Live as if you'll die tomorrow."
Don't be afraid to face the hard things in life.
"Sometimes the hardest thing and the right thing are the same."
Cherish the little things.
"Enjoy the little things in life … for one day you'll realize they were the big things."
Keep it simple, baby.
"Why complicate life? We just have one life. Keep it simple."
Desire less and be happy.
"There are two ways to get enough. One is to accumulate more and more. The other is to desire less."
Challenge yourself, always.
"Don't limit your challenges. Challenge you limits."
Live free.
"Life is too short to stress yourself with people who don't even deserve to be an issue in your life."
Keep moving forward.
"An arrow can only be shot by pulling backward. When life is dragging you back with difficulties, just imagine it's going to launch you into something great."
Previous
Next
BEGIN