It's time to stop and think.
We all have fears in our lives, but some of us live by those fears. It could be small things that hold us back — like keeping onto friendships that should have ended a long time ago, or never really stepping out of your comfort zone to tell that guy-friend you feel something MORE.
Or it could be really big things that eat at us our entire lives, like cripplingly low self-esteem, giving up on those big dreams of traveling the world or settling for a marriage that makes you miserable.
Little or big, these things — these fears — chip away at our happiness and leave us walking through life in a fog.
Life isn't easy, and no one portrays this internal struggle better than Chuck Palahniuk, author of SUPER famous books, including Fight Club, Invisible Monsters, and Choke. A few of his novels have even been adapted into films that have subsequently gained cult status.
He has a dark tone to his writing, but something that is ever-relatable and sinks in to the darker side of the human psyche. Palahniuk's novels, falling under the genre of transgressive fiction, often deal with facing fears and being courageous enough to break free from societal expectations in order to gain happiness or freedom.
Although he describes himself as a romantic, he writes novels that are often described as nihilistic.
In his works, his characters often are severely depressed — dissatisfied with societal norms — and they consequently shake up their lives as a way of pursuing something more meaningful to themselves.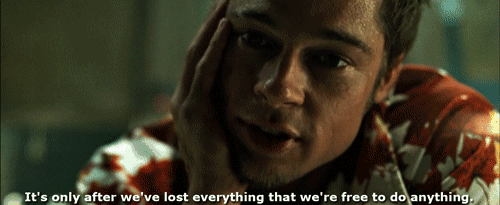 Giphy
He's not afraid to confront challenging themes in his writing, including mental illness, addiction, and anti-consumerism.
Now, maybe Chuck Palahniuk's characters are a bit twisted (Tyler Durden may not portray the ideals of what we would call a great role model), but he definitely knows how to write about the thrill of letting go of everything in order to gain even more. And maybe there's more truth to his words than many of us want to believe.
So here are some Chuck Palahniuk quotes that encourage you to let go of your fears and make REAL change in your life, so you can be happier.
If you're searching for the best quotes and memes to share with the people you love (or just want to feel inspired yourself) ... look no further! From the sweetest love quotes, inspirational sayings, and hilarious friendship truths, we've got you covered.