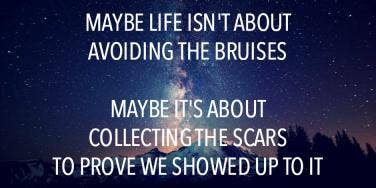 TRUE love is NEVER easy.
Have you ever fallen in love? I mean REAL love. The kind that is messy, and confusing and EXHILARATING.
The kind of love that makes you say the craziest, most CRUEL things to your better half — only to beg them for forgiveness the next morning.
The kind of love that has you thinking NON-STOP about him, dedicating your life (probably unintentionally your SELF) to "US", only to end up nitpicking each other about who gets to wash the dishes and who gets to cook dinner in the monotony of monogamy a few years down the road.
Is giving your EVERYTHING worth it? Is this man really going to be the one you grow old with? Are you even READY to grow old and kiss your single life goodbye for good?
Is your whole life from here on out going to consist of nagging and going to girls or guys nights out to complain about "the old ball and chain"?
If you've ever been in a relationship where, despite the fighting and the screaming and the heartbreak, you STILL feel that undeniable pull to stick it out, then read these quotes to help you keep on chugging. Because you know what? It's worth it.
It's worth feeling him lightly kiss your cheek tomorrow morning when you roll over in bed after a night of fighting (and maybe drinking a little too much). It's worth that one split second you see him checking you out in the kitchen when you haven't had sex in three weeks.
It's worth knowing that — despite all your fighting — he's still here sticking it out with you too.
So wipe away those tears, read on and know that THIS kind of love ... it's worth the fight.
If you're searching for the best quotes and memes to share with the people you love (or just want to feel inspired yourself) ... look no further! From the sweetest love quotes, inspirational sayings, and hilarious relationship truths, we've got you covered.
1.
"We are all just broken vases just trying to keep flowers alive." — Matt Baker
2.
""Sometimes, all a girl wants is for you to fight for her. Make her understand that you want this relationship as much as she does." — Unknown
3.
"A true relationship is two unperfect people refusing to give up on each other." — Unknown
4.
"Communicate. Even when it's uncomfortable or uneasy. One of the best ways to heal is simply getting everything out and if you live bitterly, you live a lonely existence." — Unknown
5.
"Forget all the reasons why it WON'T work and believe the one reason why it WILL" — Unknown
7.
"Hey little fighter, soon things will be brighter." — Unknown
8.
"Apologizing doesn't always mean you're wrong and the other person is right. It means you VALUE your relationship more than your ego." — Unknown
9.
"Maybe life isn't about avoiding the bruises. Maybe it's about collecting the scars to prove we showed up for it." — Unknown
10.
"Take time to do what make your heart happy." — Unknown
11.
"If you want to know where your heart it, look where your mind wanders." — Unknown
12.
"I'm scared for someone to realize how truly amazing you are. For someone else to kiss your lips. For someone else to take my place." — Unknown
13.
"Sometimes you tell someone to never call you again, and then the phone rings and you hope it's them. It's the most TWISTED logic of all time." — John Mayer
14.
"My stomach drops when I think of anyone else having you." — Unknown
15.
"In a sea of people, my eyes will always search for you." — Unknown
16.
"It is beautiful to love, and to be free at the same time." — Unknown
17.
"Sometimes following your heart means losing your mind." — Unknown
Previous
Next
BEGIN