Photo: Dr. Jessica Zucker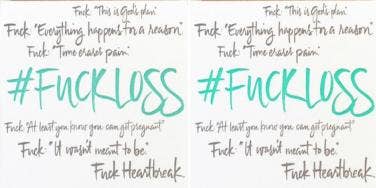 The grief of a miscarriage is universal.
What do you say to a mother who just lost a child they've never met? "I'm sorry"? "Condolences"?
Sometimes, there are no words to express sympathy for this kind of loss. Sometimes, "I'm sorry" and "Condolences" don't feel like enough. And the saddest part? No one wants to talk about it. A more heartbreaking truth, most people believe the fault lies in the mother, which is completely and utterly false and hurtful to the mother.
According to the American Pregnancy Association, up to 25 percent of clinically recognized pregnancies result in miscarriage, and it can be for a variety of reasons. But the stigma still exists, and that's a huge problem.
As a mother who experienced a second trimester miscarriage, psychologist and writer Dr. Jessica Zucker knows exactly how this feels. Following that loss, she launched the #IHadAMiscarriage campaign. And in October of 2015, she released a line of pregnancy loss cards.
"My aim in my writing and with this product is to help shift the cultural conversation (and lack of it) around miscarriage, pregnancy loss, stillbirth, etc.," she said. At the end of 2015, Dr. Zucker released a new card available not only in English, but also in French, Italian, and Spanish, an acknowledgement of the universal loss and grief of mothers.
If you know someone who has lost a child they never knew, consider giving them a card from Dr. Zucker's online shop.
Photo: shop.drjessicazucker.com
1. "I'm deeply sorry for your loss."
Simple words, but it reassures that you will be there for them no matter what.
Photo: shop.drjessicazucker.com
2. "F*ck loss!"
They have the right to be angry at every sympathetic reassurance, and you're saying that it's OK to be angry.
Photo: shop.drjessicazucker.com
3. "Grief is universal."
The pain of grief doesn't choose a place or a language.
Photo: shop.drjessicazucker.com
4. "Take all the time you need."
The path to healing isn't easy, but you will be there with them every step of the way.
Photo: shop.drjessicazucker.com
5. "I had a miscarriage ... I understand."
No one understands the pain of a mother who miscarried than another who did. They know that the pain never truly goes away.
Photo: shop.drjessicazucker.com
6. "With a heavy heart..."
Announcing your loss can be a coping mechanism. It means that you will never forget.
Photo: shop.drjessicazucker.com
7. "I love you."
Stand out from the "I'm sorry's" and "I know how you feels" and just tell them that you love them.
Photo: shop.drjessicazucker.com
8. "I'm here for you."
Knowing that someone is there for them is a great help.
Photo: shop.drjessicazucker.com
9. "You are wonderful."
A mother who just had a miscarriage might feel guilty, and there will be others who will make her feel that way. You have to remind them that this loss doesn't define who they are.
Previous
Next
BEGIN