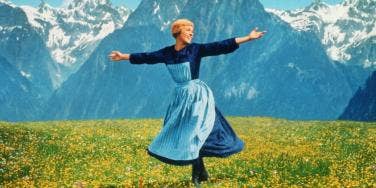 After Lady Gaga rocked it at the Oscars, here's who we'd choose if we recast The Sound Of Music!
A little less than a year and a half ago, The Sound Of Music Live! was on our television screens. With Carrie Underwood belting out the notes that Julie Andrews once sung, we … well, we weren't sure what to think. There were plenty of people who claimed that casting Underwood was a poor casting decision.
Now, the 50th Anniversary of the original The Sound Of Music has got us rethinking who we would cast in it today. When Lady Gaga stood on that stage and completely blew us away, we thought, hmm … what other actors and actresses would do the wonderful musical justice? Here's who we would recast (though, as Lady Gaga would say, no one can top the "incomparable Julie Andrews!").
Lady Gaga - Maria
Okay, we'd have to be totally CRAZY to not cast Lady Gaga as Maria after her totally stunning performance at the Oscars. She wowed us all--including Julie Andrews. Lady Gaga, you made the hills come alive with the sound of music. Please be our Maria!
Gerard Butler - Captain Von Trappe
Gerard Butler...ahh, what a babe. But we also know this man can sing, after playing Phantom in Phantom Of The Opera. We think he'd do a perfect job of playing the regal, manly Captain Von Trappe.
Meryl Streep - Mother Abbess
Oh, come on - Meryl Streep is the queen of everything. She's a fabulous actress, singer, and all-around amazing woman. We can totally see her rocking Mother Abbess.
Emily Blunt - The Baroness
Emily Blunt is as beautiful as she is charming, but she surely play the part of a hardened exterior, as evidenced by her role in The Devil Wears Prada. We'd absolutely cast her as The Baroness.
Taylor Swift - Liesl
Taylor Swift would make the perfect Liesl. Firstly, we already know this girl can sing like an angel. Secondly, who better to relate to the romantic Liesl than the Queen Of Love? T-Swift, we'd love for you to be Liesl, please!
Ansel Elgort - Rolfe
Ansel Elgort captured our hearts with his performance in The Fault In Our Stars. He's obviously an excellent actor, but did you know he can sing, too? Swoon! We can see him being the ultimate romantic as Rolfe.
Chandler Riggs - Friedrich
Chandler Riggs has been lauded for his excellent performance as Carl Jr. from The Walking Dead. If he's able to play the very emotional, intense part of being the only child around during a war-torn zombie apocalypse, we're sure he'd make an excellent Friedrich, with his tough exterior and excellent acting skills.
Bailee Madison - Louisa
Little Bailee Madison (Trophy Wife, Good Witch) would make the cutest Louisa. We'd cast her in a heartbeat.
Art Parkinson - Kurt
For Kurt, we'd cast Art Parkinson. You may know him as Rickon from Game of Thrones. What a cutie...and we could totally see him as mischievous Kurt.
Johnny Sequoya - Brigitta
Little Johnny Sequoyah has already blown us away with her role as "Bo" in Believe. She's also proved that she's wise and knows exactly what she's doing in the acting world. We're positive she could rock the part of the sharp-witted Brigitta.
Violet Affleck - Marta
Okay, so maybe we haven't seen Violet Affleck act, but she is SO DARN CUTE. We'd be absolutely willing to give her a shot as the sweet Marta.
Harlow Madden - Gretl
Little Harlow Madden, child of Joel Madden and Nicole Richie, can sing, according to the Daily Mail. We're not surprised: she got it from her daddy (and her grandfather, Lionel Richie)! We'd love to see her on the big screen, singing "The Lonely Goatherd." How precious.
Previous
Next
BEGIN