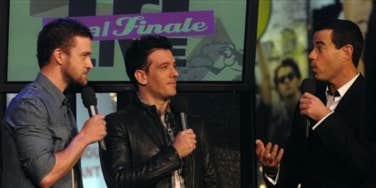 '90s boy bands did more harm than good to most of us.
Back in the '90s, boy bands ruled the scene. They were full of hot, young guys and they led the mall crowd all the way into the early 2000s. Everywhere they went, they were followed by screaming girls. They were probably the most popular guys on the planet.
Not everyone liked them, however. I didn't. I was a teenage boy, and they were the bane of my existence.
Everything they did was just so romantic, and it made regular dumb guys like me look like dopes. It was impossible to compete with. All guys like me could do was sit back and wait for them to go away. Which they eventually did, but it took soooooooo long. By the time they were gone, the damage had been done. Here are 10 examples of times that boy bands ruined my love life.
And seriously, f*ck you, Nick Lachey.
The Hardest Thing 98 Degrees had to do
The hardest thing 98 Degrees had to was choose which girl they loved, because they had so many choices. Tough lives, guys.
When Savage Garden brought their turtle neck game
Not everyone looks good in a turtleneck, but try not wearing one after this video came out!
When NSYNC had the best brunch
When NSYNC had the most romantic brunch with each other, who could compete?
When Hanson became legal
Once Hanson grew up, all the girls started saying "mmmmbop" to them.
When LFO had "Liquid Dreams"
Only LFO could make their liquid dreams into something romantic instead of something really, really gross. If any other guy would have said anything similar to a girl, it'd be counts for an HR violation, restraining order and/or lawsuit.
When LFO met the girl on TV
We all loved the girl on TV, but LFO got all the attention for it ... and Rich Cronin actually got to date her.
When the Backstreet Boys wanted it that way
The Backstreet Boys let everyone know which way they wanted it, and unfortunately it wasn't this way.
When NSYNC said "Bye Bye Bye"
We're not sure who NSYNC was saying Bye Bye Bye to, but every girl hoped it wasn't to them.
When Backstreet was back
Backstreet came back! Everyone was so excited that they never noticed that Backstreet wasn't a thing that had gone away.
When 2g+er used math
When 2g+er used math to prove that they were meant to be with any girl they wanted, it was just over for me.
Previous
Next
BEGIN