When it comes life, we sometimes have a hard time seeing the really great things that come with it. We could be having a really terrible day, where NOTHING is going our way, and we just can't seem to look at the bright side. Or, we could get wrapped up in the same old boring routine day to day, and forget just how precious each and every one of those days is.
Either way, it's not difficult to take life for granted.
But just because it's easy to forget about the rest of the world, it's important to remember to "look up" and remember where you came from. We need to appreciate our lives and the beautiful world and people around us.
As Ferris Bueller famously said, "Life moves pretty fast. If you don't stop and look around once in a while, you could miss it."
And he's totally right. The world we're so lucky enough to live in offers us some of the most amazing sights and experiences. A lot of people just muddle through their day and aim to just make it through the week. But life is more than that — it's about getting out there, seeing the world, making memories, and certainly living with no regrets.
Instagram poet Kriz Summer has this incredible way with words that allows her to easily correlate our lives with some of the greatest wonders of nature. Reading her writing inspires us to become one with the ocean, the wildflowers, and the storms. She reminds us to stop, breathe and look around. To appreciate the world we live in and the lives we're given.
Check out a select few of our favorites of hers here, and remember to love the people around you.
If you're searching for the best quotes and memes to share with the people you love (or just want to feel inspired yourself) ... look no further! From the sweetest love quotes, inspirational sayings, and hilarious friendship truths, we've got you covered.
Photo: Instagram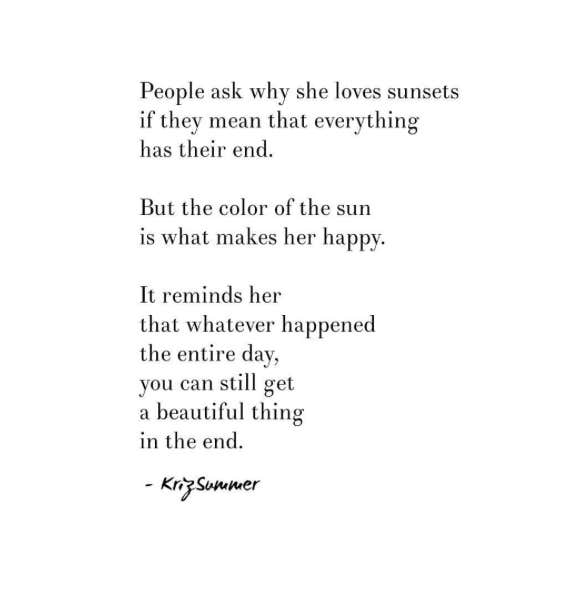 "People ask why she loves sunsets if they mean everything has their end. But the color of the sun is what makes her happy. It reminds her that whatever happened the entire day, you can still get a beautiful thing in the end."
Photo: Instagram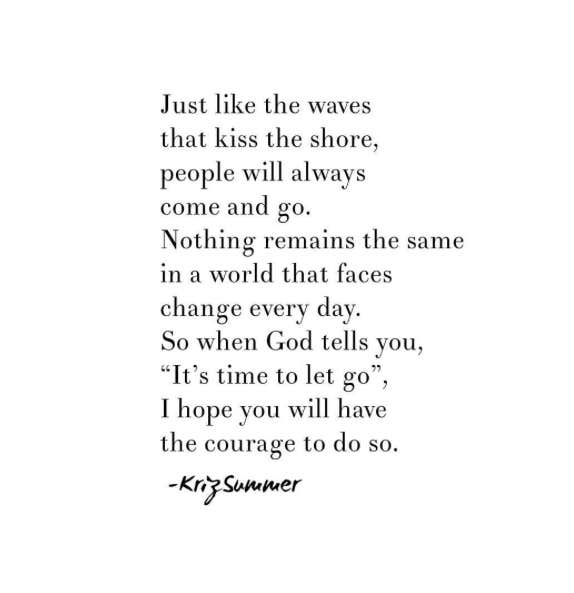 "Just like the waves that kiss the shore, people will always come and go. Nothing remains the same in a world that faces change everyday. So when God tells you, 'It's time to let go,' I hope you will have the courage to do so."
Photo: Instagram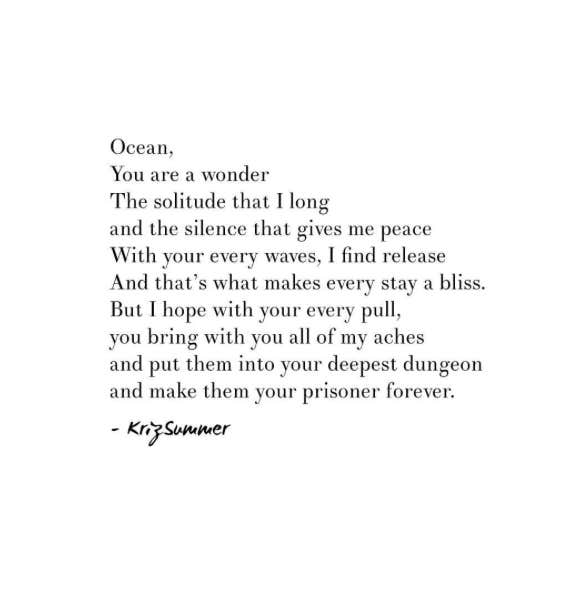 "Ocean, you are a wonder. The solitude that I long and the silence that gives me peace. With your every waves, I find release and that's what makes every stay a bliss. But I hope with your every pull, you bring with you all of my aches and put them into your deepest dungeon and make them your prisoner forever."
Photo: Instagram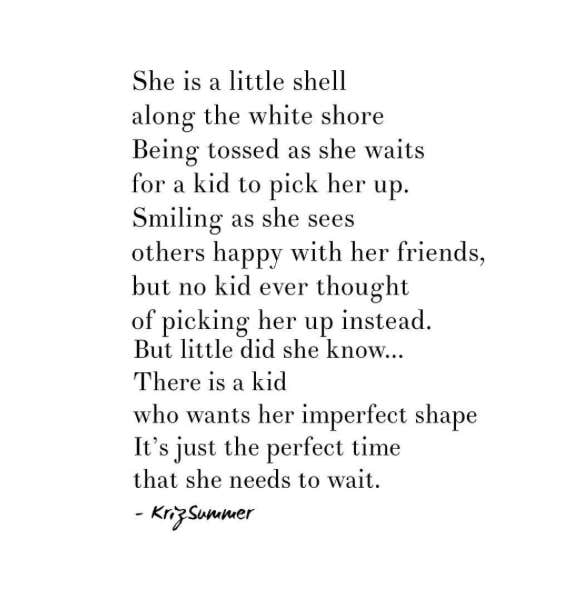 "She is a little shell along the white shore being tossed as she waits for a kid to pick her up. Smiling as she sees others happy with her friends, but no kid ever thought of picking her up instead. But little did she know...there is a kid who wants her imperfect shape. It's just the perfect time that she needs to wait."
Photo: Instagram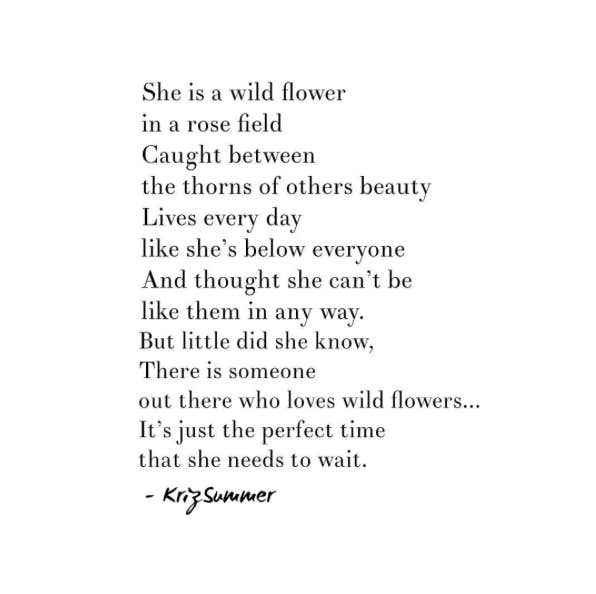 "She is a wild flower in a rose field caught between thorns of others' beauty. Lives every day like she's below everyone and thought she can't be like them in any way. But little did she know, there is someone out there who loves wild flowers...it's just the perfect time that she needs to wait."
Photo: Instagram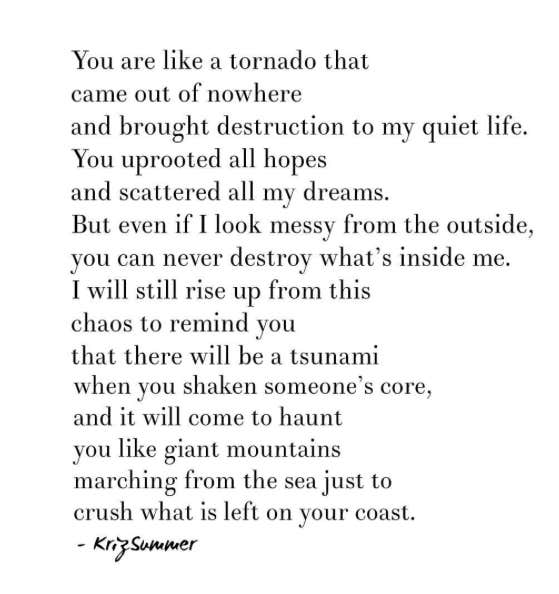 "You are like a tornado that came out of nowhere and brought destruction to my quiet life. You uprooted all hopes and scattered all my dreams. But even if I look messy from the outside, you can never destroy what's inside me. I will still rise up from this chaos to remind you that there will be a tsunami when you shaken someone's core, and it will come to haunt you like giant mountains marching from the sea just to crush what is left on your coast."
Photo: Instagram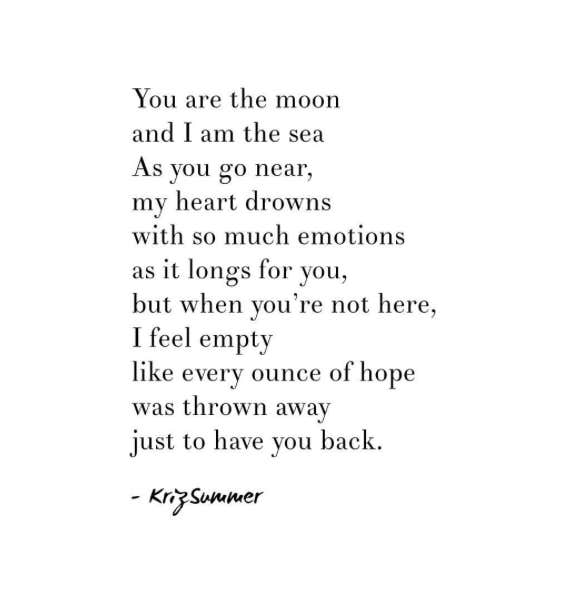 "You are the moon and I am the sea. As you go near; my heart drowns with so much emotions as it longs for you, but when you're not here, I feel empty like every ounce of hope was thrown away just to have you back."
Photo: Instagram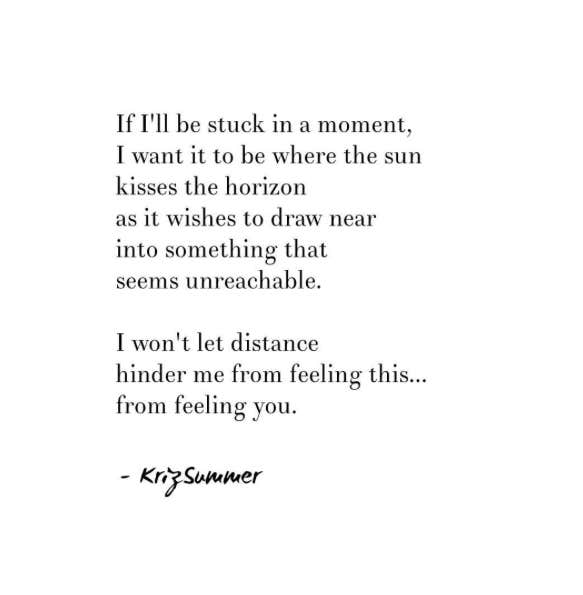 "If I'll be stuck in a moment, I want it to be where the sun kisses the horizon as it wishes to draw near into something that seems unreachable. I won't let distance hinder me from feeling this...from feeling you."
Photo: Instagram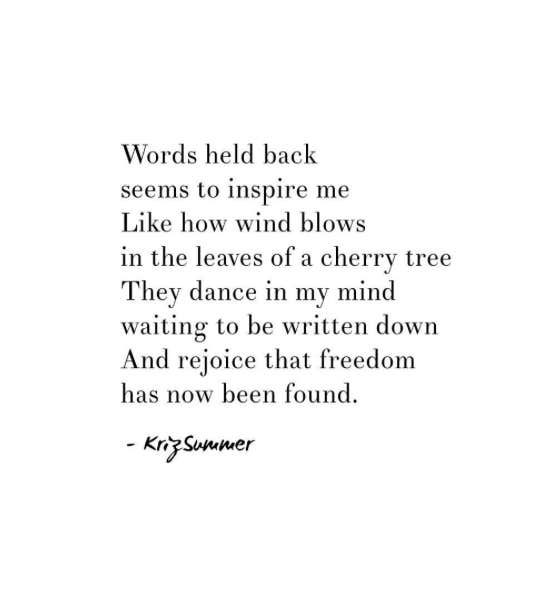 "Words held back seems to inspire me like how wind blows in the leaves of a cherry tree. They dance in my mind waiting to be written down and rejoice that freedom has now been found."
Photo: Instagram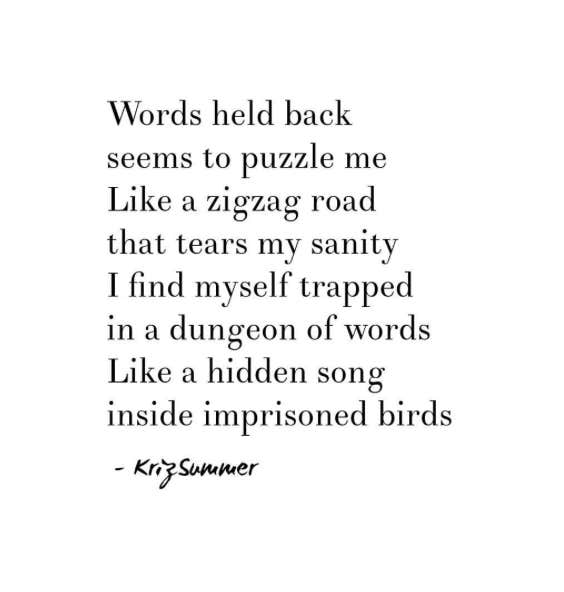 "Words held back seems to puzzle me like a zigzag road that tears my sanity. I find myself trapped in a dungeon of words like a hidden song inside imprisoned birds."
Photo: Instagram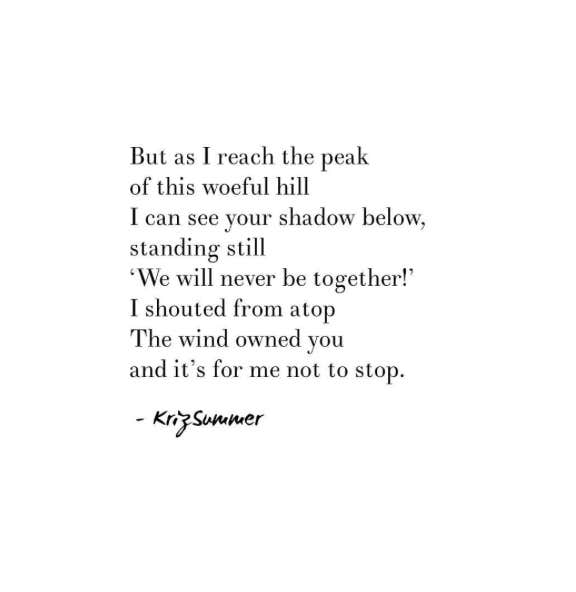 "But as I reach the peak of this woeful hill I can see your shadow below, standing still. 'We will never be together!' I shouted from atop. The wind owned you and it's for me not to stop."
Photo: Instagram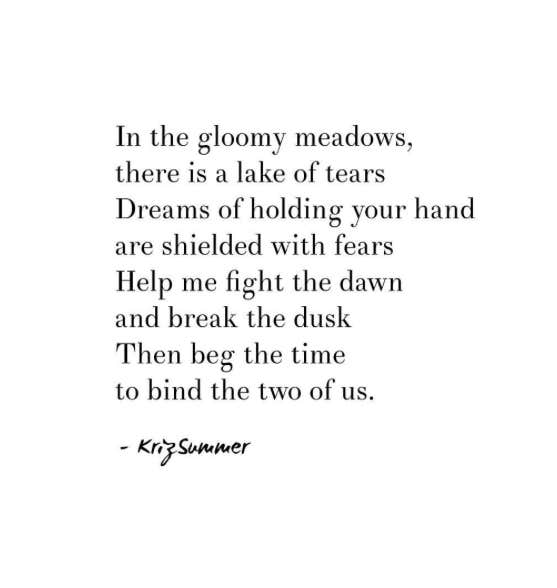 "In the gloomy meadows, there is a lake of tears. Dreams of holding your hand are shielded with fears. Help me fight the dawn and break the dusk. Then beg the time to bind the two of us."
Photo: Instagram
"You sailed the seas and finally reached the coast. You wrote promises I love to read the most. But even if how much we beg to halt the time. Still, my horizon will never meet your coastline."
Photo: Instagram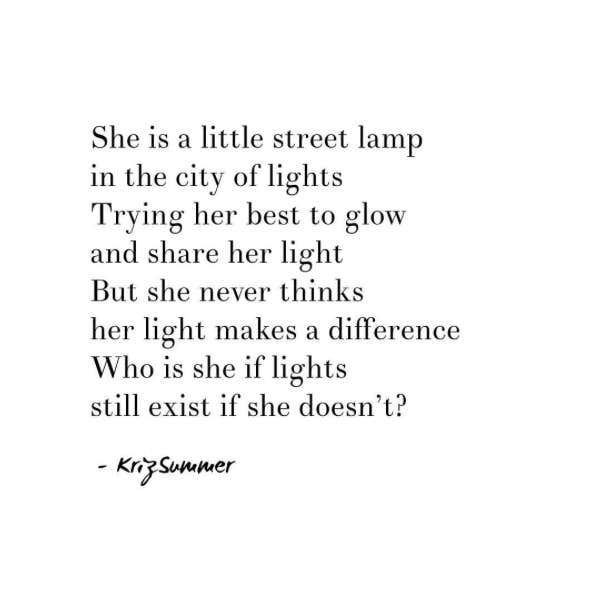 "She is a little street lamp in the city of lights. Trying her best to glow and share her light. But she never thinks her light makes a difference. Who is she if lights still exist if she doesn't?"
Photo: Instagram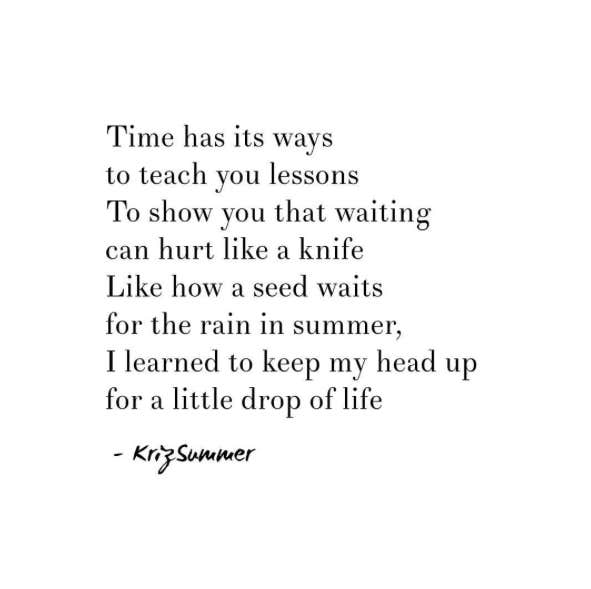 "Time has its ways to teach you lessons. To show you that waiting can hurt like a knife. Like how a seed waits for the rain in summer, I learned to keep my head up for a little drop of life."