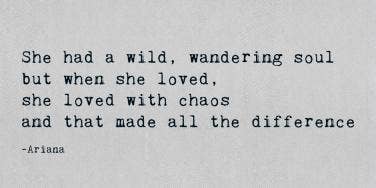 It's time to update your poetry game, boys!
Roses are red, violets are blue ... this is cute if you're in elementary school, but if you're not, then it's time for some new material. (SORRY!)
Seriously though, if you're still using this one on Valentine's day or writing it in her birthday card, then she may be thinking it's time for an upgrade.
But what if I SUCK at writing down how I feel, you ask? Lucky for you, you don't even have to good at expressing yourself — just take a page from some of the greats. Pablo Neruda, John Keats and William Shakespeare all shared their work with the world so others could benefit too.
Girls love to see the softer, more sensitive side of men, and some good, touching love poems are a great way to show them this side of you. With so many to choose from, how do you know which one is the right one to say (or give) to the woman you absolutely adore?
Well no worries there. We've narrowed down the list for you with the top 10 love poems for her.
So go grab that rose or that old 90's boom box, show up outside her bedroom window, throw a few (very tiny rocks) and show her how you really feel.
Or maybe just leave her a note in her purse. Whatevs. You get the point.
---
If you're searching for the best quotes and memes to share with the people you love (or just want to feel inspired yourself) ... look no further! From the sweetest love quotes, inspirational sayings, and hilarious relationship truths, we've got you covered.
---
Kayla Cavanagh is an editor and writer living in Central Florida. When she's not feverishly obsessing over spreadsheets and grammar, she enjoys drinking margaritas by the pool, watching movies with her husband, Matt, and dancing with her kids in the living room.
For when all you can do is think about kissing her.
"I am fascinated by the shape of your lips and how they fir so perfectly with the shape of mine." — Christy Ann Martine
For when she wants to know when you feel in love.
"You are the poem I never knew how to write and this life is the story I have always wanted to tell." — Tyler Knott Gregson
For when you want to tell her how much better you are with her.
"If I were the sun and you were the sky I'd never set. I'd hover above the edge of the water waiting for you to shine your stars on me so I could become bigger than what I am. I'm brighter when I'm with you." — Christy Ann Martine
For when she wonders if herself is enough.
"I love how you're so unapologetically yourself. You let the world know that you define you, and everything that you are. How absolutely refreshing..." — S. Marie
For when you want her to know just what she means to you.
"I spent my days waiting for you, searching the crowds for your face. I stopped breathing the moment you recognized me, as you captured my soul with your gaze." — Christy A. Martine
For when you want to say that you're thankful for her being there.
"Sitting next to you is like taking a sip of eternity, the sun, the stars, the sky, never tasted so good." — Christy A. Martine
For when things get tough.
"This world is full of friction my love, and it is exhausting. From tires spinning in the streets to shoes scraping on concrete, to brother vs brother and nation vs nation, this life is wrought with fear and resistance, conflict and aggression, but you won't find it here. This is where you find safety, my hand always holding yours, finding peace and rest in my arms wrapped around you. No matter what in the world weighs you down with, you can lay your head on my chest, tune it out, and listen to my heart beating only for you." — Leo Christopher
For when you don't really know what to say.
"I love you with knowing how, or when, or from where. I love you simply, without problems, or pride: I love you in this way because I don't know any other way of loving." — Pablo Neruda
For when she seems untamable.
"She had a wild, wandering soul but when she loved, she loved with chaos and that made all the difference." — Ariana
For when you want to tell her she's beautiful no matter what.
"Oh my darling, it's true. Beautiful things have dents and scratches too." — writtenbyhim
Previous
Next
BEGIN