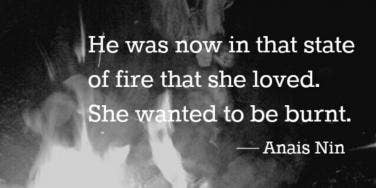 For when you need a little jump-start jumping into bed ...
Sometimes it doesn't take much to get into the mood. When life is feeling leisurely, balanced and effortlessly fun, all it may take is a gentle breeze or whiff of a romantic scent that engages your senses and — BAM! You're in the mood!
That "come hither" look in your eyes is all that it takes to spark a fire that lasts into the night ... or for at least half an hour before you exhaustedly collapse into a deep sleep.
But we all experience times when we could use some help getting into the mood.
Life is busy. You have a ton on your mind. The kids are sick or need a taxi-drive somewhere.
When you feel far from sexy, and getting yourself there seems like it will be WAY more work than you think it should.
Aside from a beach vacation full on with mani/pedi by a beach boy who massages your tightly wound muscles into liquid butter, what else might work as a second best substitute?
Okay, okay ... I know it's not much, but if you don't have time to dive into a romance novel, bite off a nibble of these oh-so-hot sex quotes.
Maybe you'll find your sexy self purring happily enough to kick-start your own something-something TONIGHT with your own love.
Now that we've given you a little jump start, go see what kind of fire you can kindle!
Michele Brookhaus RSHom(NA), CCH is the playful creator of Yoni's Bliss, a homeopathic lubricating gel. She believes ALL women are entitled, worthy and capable of juicy connections. Find her product at www.yonisbliss.com.
If you're searching for the best quotes and memes to share with the people you love (or just want to feel inspired yourself) ... look no further! From the sweetest love quotes, inspirational sayings, and hilarious relationship truths, we've got you covered.
"The conversation between your fingers and someone else's skin. This is the most important discussion you can ever have."
"The art of seduction is knowing what she really wants and giving it to her in a way that takes her breath away."
— Unknown
"If you kiss my neck, I am not responsible for what comes next."
— Unknown
"I need someone who sees the fire in my eyes and wants to play with it."
— Unknown
"Stop undressing me with your eyes ... Use your teeth."
— Unknown
"He was now in that state of fire that she loved. She wanted to be burnt."
"I will only let you touch me if your hands are so full of intention that every brush of your palm feels like you're writing a novel on my skin."
"Start with my mind. Touch me there first. Run a fingertip along the edge of my fantasies. Learn where the sharp unexpected edges are, and revel in the feel of each curve."
— Susan Keller
"You can stay, but your clothes must go."
— Unknown
Previous
Next
BEGIN