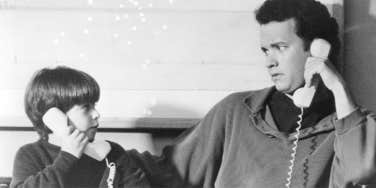 Feel like staying in tonight? Here's what you should and should not watch tonight.
Valentine's Day is here, which means all the restaurants are booked and most couples have plans … and then there's you. Maybe it's last minute plans or maybe you and your beau were looking forward to a casual night of movies. Obviously, your first choice is a romantic movie, but there are good ones to watch on V-Day and there are bad ones. Whether it be terrible plot lines or will leave you passed out before you even get to the sexy part of your night, I am here to give you some good choices for movies, but also the bad ones because you don't want to be stuck with a terrible one.
Romcoms on Valentine's Day are always a good idea. Romance movies are also good unless they involve death. Stay away from the death movies, no one needs a night of tears, that's not romantic. Also steer clear of movies where the couples don't even end up together, while many of those are good, that's definitely not the point of the movie you want to watch tonight. So sit back with some wine and enjoy your special day. Consider this your official guide to Valentine's Day movies. Here are the best and worst movies to watch on the most romantic day of the year:
Worst: Valentine's Day
It may take place on the romantic day, but no one should have to sit through two hours of super famous celebrities carrying out terrible plot lines.
Best: Sleepless in Seattle
Really though, this is what you should be watching tonight. That magical moment on top of the Empire State Building on Valentine's Day is everything.
Worst: Fifty Shades of Grey
The movie might help to get you guys in the mood, but you really don't want to be taking sex advice from a dude who makes women sign a contract. Also, your woman will be pretending you're Jamie Dornan later …Awkward.
Best: You've Got Mail
Welcome to AOL's version of online dating. Again it's fun, not that long and very romantic.
Worst: Titanic
That car sex may be hot, but watching a tragic love story may not be the best idea for date night on Valentine's Day. Plus it will only anger you that Rose couldn't move her dumb ass over on the GIANT WOODEN DOOR.
Best: Pretty Woman
There's something in it for both you and him: Strippers and Richard Gere!
Worst: The Way We Were
Spoiler alert. He chooses the boring wife instead of the ever-complicated relationship he has with Katie. You're probably complicated, but Valentine's Day is not the day to remind men that there are boring women out there.
Best: Casablanca
Black and white movies with wine. It will be so romantic, you'll be hooking up before Rick and Louie begin their beautiful friendship.
Worst: Gone With The Wind
Ain't nobody got three hours on hand. There's no way to kill Valentine's Day faster than with a long movie.
Best: Crazy, Stupid, Love
Men actually really like this movie and its hilarious. Plus, Ryan Gosling's abs guest star. It's a win-win for all parties.
Worst: Blue Valentine
Worst couple to watch when you want to be happy. The end.
Worst: Marley & Me
Crying won't get you laid. Steer clear of this sob fest.
Best: It Happened One Night
The original romantic comedy. It will not disappoint.
Worst: A Walk To Remember
Best: Hitch
The best matchmaking movie to watch with your boo.
Previous
Next
BEGIN