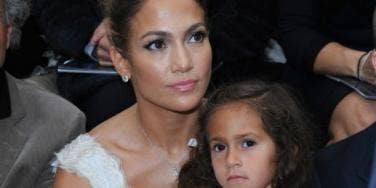 These star moms have their hands full with more than one celeb kid in the house.
When news broke last week about the Texas mother who gave birth to two sets of identical twin boys—not quadruplets—without the aid of fertility drugs, the world took note. The odds of such a birth are one in 70 million, which means you won't be hearing this story again any time soon.
In honor of mommy Tressa Montalvo and her newborn sons Ace, Blaine, Cash and Dylan (let's hope that A, B, C, D thing helps the new parents keep the babies straight), we thought we'd reflect on some of Hollywood's hippest moms of multiples. Of course, most of these mommies did turn to fertility treatment to conceive their multiples and they have hired help to keep up with their rugrats. Ah, Hollywood mommyhood!
Angelina Jolie
Despite their expansive brood, people were still surprised to learn that the celebrity power couple was expecting twins. Knox and Vivienne were born in July 2008 in France, and they joined older siblings Maddox (adopted from Cambodia), Pax (adopted from Vietnam), Zahara (adopted from Ethiopia), and Shiloh (the couple's biological child), making the Pitt-Jolie clan a party of eight.
Rebecca Romjin
Rebecca Romijn and husband Jerry O'Connell named their fraternal twin daughters Dolly and Charlie, born in December 2008. The name Charlie is in honor of Jerry's brother, while Dolly is a nod to musician Dolly Parton.
Mariah Carey
On their third wedding anniversary, singer Mariah Carey and then-husband Nick Cannon welcomed their twins Monroe and Moroccan. Throughout the pregnancy, rumors circulated that Carey was expecting twins, but the parents were keeping the truth, well, mum, until they let the secret slip to none other than President and First Lady Obama at a Christmas concert.
Marcia Cross
Marcia Cross was so eager to become a mom that when she got married in 2006, she and her husband skipped their honeymoon and immediately began IVF treatments. However, the 44-year-old actress struggled to conceive even with the treatments and ultimately found pregnancy success with an egg donor. Fraternal twins Eden and Savannah were born in February 2007.
Julie Bowen
Before Modern Family made her a household name, Julie Bowen was expanding her own modern family. Twins John and Gus joined older brother Oliver in 2009.
Julia Roberts
One of the first Hollywood heavy-hitters to give birth to twins in her late 30s, Julia Roberts welcomed Hazel and Phinnaeus in November 2004. In 2007, Roberts and her cinematographer husband Danny Moder added son Henry to the mix.
Jennifer Lopez
Jennifer Lopez made no bones about wanting to become a mother, and in February of 2008, she and then husband Marc Anthony brought twins Max and Emme into their luxe world.
Holly Robinson Peete
Long before a Hollywood Mommies of Twins club existed, Holly Robinson Peete gave birth to twins Ryan Elizabeth and Rodney, Jr. in 1997. At the age of three, Rodney, Jr. was diagnosed with Autism, and since that time, Peete has been a tireless advocate for children and parents living with the disorder.
Celine Dion
Singer Celine Dion made her struggle to bear children very public and after five failed attempts at in-vitro fertilization, her sixth IVF treatment–coupled with acupuncture–resulted in the birth of fraternal twins boys Eddy and Nelson. The pair joined older brother René-Charles.
Sarah Jessica Parker
Sarah Jessica Parker and husband Matthew Broderick added twins Marion and Tabitha to the family using a surrogate in June 2009. The two joined big brother James Wilkie, who was six years old when they were born.
Previous
Next
BEGIN