Kanye West covers the August 2014 issue of "GQ." His quotes are nothing short of EPIC!
Kanye West, the newlywed husband of Kim Kardashian, father of the geographically-named North West and infamous self-love advocate, covers the August 2014 issue of "GQ."
Since Yeezy rarely does interviews, when he does sit down for a chat, we perk up and we listen. Intently.
As to be expected, the rapper's quotes are nothing short of epic. Or an epic fail, depending on your perspective and how much pot you might have smoked when reading the piece.
But no matter how much you zone in on 'Ye's words and his statements, you will find yourself with raised eyebrows, scratching your head, asking yourself, "WTF?," thinking he makes no sense, thinking he makes total sense and questioning your own sanity when you start to follow and accept his train of thought.
West certainly serves up some word soup. We tried to analyze and make sense of what he was getting at and going for and we even paired some fun Yeezy GIFs to go along with his phrasings.
Go ahead. See what heads or tails YOU come up with.
Kim Kardashian Intuits Via Osmosis ... We Think!

"Kim is the type of girl that, her entire life, if you were in school with her, most people would be studying and up late nights, but for some reason she would have the skill set to go and grab the one book, turn to the exact page, and just magically say, 'That's the exact answer.' Or she could wink at the person who had done all the work and get it done anyway."

How did she get that answers, though? The same way she got famous? By using her, uh, wiles? If she didn't study, did she cheat? Did she buy the answers? Did she intuit them? Via osmosis? See what Kanye West just did to us? WE WANT THE ANSWERS, TOO!!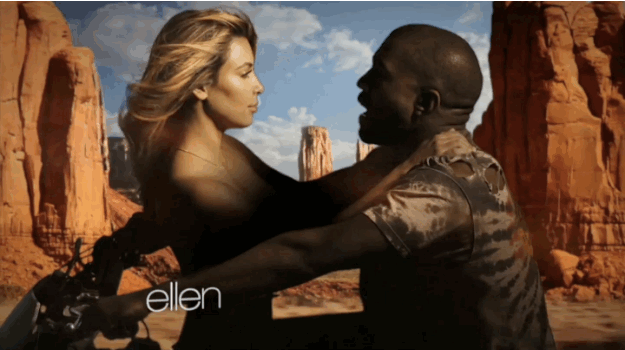 Kanye West and Kim Kardashian in his "Bound 2" video - Giphy
He Is Marine Life

"I'm a blowfish. I'm not a shark, I'm a blowfish. So that perfect example about me hitting my head, it's like a blowfish. I wasn't coming out of my house going to a paparazzi's house to attack them. I'm defending my family in front of my own house. I'm defending my name as someone's screaming something negative at me. That's a blowfish. People have me pinned as a shark or a predator in some way, and in no way am I that. I wouldn't want to hurt anyone. I want to defend people. I want to help people."

The incident Yeezy is referring to is when he smashed his head on a street sign while walking with Double K. They were evading (or fleeing from) the paps and he walked into an inanimate object. He wasn't seeking them out; they sought him out and he defended his turf. This actually makes sense. It really makes sense.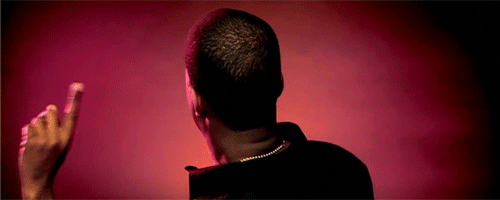 Love And God Should Require Vaccinations By This Logic

"Love is infectious. You know, God is infectious—God flowing through us and us being little-baby creators and shit. But His energy and His love and what He wants us to have as people and the way He wants us to love each other, that is infectious. Like they said in Step Brothers: Never lose your dinosaur. This is the ultimate example of a person never losing his dinosaur. Meaning that even as I grew in cultural awareness and respect and was put higher in the class system in some way for being this musician, I never lost my dinosaur."

Kanye critics are all caught up in that dino metaphor. We're not Jurassic Park-ing it. We're blown away that Yeezy, who is often viewed as humorless, "gets" a Will Ferrell and John C. Reilly classic (and totally awesome) dumb comedy.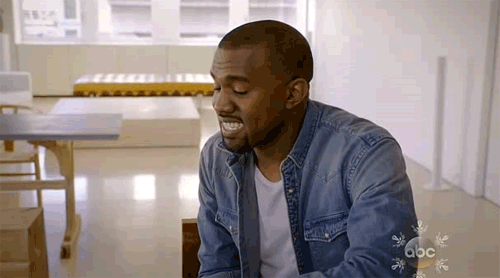 Kanye West Is Watching You, Jay Pharoah, Like Robert De Niro Watches Ben Stiller in Meet The Parents

"People know I'm smart. And people know that, whether it's SNL or Jimmy Kimmel, it's a trend to take the piss out of celebrity — just as much of a trend as wearing a gray hoodie or driving a Prius."

Oh, so SNL cast member Jay Pharoah playing West to perfection on the "Keeping Up With Kimye" sketch is no different than driving a hybrid car or wearing comfort clothes. Got it. No, actually we don't.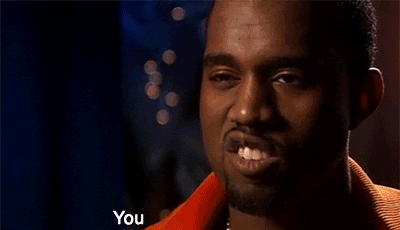 Kimye Wedding Bathroom Decor Was Not Golden -- It Was The Neutral Palette

"The bathrooms — that usually would be a Porta Potty — were wrapped in a fabric that was neutral to match the fort, the same materials that were used to cover the bathroom, we said, 'Let's just use that [to cover a bar at the reception], because this is all we have to make the bar look better.' Which it did, in the end."

Neutral toilets, not gold ones, people. There were rumors of gold latrines at the Kimye nuptials. Gold would have been more fun, though. Did Hedi Slimane of Saint Laurent pony up the fabric? Because that would be beyond golden. Actually, we have a question. Why not leather-wrapped Porta Pottys, Yeezy? You did come up with leather sweatpants, so why not leather loos?