Negin Farsad is an Iranian-American writer, filmmaker, and comedian. In 2011, Farsad was named by Huffington Post as one of their "50 Funniest Women."
Using comedy as a way to talk about politics and cultural dynamics, she calls herself a social justice comedian.
In her Ted Talk about social justice comedy, Farsad pointed out how effective comedy is in making powerful statements: "You could be hearing an interesting treatise on income inequality that's encased in a really sophisticated poop joke."
According to Farsad, humor allows people to bond and is a universal language; when someone is laughing, they are more open and you can talk about deeper issues.
Negin Farsad directed the film The Muslims are Coming! which documents a group of Muslim-American comedians as they tour America and put on shows to combat Islamophobia.
She also published her first book, How to Make White People Laugh. According to Farsad, making people laugh is the best way to open up dialogue.
To see what else she has to say about social justice comedy, read below for 14 of her quotes on the importance of opening up discussion in an inclusive (and humorous) way.
If you're searching for the best quotes and memes to share with the people you love (or just want to feel inspired yourself) ... look no further! From the sweetest love quotes, inspirational sayings, and hilarious friendship truths, we've got you covered.
Oh FLORIDA.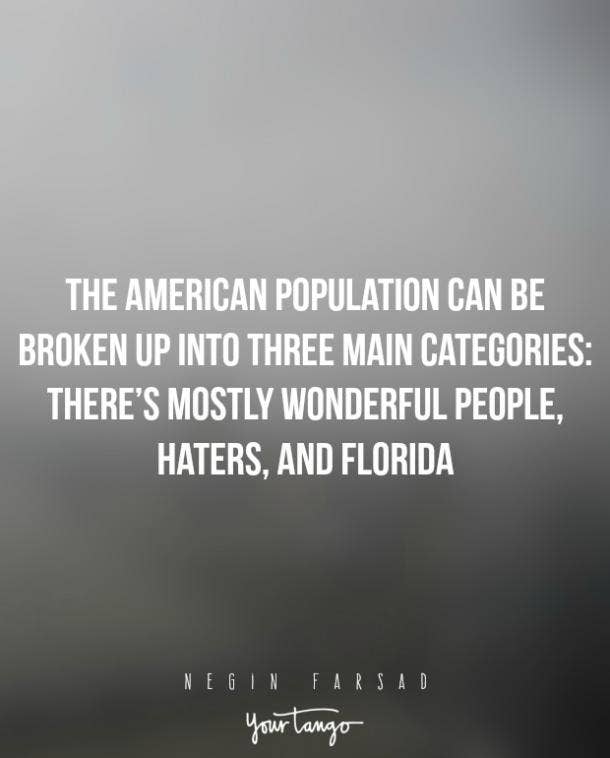 "The American population can be broken up into three main categories: there's mostly wonderful people, haters, and Florida." —Negin Farsad
On social justice comedy at its finest.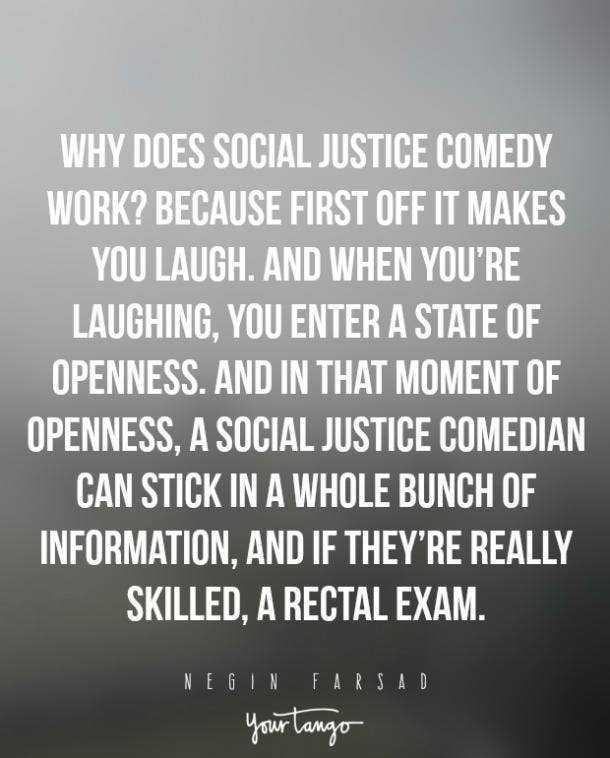 "Why does social justice comedy work? Because first off it makes you laugh. And when you're laughing, you enter a state of openness. And in that moment of openness, a social justice comedian can stick in a whole bunch of information, and if they're really skilled, a rectal exam." —Negin Farsad
Poop jokes get us every time.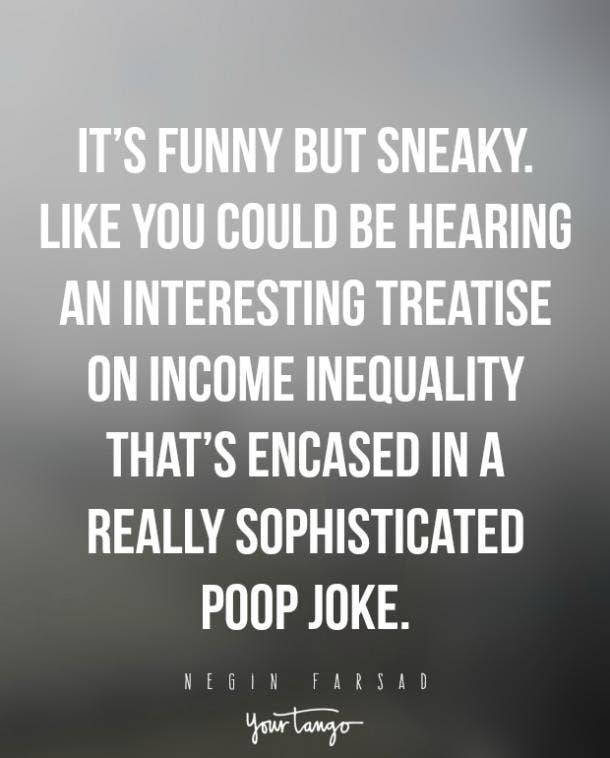 "It's funny but sneaky. Like you could be hearing an interesting treatise on income inequality that's encased in a really sophisticated poop joke." —Negin Farsad
Comic sans is NOT okay - even for bigots.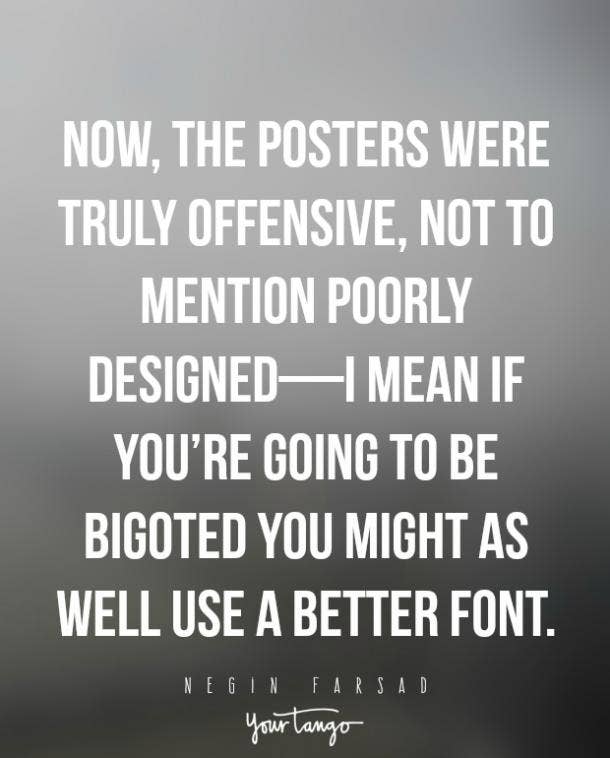 "Now, the posters were truly offensive, not to mention poorly designed—I mean if you're going to be bigoted you might as well use a better font." —Negin Farsad
Twitter makes the world go round (or down?).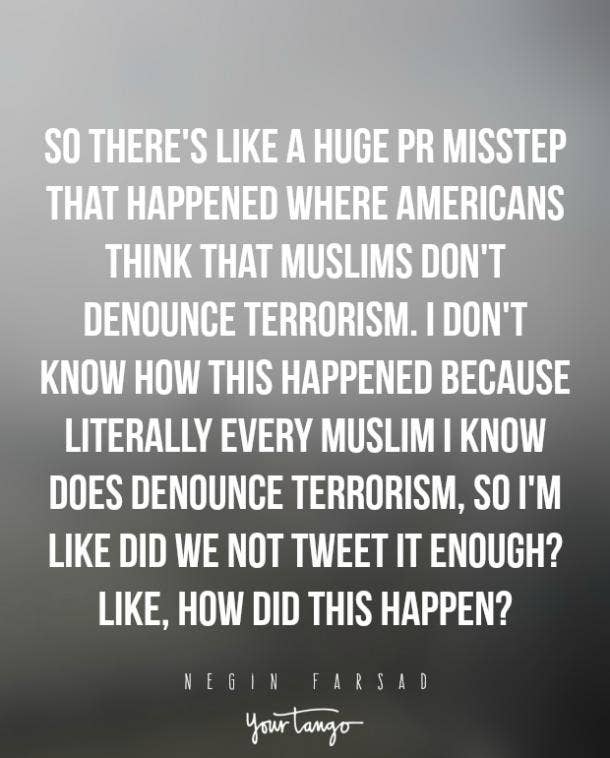 "So there's like a huge PR misstep that happened where Americans think that Muslims don't denounce terrorism. I don't know how this happened because literally every Muslim I know does denounce terrorism, so I'm like did we not tweet it enough? Like, how did this happen?" —Negin Farsad
Can we be done with terrorism talk, please?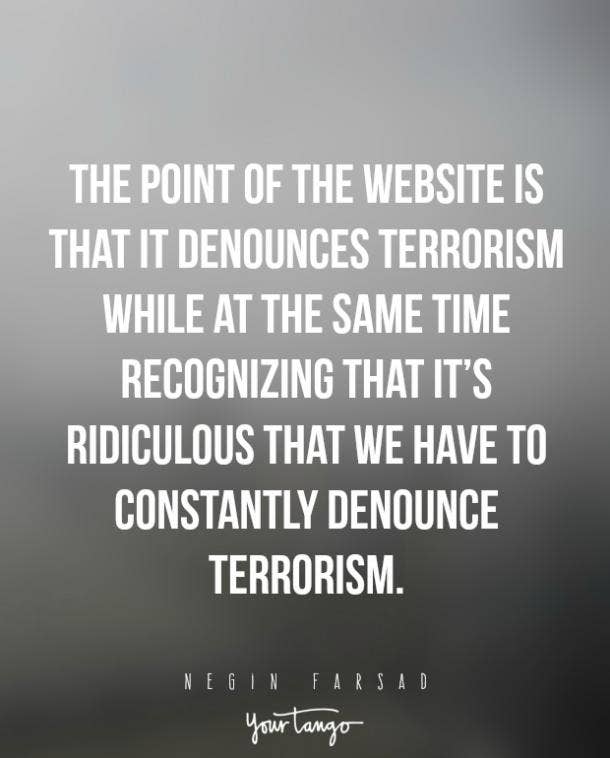 "The point of the website is that it denounces terrorism while at the same time recognizing that it's ridiculous that we have to constantly denounce terrorism." —Negin Farsad
No one likes competitive ice skating.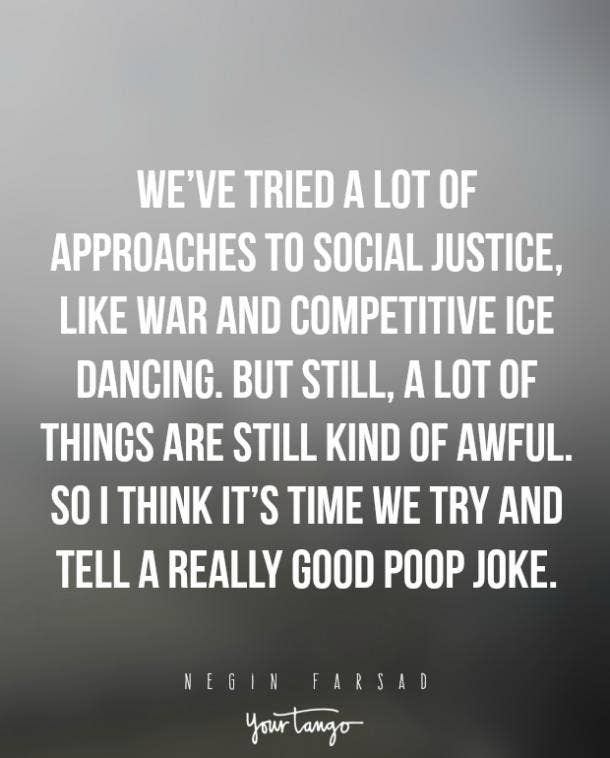 "We've tried a lot of approaches to social justice, like war and competitive ice dancing. But still, a lot of things are still kind of awful. So I think it's time we try and tell a really good poop joke." —Negin Farsad
It's true. It really is.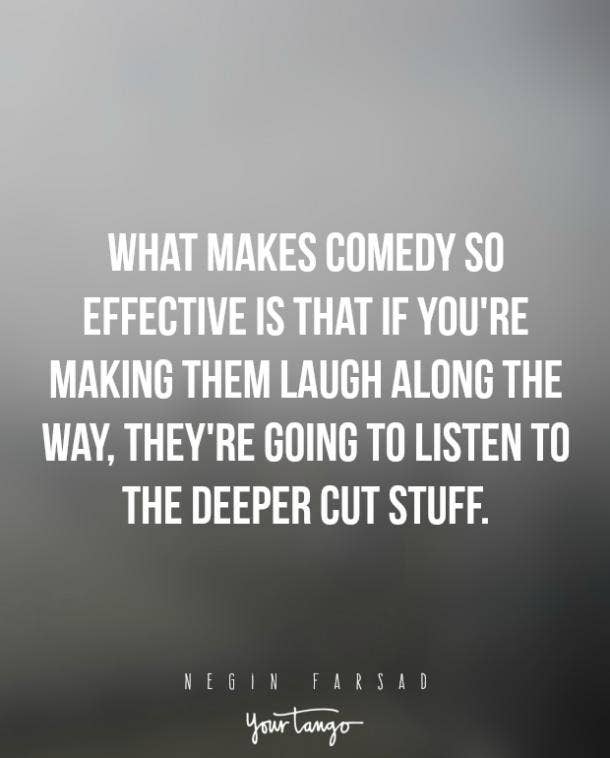 "What makes comedy so effective is that if you're making them laugh along the way, they're going to listen to the deeper cut stuff." —Negin Farsad
CONVERT THE HATERS!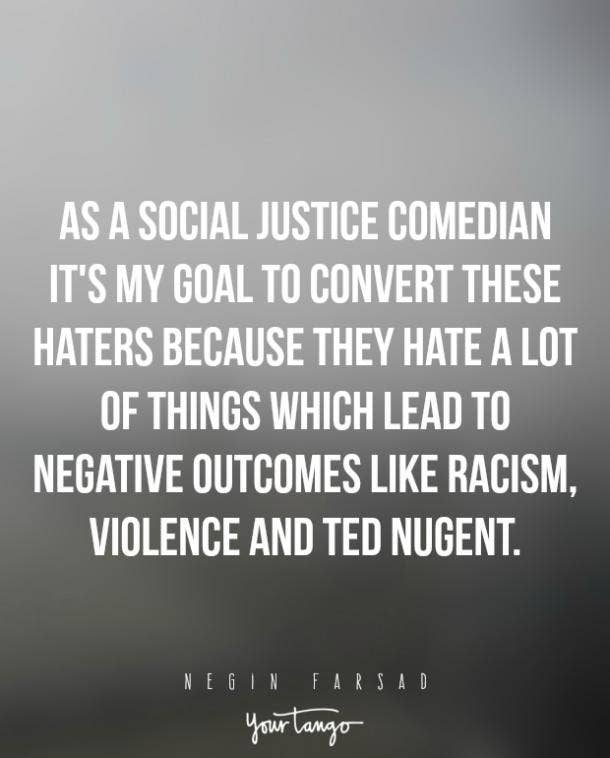 "As a social justice comedian it's my goal to convert these haters because they hate a lot of things which lead to negative outcomes like racism, violence and Ted Nugent." —Negin Farsad
Chuckles = CHANGE.
"Well, the way I like to look at it is you get one person to laugh and then a couple people laugh. And then over a lifetime, you might get like a million people chuckling. And those chuckles add up to some measure of a popular shift in perception. And that is social change. But it takes time. And it takes like millions of these chuckles." —Negin Farsad
You have to place your focus in the right place.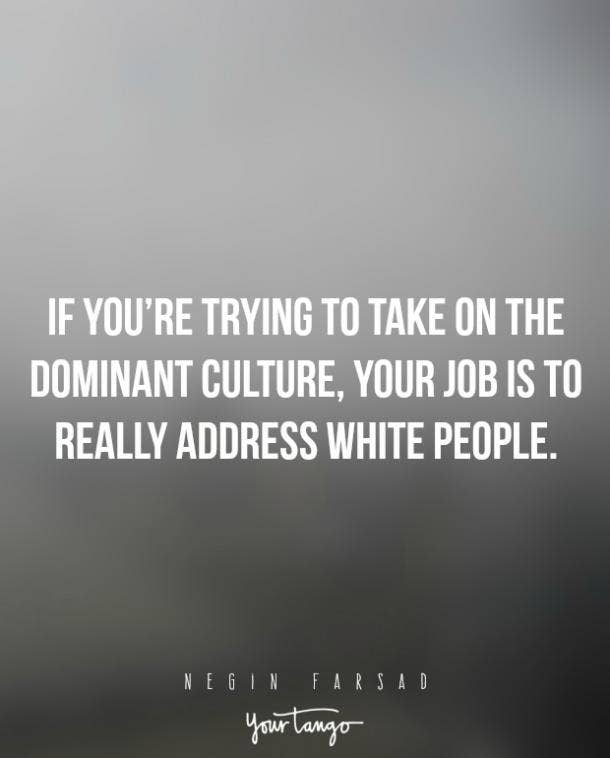 "If you're trying to take on the dominant culture, your job is to really address white people." —Negin Farsad
The news isn't EVERYTHING.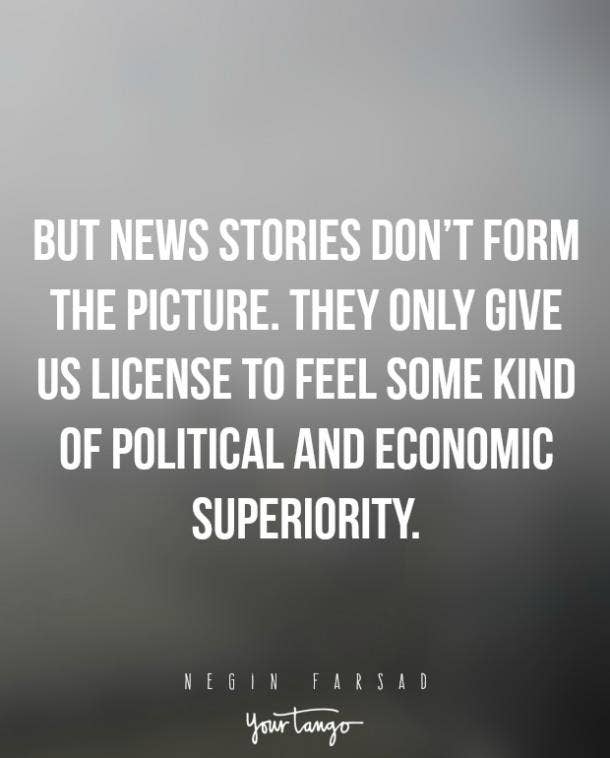 "But news stories don't form the picture. They only give us license to feel some kind of political and economic superiority." —Negin Farsad
Aren't we all human?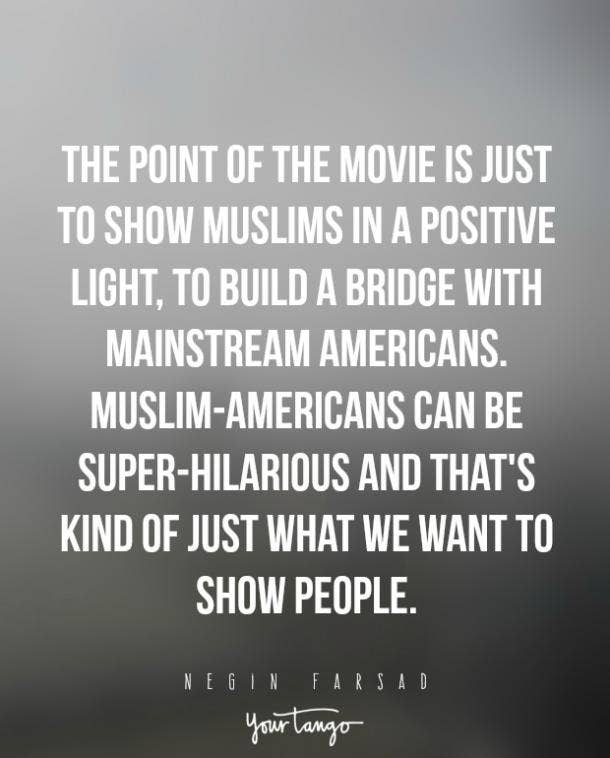 "The point of the movie is just to show Muslims in a positive light, to build a bridge with mainstream Americans. Muslim-Americans can be super-hilarious and that's kind of just what we want to show people." —Negin Farsad
We're all here together. Might as well make light of it.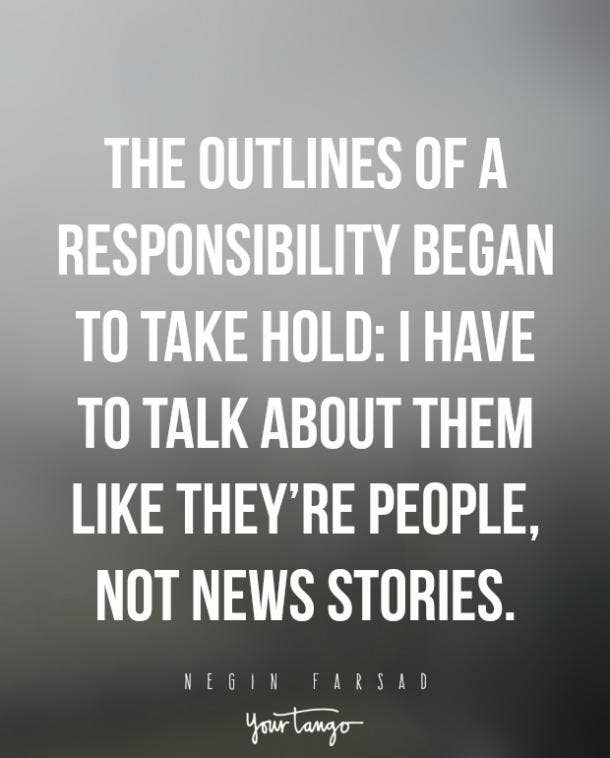 "The outlines of a responsibility began to take hold: I have to talk about them like they're people, not news stories." —Negin Farsad
YourTango may earn an affiliate commission if you buy something through links featured in this article.