Grab your cosmopolitan, ladies!
Sex and The City was the show to watch on HBO in the mid-late '90's. Spanning six seasons, it covered friendships, love, breakups, marriages, babies — and was pretty much my go-to show no matter what mood I was in.
Though it featured an ensemble cast of four strong, vibrant and successful women living in New York City, most everyone (including myself) wanted to be Carrie Bradshaw.
Carrie, the main character played by the lovely Sarah Jessica Parker, was a writer/sex columnist living it up on the Upper East Side of NYC, dating men, drinking and dining with her best friends, and leading the life I always wanted.
Did it happen for me? Well, I am a writer and I live near NYC, but the rest I have to just accept will not be my life. Sarah Jessica Parker does, however, share a birthday with my IRL BFF, which happens to land on March 25th (making both of them an Aries).
So, in my twisted head that likes to play six degrees of separation, I consider SJP my BFF, too.
Manolo Blahniks for life, am I right, bestie?
Here are some fun facts you may not have known about the show:
1. The tutu Carrie wears in the opening sequence was found in a bargain bin for only $5!
Here's the opening in case you forgot. And if this doesn't make you want to open up your DVD collection or log in to HBOGo, I don't know what would!
2. Remember Carrie's best friend Stanford, played by Willie Garson?
Yeah, they dated in real life back in the day (1985) and are still good friends in real life. How cool is that?!
3. Carrie wrote a total of 92 columns throughout the series.
Her final one asks, "Is it time to stop questioning?"
4. In the first Sex and The City film, Carrie removes a book from the display at a bookstore and switches it with her own book.
The book she removes is Lucia, Lucia by Adriana Trigiani, the premise of which is about a woman who plans a huge wedding only to be left at the altar. Well, if you've seen the movie, you see the perfect foreshadowing, right?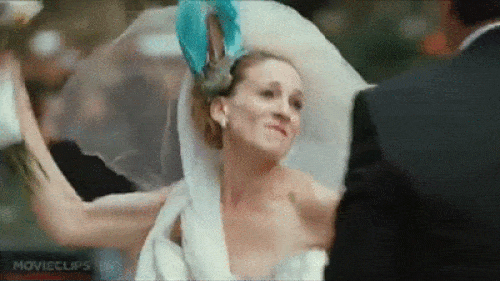 Blogspot
To walk you further down memory lane with me, here are 16 of my favorite SATC quotes from Carrie Bradshaw, the love and style icon who will live on for ages.
"Why do we let the one thing we don't have affect how we feel about all the things we do have? Why does one minus a plus one feel like it adds up to zero?"
"But if you love someone and you break up, where does the love go?"
"No, I'm going to bed. I am not in the mood to be with people."
"I need to feel the weight of a man on me."
"it's your body, your life. You do what's best for you."
"Enjoy yourself! That's what your 20's are for! Your 30's are to learn the lessons and your 40's are to pay for the drinks!"
"I like my money where I can see it: hanging in my closet."
"Maybe the past is like an anchor holding us back. Maybe, you have to let go of who you were to become who you will be."
"I will never be the woman with the perfect hair, who can wear white and not spill on it."
"The odds of bumping into him when you look like shit are higher."
"Can you ever really forgive, if you can't forget?"
"The most exciting, challenging and significant relationship of all is the one you have with yourself. And if you can find someone to love the you you love, well, that's just fabulous."
If you're searching for the best quotes and memes to share with the people you love (or just want to feel inspired yourself) ... look no further! From the sweetest love quotes, inspirational sayings, and hilarious relationship truths, we've got you covered.