How did we not know this?!
Since first airing in 1998, Sex and the City has grown into a mandate for women all over the world searching for their great love. And though the show ended in 2004 (we're choosing to ignore the movies because they don't hold a Manolo Blahnik to the series), we will never forget that it's perfectly acceptable — and encouraged — to discuss penises and sex over brunch with your girlfriends.
Though the ladies hardly kept any secrets to themselves, check out these 25 facts about Sex and the City you've likely never heard before:
1. Ever wonder why you never see SJP's boobs? Sarah Jessica Parker was the only one of the girls with a clause in her contract stating she would never appear nude on screen.
Photo: Blogspot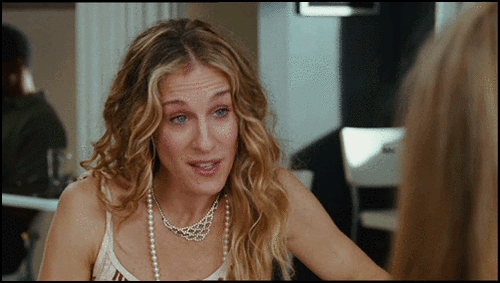 2. There are only eight episodes in the fifth season because Sarah Jessica Parker was pregnant with son James Wilkie Broderick, born Oct 28, 2002.
Photo: Tumblr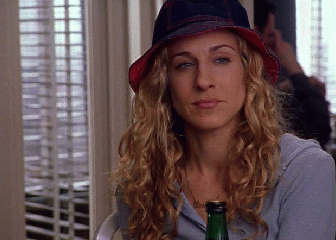 3. Written by Candace Bushnell, SATC is based on a weekly column that was in The New York Observer. Bushnell created Carrie Bradshaw as her alter ego when she published the book,Sex and the City, which is a compilation of her columns.
Photo: Tumblr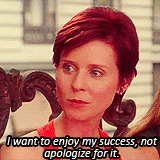 4. By the way, the real Mr. Big was inspired by Bushnell's ex and former magazine executive, Ron Galotti.
Photo: whicdn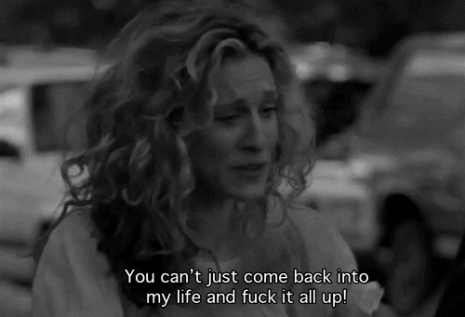 5. Show creator Darren Star got quite the deal. He only paid Bushnell $60,000 for the rights to her columns.
Photo: Gif Soup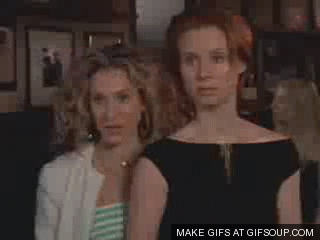 6. In 2012, the apartment where Carrie Bradshaw "lived" sold for $9.65 Million.
Photo: Gif Soup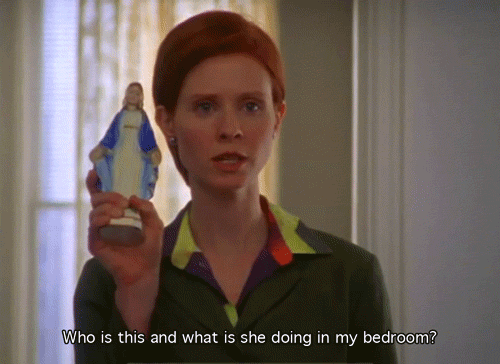 7. The infamous tutu worn by SJP was her idea and she found it in the costume room. Today the Tutu is framed and hanging in Michael Patrick King's office.
Photo: Photobucket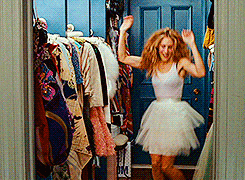 8. There were always rumors speculating that Sarah Jessica Parker and Kim Cattrell disliked each other. However if they did, they hid it extremely well from the public and have openly said that even though there were fights they are very close friends.
Photo: Wordpress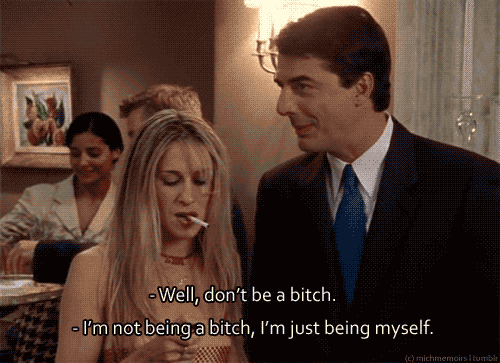 9. Kim Cattrall turned down playing Samantha (twice!). Eventually she was persuaded by Darren Star's boyfriend to give the show a chance.
Photo: Imgur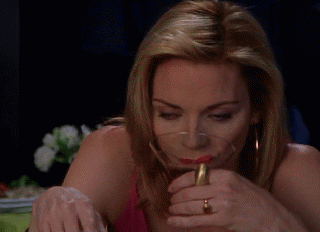 10. Mistake alert! Watch the intro to the show. Notice there are passengers in the bus as she's being splashed, but in the next scene the bus is completely empty.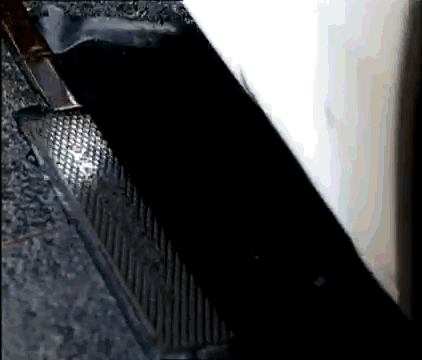 11. Prior to SATC, Darren Star is responsible for the original Beverly Hills, 90210 and Melrose Place.
Photo: Tumblr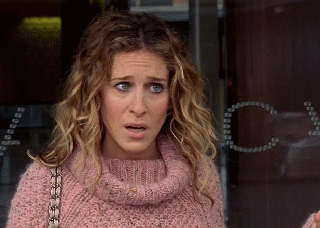 12. Even if the shot was from the waist up, Kim Cattrall insisted on wearing high heels. She said that it made her feel more like Samantha.
Photo: Tumblr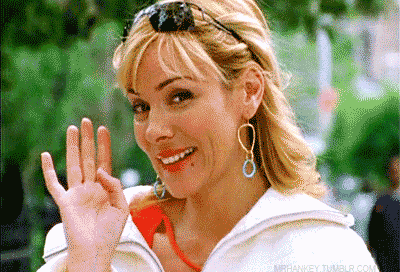 13. If you look closely, you will notice that Natasha, Big's wife, is always wearing white. Up until the very end of her storyline, she was specifically in white to convey that her personality was "vanilla."
Photo: Photobucket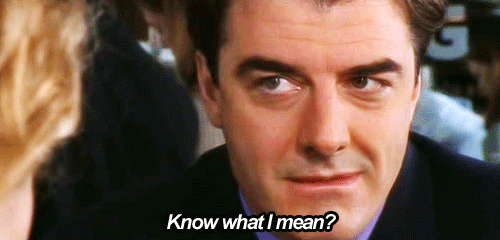 14. In the scene where Trey and Charlotte get engaged at Tiffany's, the store wouldn't allow a crew in for security purposes. Instead, the show made a fake Tiffany's window, but the store still sent an employee to approve the window before it was shot.
Photo: Whicdn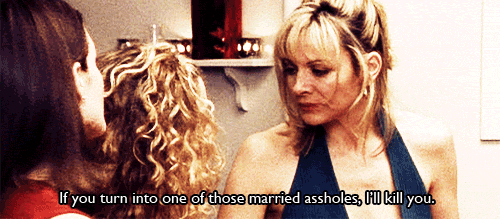 15. Besides Miranda's mother passing away and briefly meeting Charlotte's brother, the girls rarely mention their families. This is because they wanted the four to stand on their own without family history being a factor in the show.
Photo: Tumblr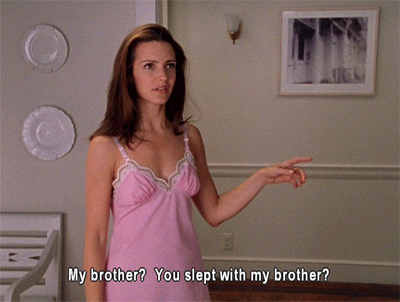 16. A real lawyer wrote the pre-nuptial agreement that Bunny made Charlotte sign!
Photo: Tumblr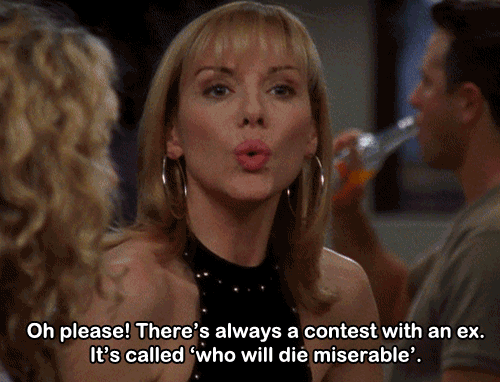 17. Patricia Field, the costumer for the show, never repeated an outfit on any of the girls, except the fur jacket in the last scene was also in the very first episode.
Photo: Tumblr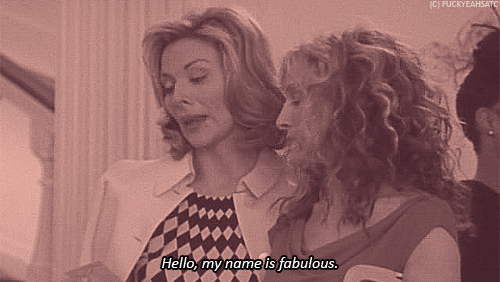 18. In fact, each outfit was super specific for good reason. They were very particular about never letting an outfit take away from an important moment that was happening on the show.
Photo: Tumblr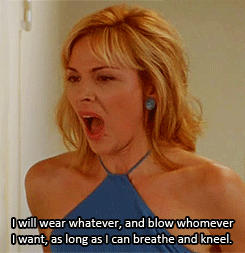 19. Kristen Davis said that her grandma would not have understood the show, so she never told her the title or what the show was about.
Photo: Tumblr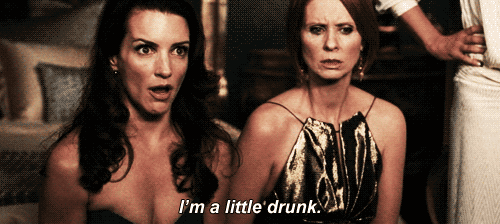 20. When Miranda's cat was playing with Brady's "umbilical cord" it was actually a piece of beef jerky … tied to a string.
Photo: Tumblr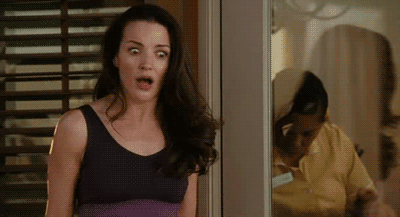 21. SATC was the first cable series to win the Emmy for Best Comedy Series.
Photo: Tumblr
22. Believe it or not, Cynthia Nixon doesn't have pierced ears. She would wear clip-ons, and sometimes the costumers would send away earrings to be made into clip-ons.
Photo: Tumblr
23. Most of the hilarious things that happen on the show actually happened to the writers. I.E. post-it breakup, a doorman breaking up with you for a guy, etc.
Photo: Tumblr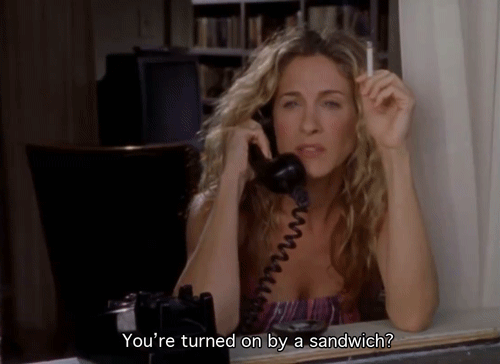 24. Carrie's address is 245 East 73rd St., although it doesn't actually exist.
Photo: Whicdn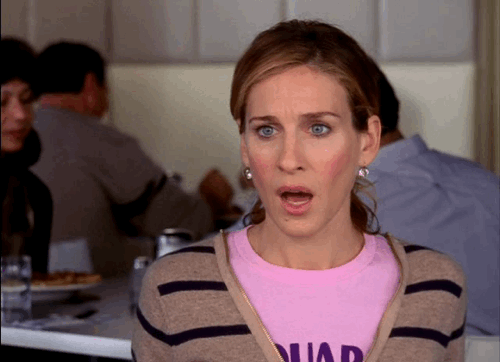 25. They didn't finish filming the very last episode until Wednesday, and it aired that Sunday!
Photo: Spotlife