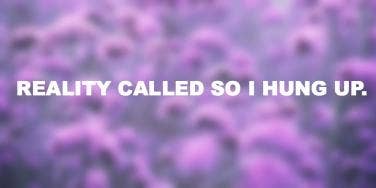 Lazy Rule: Can't reach it, don't need it.
I'll admit it, most of the time I'm lazy AF. It's honestly an art form the way I avoid my responsibilities. I probably should be concerned, but I just can't even.
I believe weekends were made for staying in bed all day and watching Netflix, online shopping is the greatest thing to happen next to sliced bread (carbs all day, EVERY day), yoga pants are socially acceptable for every occasion, "making" food should take no longer than 5 to 7 minutes and mornings are the WORST. So if you're lazy too, I'm obviously in no place to judge (not that I would).
Why is it that everyone who has his or her shit together will always try to make you feel bad about being lazy? PSA there's nothing wrong with taking the elevator up one floor rather than taking the stairs. (Isn't that why elevators were invented in the first place?)
Also FYI productive, type A people ... before you judge, hear this: laziness is a sign of intelligence, thank you very much.
And don't get me started on rainy days. If they happen any other time then Saturday and Sunday, it's like a sign from the heavens telling me to stay indoors and do nothing all day.
Let's be honest though, at the end of the day, lazy people make the BEST friends. We'll never judge you for wanting to stay in instead of going out, staying in bed all day or eating yesterday's pizza for breakfast, lunch and dinner because you have no other food. We're most likely guilty of all of the above.
So I say embrace your laziness and continue to just keep doing you!
Trust me when I say you'll WANT to expend the energy it takes to scroll through these 20 totally funny quotes. It's totally worth it and you'll be able to relate to them on a very spiritual level.
If you're searching for the best funny quotes and memes to share with the people you love (or just want to feel inspired yourself) ... look no further! From the sweetest love quotes, inspirational sayings, and hilarious friendship truths, we've got you covered.
Home is where the bed is.
"People say go big or go home like going home is a bad thing. Hell yah I wanna go home, and I'm going to take a nap when I get there."
Bacon all day everyday.
"Yeah I lift ... slices of bacon into my mouth."
So you can finish that new show you started on Netflix.
"Sundays should come with a pause button."
What you probably wish every Friday.
"If this weekend goes as planned, it will not include any actual plans."
When your friend asks if you want to grab an early breakfast.
"I think I'm allergic to mornings."
Not being emotionally prepared for the week ahead.
"Reality called so I hung up."
Nothing is worth getting out of bed for.
"Lazy Rule: Can't reach it, don't need it."
When your friend suggests you go out.
This is why cooler weather is a girls best friend.
"I love sweatshirt season. Am I wearing a bra? Who knows. Am I wearing what I wore to bed under it? Maybe."
Someone needs to build a time machine for this exact purpose.
"Can we restart the weekend?"
Besides, I haven't finished doing nothing from yesterday.
"I'm not lazy. Just highly motivated not to do anything."
UGH some days you just can't even.
"I already want to take a nap tomorrow."
Online shopping FTW.
"Online shopping because it's frowned upon to be in a store with no bra, sweatpants, and a glass of wine."
This club is where it's at.
"I'm off to club bed featuring DJ Pillow and Mc Blanky."
The only excuse you'll ever need.
"I am not lazy. I am on energy saving mode."
May the odds be ever in your favor.
"Might wake up early and go running but I also might win the lottery, the odds are about the same."
Once the pjs come on, that's it.
"Oh, dear. I really ought to do something but I am already in my pajamas."
Ain't nobody got time to spend 45 minutes getting all dressed up.
"Having plans sounds like a good idea until you have to put on clothes and leave your house."
Your bed is the real MVP.
Oh believe me, my dreams can get pretty WILD.
"I like to party and by party I mean take naps."
Previous
Next
BEGIN