Photo: Tumblr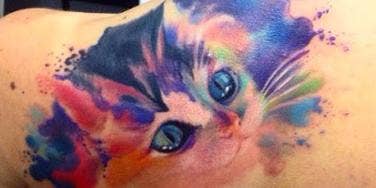 These dreamy designs are so ethereal they don't even seem real!
I got my first tattoo the day I turned 18.
I kept it simple, a big, black sword design on my middle back. Kind of badass for a kid who had never smoked a cigarette, but I stand by it.
I haven't touched it since, though I have gotten other tattoos, two more to be precise. They probably won't be my last.
Lately I've been thinking about touching on my first tat, and spying watercolor tattoos, the latest tat craze, has me drooling to incorporate some sloppy, bright, splashes of paint across my paint.
Watercolor tattoos are exactly what they sound like: Tattoos done in the same style and color as traditional watercolor paints.
The palate is bright and the options are endless. If you're more traditional, your tattoo artist can work with you to create a stunning layout of flowers and trees.
For an edgy look, trying working in some skulls or may be a small pistol, like one woman we spotted.
Some purists aren't thrilled with the idea of breaking the ties of tradition that come from the old school more rough and tumble side of the past history of tattooing.
Thankfully, most artists however, march to the beat of their own drummer.
If you decide to get a watercolor tattoo, take the time to look up artists in your area who make it their specialty. Don't expect to get a tattoo the day you meet your artist. Instead, come with plenty of drawings and suggestions, deferring of course, to your artist above all things. You picked them for a reason: because you trust them. So prove it.
Before you head out to the shop we've rounded up 25 of the best watercolor tattoos out there to entertain and inspire you. May they start you down your watercolor tattoo road with grace and ease.
Hope you dig!
A dreamy kitten
I could stare at this vibrant creature for hours.
A splash of silly
I love the use of blue on this cool foot tattoo.
A pastel project
This epic full body piece is the only armor she'll ever need.
Strength in colo
Don't confuse watercolors with shrinking violets!
Bright and bold
God I wish trees looked like this IRL.
Groovy and gothic
I'm obsessed with this watercolor ode to Edgar Allen Poe.
Perfection in pink
I could stare as these lovely pastels all day long but that would be creepy because I do not know its owner.
80s face
There is nothing I don't love about this 80s face.
Literal watercolors
It doesn't get more literal than this watercolor tattoo!
An angular wonder
The looseness of the color and the severity of the line make for a stunning composition.
One more skull
Guys I want a watercolor skull tattoo sooooo bad!
Abstract and awesome
Proof that your watercolor doesn't need to be traditional to be awesome.
Simple and stunning
This looks like a dried flower you might find inside an old book.
Cute and colorful
This is one tattoo that never forgets to be adorable.
Is that real?
I'm almost positive she's really got a face peering out of her arm -- and I love it.
The painted creatures of the forest
How can something look ferocious and ethereal all at once?
A massive undertaking
This belongs in a museum.
Bang bang
A fake gun with a heart shaped trigger should be the only legal kind.
A bouquet
I don't usually like roses, but ddddaaaaaaamn.
Polly want a cracker?
This parrot's about to take flight.
Memento Mori
How this manages not to be morbid we may never know.
Panda!
This Panda is pure personality.
A touching tribute
You can practically feel his fur.
Smells like spring
Who doesn't love wild flowers?
A joyous burst of color
Doesn't this one almost seem to be in motion?
Previous
Next
BEGIN