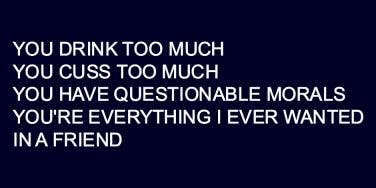 Soul sister, soul sister!
Finding your best friend is a lot like falling in love.
First you get to know each other, what the other person likes and doesn't like. You hang out, go see movies, get lunches and dinners together and then, when the time is right, you meet their family.
A good friendship is also based on love, trust and loyalty. The same exact things that make a relationship successful.
But men (or boys) come and go and friendships stand the test of time.
Your best friend is someone you share your deepest, darkest secrets with because you know they'll listen and won't judge you (NO MATTER WHAT).
They are the one person you can really count on to always be there for you when you need them.
They're the person you go on family vacations with, because after all this time, it's just understood that you are a part of the family. They can all say they've seen you at your worst with no makeup, sweatpants, greasy hair, hairy legs, and STILL loved you. But they've also seen you at your best and been there to cheer you on.
You hope you never have to live far away from your best friend because you couldn't imagine not binge watching a whole season of Law & Order: SVU in one weekend with them.
Best friends are what make life bearable.
​Here are 20 quotes that will perfectly describe what it's like to have a best friend in your life.
If you're searching for the best quotes and memes to share with the people you love (or just want to feel inspired yourself) ... look no further! From the sweetest love quotes, inspirational sayings, and hilarious relationship truths, we've got you covered.
So thankful for your friendship.
"Because of you, I laugh a little harder, cry a little less, and smile a lot more." -Unknown
Partners in crime.
"We've been friends for so long I can't remember which one of us is the bad influence." — Unknown
You're my sister from another mister.
"Thank you for being my unbiological sister." — Unknown
Nothing else matters but our friendship.
"A true friend doesn't care when you're broke, being a bitch, what you weigh, if your house is a mess, what you drive, about your past, or if you family is filled with crazy people. They love you for who you are." — Unknown
Suddenly everything is less scary when you're around.
"I may not be able to solve all of your problems, but I promise you won't have to face them alone." — Unknown
Our friendship is one that will last through the ages.
"This will be us when we're old...I can't wait." — Unknown
I get by with a little help from my best friend.
"She's your best friend because she believes in you when you don't believe in yourself." — Unknown
Who else would I tell these things to?
"Best friend: (noun.) the one you can only stay mad at for a short period of time because you have important things to tell them." — Unknown
DNA doesn't matter.
"Sister from another mister." — Unknown
Where would I be without you?
"Best friends make the good times better and the hard times easier." — Unknown
No matter how many miles come between us.
"True friends are never apart. Maybe in distance, but never in heart." — Unknown
No one gets me better than you.
"You drink too much. You cuss too much. You have questionable morals. You're everything I ever wanted in a friend." — Unknown
You can't make this shit up.
"A good friend knows all your stories. A best friend helped you write them." — Unknown
I'm laughing with you, not at you.
"We are best friends. Always remember that if you fall, I will pick you up...after I finish laughing at you." — Unknown
Boy you better run because I've got a GREAT right hook.
"She is my best friend. If you break her heart, I'll break your face." — Unknown
Pinky promises are unbreakable.
"Best friend is a promise, not a label." —Unknown
You are stuck with me for LIFE.
"Friends come and go, like the waves of the ocean, but the true ones stay, like an octopus on your face." — Unknown
I will always have your back.
"You don't even need to ask, I got you." — Unknown
But really, I love you.
"You are my best friend, my human diary, and my other half. You mean the world to me and I love you." — Unknown
Other people just don't understand.
"Having those weird conversations with your friend and thinking if anyone heard us, we would be put in a mental hospital." — Unknown
Previous
Next
BEGIN