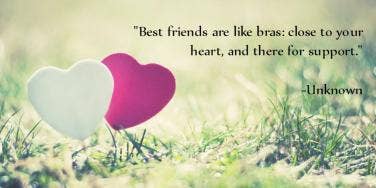 Friends are great. But a true BFF can change EVERYTHING.
Ahhh, friends.
Aside from all the things you know they've done for you (bailed you out of trouble, gotten you into trouble, had a shoulder for you to cry on....well you know all they've done for you), they also make you happier and healthier (seriously, there's science to back it up!).
Let's take a moment to marvel at how awesome our friends are.
Seriously.
Because I don't know about you, but I know I would not be where I am now without my amazing friends. Not the friends who aren't really friends at all (you know the ones I'm talking about - the kind of bad toxic friends you should probably get rid of), but the truest kind of friends who are always there for you. Your TRUE BFFs.
You know, the kind of friends who you call to hang out and have a fun girl's night with. The kind who would totally bail you out of jail…if they weren't sitting there next to you. The kind of friend that your significant other knows they'll have to share you with. The kind of friend who is your family, whether or not they share the same DNA.
And while most people might think that kind of friend only exists in books, you know they're real because you are lucky enough to have one (and if you're really lucky, more than one).
Sometimes, it's hard to put into words just how amazing your friends are or even what makes a friend a true friend. How do you define that?
Well to make things easier, we've rounded up 14 friendship quotes, some inspirational and some hilariously accurate, that perfectly sum up what a true friend is.
If you're searching for the best quotes and memes to share with the people you love (or just want to feel inspired yourself) ... look no further! From the sweetest love quotes, inspirational sayings, and hilarious relationship truths, we've got you covered.
"A true friend never gets in your way, unless you happen to be going down." -Arnold H. Glasow
"We are best friends. Always remember that if you fall, I will pick you up...after I finish laughing." -Unknown
"You find out who your real friends are when you're involved in a scandal." -Elizabeth Taylor
"I have your back. I didn't mean only when it's easy. All the time." -Veronica Roth, Divergent
"True friends say good things behind your back and bad things to your face." -Unknown
"It is when we are most lost that we sometimes find our truest friends." -Brothers Grimm, Snow White
"If I murdered someone, she's the one I'd call to help me drag the corpse across the living room floor. She's my person." -Meredith Grey, Grey's Anatomy
"Friends give you a shoulder to cry on. But best friends are ready with a shovel to hurt the person that made you cry." -Unknown
"A best friend is someone who makes you laugh even when you think you'll never smile again." -Unknown
"A true friend can see your tears pouring, while others believe the smile your faking." -Unknown
"True friendship is when you walk into their house and your WiFi connects automatically." -Unknown
"The most beautiful discovery true friends can make is that they can grow seperately without growing apart." -Elizabeth Foley
"You only really fall apart in front of the people you know can piece you back together." -Sarah Dessen, Saint Anything
"Best friends are like bras: close to your heart, and there for support." -Unknown
Previous
Next
BEGIN