Photo: weheartit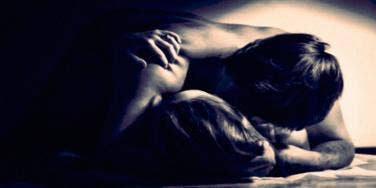 It's time to enjoy sex, no matter what angle you're positioned in.
Sometimes when we're having sex, we spend so much time sucking in our belly and positioning our ass just right that we forget to just enjoy. If you're too self-conscious it can ruin the whole experience. This is true for you AND for your partner.
"If a woman has concerns about how certain areas of her body look during sexual activity, she may gain a lot of confidence by wearing beautiful lingerie that covers those particular areas, says Dr. Leah Millheiser of Nuelle.
If you're feeling self-conscious during sex, there's a pretty good chance you aren't enjoying it. But oftentimes, being on top allows a woman to be in greater control and feel less self-conscious. Here are seven positions to try.
2. Twisted Spoons
You both assume a spooning position, but you modify it by throwing one leg over your partner's.
"Try spending more time naked when you're alone to develop comfort and connection to your body; take a few minutes to enjoy touching your own skin while in the shower, or rub cream over its entire surface to become more familiar with your unique curves and textures. Ideally, you want to focus on feelings and sensations during sex as opposed to worrying about what you look like," says Dr. Jess.
3. Standing Up
This is a bit more advanced, but everyone looks firmer when standing. Only try this if there's not a huge height difference, but it's easier than it looks.
Stand at a slightly angled degree, lift one leg, and let him hold it up as he crouches. Or if you have a strong partner, let him lift you and wrap your legs around his waist.
4. Bend Over Baby
"Stand on the floor next to the bed or a table and bend over so your upper body is flat against the supportive surface," says Dr. Jess. Your partner enters from behind and enjoys the view.
7. Lazy Dog
A spin on doggy style, this sex position involves you laying flat on the bed while your partner enters you from behind. Because your whole body is flat and your movement is minimal, there's zero jiggle potential.
Previous
Next
BEGIN