Photo: metro.co.uk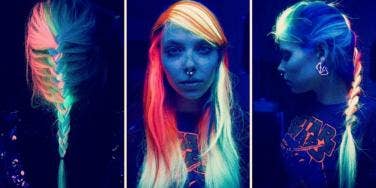 Cool or weird? Can't decide.
Rainbow hair is so last month; to really be on trend you need glow-in-the-dark rainbow hair right away. To achieve this look, you're definitely going to have to go to a colorist that you trust or you could end up looking like a hot mess circa.
This isn't a hair trend for shy people or people who don't want to be noticed since it definitely glows in the dark. The colors are vibrant and fun, and you'll stand out wherever you are.
Check out these modern glow-in-the-dark hairdos.
Photo: Instagram.com/scunci_hair
1. Braided and bright
Three trends in one: glow-in-the-dark, rainbow-colored and braided.
Photo: Instagram.com/mscandycm
2. Mermaid hair
This woman is the definition of on fleek.
Photo: Instagram.com/misheledimariadesigns
3. Trippy neon hair
You'll really stand out in the club if you have glow-in-the-dark neon hair.
Photo: Instagram.com/happytoseee
4. Some can't-miss hair
You can't help but be seen in yellow, pink and green.
Photo: Instagram.com/lenazombie
5. Blue light with a blue glow
Another kind of blue light special.
Photo: Instagram.com/ghostinthe.chell
6. High-fashion
This look is so fabulous, it could walk the runways of Paris.
Photo: Instagram.com/rainbowmegz
7. Glow-in-the dark bun
She has a certain scary clown vibe going on here.
Photo: Instagram.com/brandilc
Photo: Instagram.com/silly_milly91
9. View from above
In the light or the dark, this hair looks amazing.
Photo: Instagram.com/hairby_claudia
10. Neon green and yellow
What a flashback. It's totally like the 80s again.
Previous
Next
BEGIN