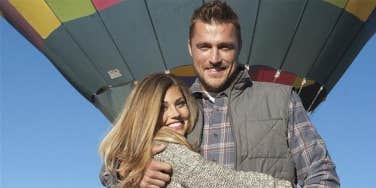 It's a fun show, but so unrealistic.
I've been watching The Bachelor since middle school. Yeah, it's been on for that long, and I remember watching the first Bachelor couple in history say "I do." Those two were Trista and Ryan. They are still together eight years later, however, The Bachelor was a little bit different then. It was much less dramatic and a lot less about finding big personalities to create tension and conflict for the show, and it was pretty much about finding someone. There are even a few relationships that have led to marriage and for some children.
Actually, there are five couples … out of 28 seasons, not including our current bachelor, Chris Soules. The percentage of relationships that have actually worked on the show is 17 percent. Those odds are not great, but there are reasons that the show doesn't work for matchmaking — and it's everything from the way the show is put together to the people they cast. The show really isn't designed for someone to find love (unless you're Trista and Ryan of course, because they are perfect). It's designed to be a reality TV show for women (and men) so you have something to watch on Mondays while you drink wine. Here are 10 reasons most of the relationships formed on The Bachelor/Bachelorette don't actually work out:
1. Unrealistic Dates
In real life dates aren't planned for you and they definitely aren't as romantic as these are. Going back to normal life after these once in a lifetime dates changes the way you feel about someone.
2. The Cameras
The cameras change the way people really act in front of one another. It's not the way you would act with the cameras off.
3. It's forced.
Yes, it's possible to find someone you really like, but the pressure of a proposal at the end is too much, forcing people to move faster than you really should.
4. Location
One person has to give up their life and relocate, so unless these people are from the same place, it's not going to work because you can't compromise when someone has to give it all up.
5. Time
The Bachelor doesn't get enough time to really get to know someone to make a decision like this. You never really know why these people are signing up to go on the show.
6. Alcohol
Because everyone on this show is drunk the entire time. You're not going to find someone to be with forever while you're drunk, just ask Andi Dorfman.
7. Super intense to normal pace
These relationships all start off super intense and trying to quickly determine all these factors of a relationship. When you finally slow down and start living your lives together, you realize all the stuff you're supposed to build up to is already over.
8. Some of them aren't looking for forever
I'm sorry, but some of the bachelors and bachelorettes think they are looking for someone to spend their life with when they aren't. They don't pick someone who they could actually have a future with, because they are mainly in situations where you're having a good time.
9. That first fight
It's all roses on The Bachelor until you get a fiancé and your first real fight. You spend so much time together in a happy place that when a fight goes down, there's a higher chance of it ending your relationship.
10. Hiding from public
Then, after "finding" someone to be with, you have to stay out of the public eye until the show airs, thus forcing a separation. That give people time to lose interest, forget why they liked each other and eventually just break up. So, there's that too.
Previous
Next
BEGIN