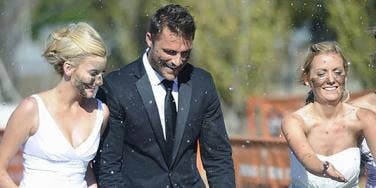 These are the rules that the producers forget to tell you.
There are a set of rules that all people vying for The Bachelor's heart should know before going on the show. Some women have the rules down because they do their research before going on, but besides the rules that the producers require, like participating in all events and meeting with a psychiatrist for an evaluation (this is real!), there are certain "unwritten" rules that everyone should know to get ahead. Some of these probably seem obvious, yet time and time again women break the basic rules and get themselves sent home over some of them.
For instance Ashley I. talking s—t about Kelsey kind of guaranteed her a spot on the next flight home, while Kelsey using her husband's death to keep herself there got her a spot right next to her nemesis on the way home. Tara and Jordan didn't watch their alcohol intake and were sent packing, while Kim tried to come back asking for another chance, which didn't quite work out the way she'd hoped. Maybe these women needed to follow a set of unwritten rules, just like with real life dating, there are games to be played and rules to be followed. Here are 13 unwritten rules that every bachelorette should know before they attempt to win over The Bachelor:
1. Don't talk trash.
Number 1 rule in the house, don't talk trash about another girl to the bachelor.
2. The girls' opinion is important.
Even though you shouldn't talk trash, that doesn't mean that other people won't talk bad about you, which is why getting along with the women in the house is important if you want to win.
3. Don't get wasted.
Seriously, have we learned anything from this season? It's not hot when you get wasted.
4. Be funny, but not vulgar.
Most of the bachelors are not down with women who tell vulgar jokes right off the bat.
5. Don't be a drama queen.
The dramatic women never win.
6. Don't have a boyfriend at home.
Google does exist and people (mainly us journalists) are really good at digging up dirt.
7. Try not to interrupt too much.
It's okay to steal the bachelor away for some alone time, but getting greedy doesn't work. Chris Soules revealed to Entertainment Tonight that the plus-sized model Bo interrupted his conversations about 5-6 times that first night, which is why he sent her packing.
8. Jealousy is not hot.
Jealousy is natural in a relationship, but you know what you're getting into so hiding it may help. Just look at Whitney, she's killing it.
9. Assume everything will be out of context.
You have to be careful, everything you say can and probably will be taken out of context.
10. Try not to complain.
Even if you're doing something that you hate, if you complain, it will be the highlight of the contest. They will show you complaining no matter what.
11. Make a good impression.
It really is all about the first impression on this show. Make it count.
12. Pity parties don't work.
It's important that the bachelor learns about your past, but never turn it into a pity party. He needs to know, but you never tell him to sway his opinion about keeping you on.
13. Second chances aren't a thing.
No one has ever come back for a second chance and won or even came close to winning. There was a reason you weren't chosen, even if you're awesome.
Previous
Next
BEGIN