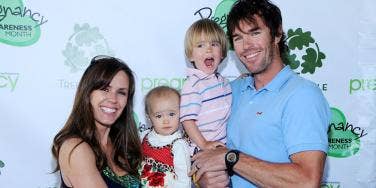 Proof that reality TV might be kind of real.
Move over Patti Stanger, Chris Harrison could give your matchmaking skills a run for your money! Kind of. Okay, not really. He just kind of sits there and asks people how they're feeling about the situation (easiest job ever).
Last week we covered the shortest relationships that have come out of The Bachelor and The Bachelorette reality shows. Now it's time to see who has lasted the longest and learn who is still together as of this moment (I mean, Nikki has to leave Juan Pablo soon, right?). We all have our favorite Bachelor couples, but even some of these longer relationships ultimately ended in disaster.
Even though we have Bachelor In Paradise to keep us busy (and thoroughly entertained), we are impatiently awaiting Chris Soules to take his rightful place on The Bachelor throne. (Come on, stop acting like you don't want to see the hot farmer getting with all the girls who want to be whisked off to Iowa. Womp. Womp). To hold you over until the new season begins, we've made a list of the couples that matchmaker Chris Harrison can actually kind of gloat about. Here are 10 couples that we guess you could call reality show success stories.
1. Trista Rehn and Ryan Sutter
Inside our hearts there's still a special place for Trista and Ryan. Trista Rehn was the very first Bachelorette and found her firefighter hubby on the show. The couple got together in 2003 and now have two kids together, making them the longest relationship in the show's history. They are the best.
2. Byron Velvick and Mary Delgado
Everyone thought things were going pretty well for the two who made it five years together. That was until Mary was arrested for allegedly hitting Byron three years into the relationship. Although the charges were dropped, she was brought in again for being drunk in public the next year. They finally broke up in 2009.
3. Charlie O'Connell and Sarah Brice
In 2005 Charlie O'Connell was the 7th Bachelor and chose Sarah Brice. Even though the couple ultimately lasted five years, it was a super rocky relationship. They broke up in 2007 and got back together until 2010. O'Connell told People, "I think it was a mutual break-up. The thing is that we dated for five years … and were just arguing over the same things and stuff like that. And then eventually you've got to go your separate ways."
4. Jillian Harris and Ed Swiderski
The couple broke up after a year together, which by Bachelor standards is actually a pretty long time. However, they broke up because Ed could not stop himself from giving into the lady attention. Harris finally told Wetpaint what happened, "I admit all the attention random girls gave Ed was hard on me. He loved the attention and that isn't easy on a relationship that is supposed to be so serious, yet is still so fresh. The more insecure and upset I became, the more he loved the attention and it became a really slippery slope. I lost trust in him and in the end we both really lost interest in making it work."
5. Meredith Phillips and Ian McKee
Another year-long relationship in the reality TV world. They simply split because it didn't work out, simple as that. McKee moved back to Brazil and Phillips ended up marrying her high school sweetheart. Meredith ended rehab for alcohol addiction a few years ago, but seems to have her life together now.
6. Sean Lowe and Catherine Giudici
Ultra religious Bachelor Sean Lowe, found his perfect match apparently. Sean and Catherine got together on the show in 2012. They were married earlier this year in January and are still together for now. If you're counting, they've been together for about two years now.
7. Ashley Hebert and J.P. Rosenbaum
Ashley was the 7th Bachelorette and J.P. was her lucky winner. The couple are still together and are expecting their first little boy in due in the fall. They got engaged in 2011 and married in 2012, putting them at a little over three years together. By the way, Chris Harrison officiated at their wedding, which is the best thing ever.
8. Ali Fedotowsky and Roberto Martinez
Coming in at a year and three months, Ali and Roberto called it quits in 2011. She told People, "We both realized we were unhappy more than we were happy and we both deserved more." Last year, E! News announced that Fedotowsky would be one of their correspondents.
9. Desiree Hartsock and Chris Siegfried
On May 7, Des and Chris celebrated their one year anniversary from the day they got engaged on the 9th season of The Bachelorette. They are still engaged and recently revealed to Puget Sound Business Journal that they are planning a January 2015 wedding date. The couple currently live in Seattle together.
10. Juan Pablo Galavis and Nikki Ferrell
Despite the fact that they were already on Couples Therapy and that the entire world dislikes them, Juan Pablo Galavis and Nikki Ferrell are still together. Rumors of their breakup surfaced recently, but Nikki told People it wasn't true. "We're doing great. We are very happy together." Even though the show aired in 2014, the couple has technically been together since the end of 2013 ... meaning that if they make it to December, they will have made it a year and everyone should just quit life.
Previous
Next
BEGIN