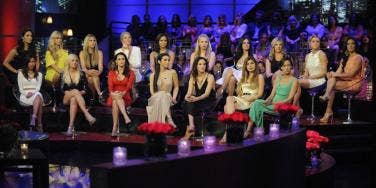 Welcome to the best 'Bachelor' night on television.
Forget The Bachelor finale next week, because it's really all about the Women Tell All episode. Really, do we actually care if Chris Soules finds love? Not really, we care more about the women revealing all of the dirty details that went down during the season, and Chris Soules' ex-women did not disappoint tonight. In fact, there were many things that happened in the course of two hours that we didn't know about, but I'll save those for later.
First things first, Chris and Chris headed out and crashed some Bachelor viewing parties, which pretty much just proved that every single woman is wasted when they watch the show and that's exactly how it should be. There should be drinking games hung on the wall and shots taken around the clock.
Second thing I would like to talk about: I care more about every other person there more than what Britt has to say. Why was she the first in the hot seat, the first to talk to Chris and the first to do everything else? For all of the women out there who aren't pushy like that, I would like to say that the "Britts" of the world can suck it because Chris literally told her he wasn't into her. Boom.
Now that my rant is over, here are 11 of the most shocking revelations from The Bachelor's Women Tell All episode:
1. Britt's makeup
Where does this girl get her makeup that she can cry that much and still look that annoyingly good?
2. Carly is kind of mean!
Carly was one of my favorites, but she kind of came off as a bully on the Women Tell All. Don't get me wrong ... I still think she's hilarious.
3. Britt still seems like she's lying.
There's something about her … that's just not trustworthy. The fact that she's an actress doesn't help. She seems to be a really good one. Also, her tears stop too immediately to be real.
4. Kelsey is still the worst.
She still can't comprehend why she sucks. I thought that she would actually come off as a real human being on the live show, but she still came off as an a*shole. I guess even editing can't be to blame for Kelsey.
5. Juelia shut Kelsey down.
... And it was perfection. We didn't hear from her really all season and she killed it on the reunion.
6. Ashley I. is also kind of awesome.
She literally does not care what anyone thinks about her, and while she seemed catty on the show, it takes a lot to say exactly how you feel.
7. Ashley S. is super weird IRL.
She's kind of hilarious though. Apparently she now grows onions … in Brooklyn.
8. Ashley S. on Bachelor in Paradise!
Please God, let this happen … immediately.
9. Kaitlyn had no jokes.
For the first time … Kaitlyn had nothing snarky to say. That interview pretty much solidified her for the next Bachelorette.
10. Chris made it through a sentence!
For the first time all season…
11. Chris' laugh sounds like a dolphin.
We knew it was annoying, but now we know Chris' doppelgänger.
Previous
Next
BEGIN