Photo: WeHeartIt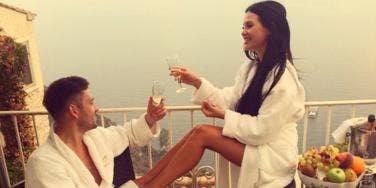 Consider it food foreplay.
Since pretty much FOREVER, women and men alike have eagerly ingested herbs, foods, or bizarre substances to enhance their sexuality and vitality as a lover. But do they really work?
The word aphrodisiac comes from Aphrodite, the Greek Goddess of desire and love. Because she was a gift from the sea, many renowned sources such as shrimp, clams, oysters, eels, and anchovies have been presumed to boost sexual desire, says Sandra LaMorgese Ph.D, an expert in holistic nutrition.
"In actuality, these seafoods contain zinc, which helps with hormone balance and sperm reproduction, and iodine that assists the thyroid gland in regulating our thermostat and energy levels," says LaMoregese.
Then there's just the common sense of it all: Any food you eat with your fingers can be romantic, says Dr. Ava Cadall, a certified sex counselor and founder of the Loveology University, an online love resource. "Some foods are simply visually stimulating such as strawberries."
Food that resembles the sexual organs are visually erotic. Seeing someone sensually eat a fig or a banana can stimulate our most erotic organ: our brain.
"Foods that look, feel, smell and taste good can be erotic, like marshmallows. They're soft, white, fluffy and melt in your mouth. Actually chocolate covered marshmallows sound even better!" says Dr. Ava.
Check out these 12 everyday foods that stimulate and guarantee to make your sex life hotter!
1. Oysters are high in zinc.
One of the most popular foods when talking about aphrodisiacs, oysters are high in zinc, which can lead to a higher sex drive, says Shanna Israel, celebrity lifestyle/wellness expert and founder of Vertical Wellness.
However, make sure you (and your date!) are not allergic to shellfish first!
11. Champagne makes you tingle.
"I stand by champagne every time!" says Brooke Lewis, a dating and relationship expert. "Champagne has always had a hot and sexy vibe for me! All alcohol is a bit of an aphrodisiac, as it tends to lower our inhibitions and put us in the mood, but there is something about the bubbly that makes us tingle head to toe!"
Add strawberries to the mix and have your partner feed you, while sipping. You will be feeling as sexy as Cleopatra in no time.
10. Maca increases libido.
Maca is known as "nature's Viagra," so if you want a natural way to increase your libido, this is the super food for you, says Kotsopoulos.
A little bit of maca in your system and you'll be raring to go. It does this by improving overall health, vitality, energy and balance, naturally increasing libido.
Maca ensures proper hormone balancing and secretion within the body. So, basically, it helps ensure that the hormone's message is actually transmitted and increases sexual function and desire in women (and men!).
Not sure how to work it into your romantic dinner? Best way to get your Maca is in a supplement, like Perfect 10 Superfood.
9. Mushrooms enhance your cardio.
Mushrooms are also an excellent source of zinc, says Sandra Carter, founder of Mushroom Matrix. They are also believed to enhance cardio and circulation for added performance enhancement, so you're on top of your game.
Add mushrooms into your lobster risotto or sauté them on your steak for a love boost.
8. Asparagus is filled with sexy stuff.
If it's phallic appearance isn't obvious enough, asparagus is super-high in vitamin E, which is essential for a healthy sex drive, says Kotsopoulos.
Vitamin E helps increase vaginal lubrication and can help boost energy and stamina. Its powerful antioxidant properties help protect sex cell membranes and oxygen-rich blood flow. It's high in niacin (vitamin B3), which helps enlarge blood vessels and produce sex hormones.
In addition, niacin is required for histamine production, an absolute necessity for orgasm. It also increases the skin's sensitivity to touch and produces that "sexual flush," making the whole experience much more pleasurable.
Asparagus is a good source of vitamin B6, which ignites our feel-good transmitters; zinc, which enhances libido-boosting testosterone; and selenium, which helps increase sperm count. It's also rich in antioxidant, immune-boosting, beautifying vitamin C, keeping us at the top of our game.
7. Pumpkin seeds are good for the prostate.
For men, these seeds help support prostate health because of their high magnesium and zinc properties, says Kotsopoulos. Plus, pumpkin seeds are rich in phytosterols, which contribute to prostate health.
They've also been praised for their cholesterol-lowering properties — the higher the cholesterol, the weaker the erection!
6. Lobster improves blood flow.
Lobster is among the highest sources of L-arginine — an essential amino acid that stimulates the release of nitric oxide from the walls of blood vessels, dilating the blood vessels and improving blood flow, says Peggy Kotsopoulos, a nutritionist and author of Kitchen Cures.
Pretty much the same deal as Viagra. It contains high quantities of testosterone-boosting zinc. Zinc is essential for testosterone production and sperm production, and it blocks the enzyme that converts testosterone into estrogen.
Low levels of zinc correlate to erectile and sexual dysfunction. Plus it is rich in selenium — a mineral essential for a man's sex drive and sperm production. Half the selenium in a man's body is found in his testicles!
5. Pomegranate seeds prevent erectile dysfunction.
4. Chili peppers boost endorphins.
3. Chocolate increases blood flow.
2. Pistachios improves blood circulation.
Pistachios have long been considered an aphrodisiac, and recent research shows that eating a handful of pistachio nuts daily for three weeks actually DOES increase male sex drive.
12. Essential oils can be relaxing.
There are also oils that may arouse the desire for sex and romance, says LaMoregese. If we're under a lot of stress, worry or performance anxiety, aromatherapy could be relaxing or enhance confidence. Smelling (note: not eating!!) relaxing oils such as chamomile, rosewood, sandalwood or clary sage may quiet the mind. If you're seeking romantic stimulation, orange, lemon, ginger, or ylang ylang may do wonders in perking you up.
Previous
Next
BEGIN