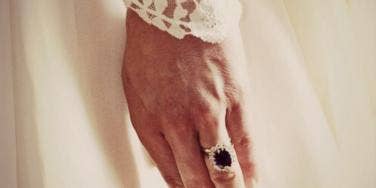 Who could say no to these stunning (and expensive!) love rocks?
While most of us would never dream of wearing hundreds of thousands of dollars (or even millions of dollars!) worth of diamonds on our finger, we still drool over celebrity engagement rings for their sparkle and massive bling factor.
It seems bigger is always better in Hollywood, but when it comes to engagement rings, celebs go all out! Who could honestly say no to any of the following 10 bold and stunning show-stoppers? We can't, that's for sure!
Check out our gallery to see who in Hollywood is rockin' the biggest love rocks:
Photo: weheartit.com
Beyonce Knowles' Ring
Jay-Z took Beyonce's advice and put a ring on it in 2007. Not just any ring, mind you – a totally gorgeous 18-carat diamond, of course! The singer's blinding bling cost a rumored $5 million. Wow! But nothing less than the best for this superstar and new mom, right?
Carrie Underwood's Ring
Sometimes, offbeat rings don't look like engagement rings. Not the case with country singer Carrie Underwood's gorgeous yellow diamond, which is worth a cool $150,000! We're guessing Carrie was pretty happy with her hockey player hubby, Mike Fisher, when he presented her with this stunner in December 2009. Carrie Underwood Is Engaged!
Jessica Simpson's Ring
While her red ruby and diamond engagement ring is totally different from the pear-shaped rock she wore while married to Nick Lachey, Jessica Simpson's current ring is just as stunning as the previous one. Straying from the typical engagement ring look, husband Eric Johnson chose something unique for his bride-to-be and the mother of his soon-to-be-born child when he proposed in November 2010!
Jessica Biel's Ring
Justin Timberlake sure knows how to make a lady happy! He proposed to Jessica Biel in December 2011 with this 6-carat stunner which has a gorgeous vintage, yet modern feel. A rock like that would make any girl smile!
Kate Middleton's Ring
The world went wild in November of 2010 when Kate Middleton showed off her blue sapphire and diamond engagement ring. The unique bauble held serious sentimental value – it was originally given to Princess Diana in 1981 by Prince Charles when they got engaged. Nice one, Prince William!
Kim Kardashian's Ring
They say diamonds are forever, and while that may be true for rings, the same can't be said for Kim Kardashian's marriage to Kris Humphries. Even though the marriage is over, we're still stunned by the enormous diamond ring Kim wore during her brief engagement and marriage to the basketball star. The 20.5-carat ring supposedly cost a cool $2 million. Crazy, right? What we really want to know is, who got to keep this pricey bauble?
Leann Rimes' Ring
Though their love has taken some hits from ex-spouses and naysayers, Leann seems totally content with her sparkling 5-carat rock from Eddie Cibrian, which he surprised her with in December 2010. As happy as they seem, the couple dealt with some backlash when rumors surfaced that the ring cost a whopping $85,000. Why? Cibrian's ex-wife Brandi Glanville and their kids were supposedly having financial trouble at the time.
Natalie Portman's Ring
Natalie Portman has kept relatively quiet about her engagement and secret wedding with Benjamin Millepied, but that didn't stop us from drooling over her ring. Not only is it gorgeous, but it's also eco-friendly. Millepied designed the ring himself, making sure to use recycled platinum and conflict-free diamonds. Beautiful and good for the planet – we love it!
Reese Witherspoon's Ring
Reese Witherspoon must have fallen in love immediately with her retro-style engagement ring when she first set eyes on it, because we know we sure did! The 4-carat, $450,000 diamond and platinum ring that was given to her by her new hubby, Jim Toth, in December 2010 has an antique look with a very modern flair, just like Reese herself. We hear the diamond she's sporting is rare, which makes it all the more special!
Previous
Next
BEGIN