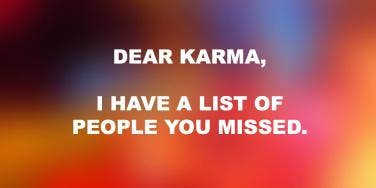 What goes around comes RIGHT back around.
Let's face it: it can be almost IMPOSSIBLE to always act like the grown up; especially in situations where you would rather not take the high road. But what stops you from acting on your animal instincts when that guy you work with is being a total jerk, or when someone you thought was your best friend totally screws you over?
Karma sure does.
You don't have to believe in the supernatural or astrology to believe that karma will pick up the pieces in the end.
Unfortunately, karma doesn't always work as fast as you want it to. Sometimes, the waiting ends up being the hardest part. But when karma does hit that one person you just can't stand, it's SO much sweeter than revenge.
That said, the laws of karma can get a little fuzzy.
Some say it hits a person right when they need that little dose of karma the most, while others believe that karma will come to them ... just not in this lifetime. If you're like me, hearing that last part will make you go, "WTF?!"
And I totally agree. If someone has it coming, you definitely want to be around to see it (duh!).
But don't worry about that. All you have to remember is that karma is ALWAYS watching. Think of her kind of like Santa Claus; she knows when you're being bad and when you're being good, so it's a good idea to always be on your best behavior.
And I don't know about you, but when I see someone finally getting their taste of karma, it kind of makes me feel a little better about myself (but you should still behave, because what goes around comes around ... right?).
We found some hilariously funny quotes about karma that remind you that she is ALWAYS watching, so you better behave before she comes for you, too!
If you're searching for the best quotes and memes to share with the people you love (or just want to feel inspired yourself) ... look no further! From the sweetest love quotes, inspirational sayings, and hilarious friendship truths, we've got you covered.
"Karma has no menu. You get served what you deserve."
"It's called 'karma' and it's pronounced 'haha, f*ck you.'"
"When karma comes back to punch you in the face, I want to be there in case it needs help."
"Karma bus delayed due to high demand. No worries. It's coming."
"I hope karma is wearing stilettos when she kicks your ass."
"Karma takes too long. I'd rather beat the sh*t out of you right now."
"Don't dish it out if you don't like how it tastes."
"Karma never loses an address."
"I hope karma slaps you in the face before I do."
"Karma is like a rubber band. You can only stretch it so far until it comes back and smacks you in the face."
"Karma's just sharpening her nails and finishing her drink. She says she'll be with you shortly."
"Karma: Life's little way of saying, 'Let's see how you like it.'"
"Dear Karma, I have a list of people you missed."
"Karma's only a bitch if you are."
"Sweetie, I'm not laughing at your bad luck. I'm merely cheering on karma for doing such a great job of biting you in the ass... that's totally different."
"I wish you could order karma like flowers and have it delivered."
"A little girl seeks revenge. A real woman moves on while karma does her dirty work."
"In the end, karma will be a bigger bitch than I'll ever need to be."
Previous
Next
BEGIN