Photo: WeHeartIt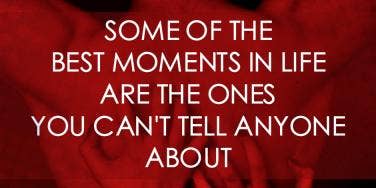 Foreplay? PLEASE. You won't need that after these.
Sometimes couples get to a point in their relationship where each of them WANTS to have sex, but it's doubly hard to get in the mood, STAY in the mood, or really ENJOY sex with each other.
Whether it be because of work or family stresses — or maybe even a new baby or two at home — life really can get in the way of that amazing spark you both had in the beginning of your relationship.
Sadly, many people see this lack of sex as a warning sign that things will ALWAYS be this way. That the spark has vanished — never to return. This can lead to dissatisfying marriages, angry fights, jealousy ... and sometimes even adultery.
This is NOT OK.
What you have to understand is that this happens to EVERYONE.
No relationship can stay in one place forever, so it's the couple's job to work through, find the root cause of the divide and get back to the FUN stuff.
So if you're ready to spice things up again, try out some of these SUPER-HOT lines and dirty quotes guaranteed to get sex on your mind. Get busy and connect with your partner in new, sexy ways so you can get back on track to feeling that SPARK again!
Have fun!
---
If you're searching for the best quotes and memes to share with the people you love (or just want to feel inspired yourself) ... look no further! From the sweetest love quotes, inspirational sayings, and hilarious relationship truths, we've got you covered.
---
Kayla Cavanagh is an editor and writer living in Central Florida. When she's not feverishly obsessing over spreadsheets and grammar, she enjoys drinking margaritas by the pool, watching movies with her husband, Matt, and dancing with her kids in the living room.
Oh MY!
"Roses are red, Violets are blue, I'm using my hand but I'm thinking of you." — Unknown
The girl knows what she wants!
"Ten men waiting for me at the door? Send one of them home. I'm tired." — Mae West
Why don't you join me? ;)
Want to come over and watch porn on my flat screen mirror?
TRUST ME.
Your face would look better between my legs.
You should take it while it's offered. Just sayin'
I give you permission to wake me up if you get horny.
Have fun!
When she's had a rough day, give her a rough night.
Send nudes!
I wanna be the reason you slightly tilt your phone away from others when you read it.
THOSE are the best times.
When it's so good you're shaking.
WOW.
I swear to you I won't stop until your legs are shaking and the neighbors know my name.
Cherish it.
Take her like it's the first time and the last time every single time. — JmStorm
Saving the world - one dirty shower session at a time.
Save water. Shower together.
All three are SO important.
Respect me.
Adore me.
Dominate me.
Pretty please?
Kiss me a lot. Touch me all over. And lick me in my special spot.
Anywhere that involves a bed, really.
"I promise to always be by your side. Or under you. Or on top..." — Unknown
That's when you know it's REALLY good.
"When the sex is so good that you're sore for days." — Unknown
Is it getting hot in here?
"Others have sex in the kitchen. I eat in bed." — Unknown
Sounds like fun!
"Stop undressing me with your eyes! Use your TEETH." — Unknown
Photo: Good Morning Quote
OK! *instantly naked*
"You can stay, but your clothes must go." — Unknown
Let's play a game...
"Let's have a who's better in bed contest. I'm hoping to be a sore loser." — Unknown
Help me get my mind off of things, please.
"It's been a long day. I need one of those hugs that turns into sex." — Unknown
Shhhhh!
"Some of the best moments in life are the ones you can't tell anyone about." — Unknown
Sounds good to me!
"Can I have you for breakfast in bed today?" — Unknown
Photo: Good Morning Quote
DONE.
"Be naked when I get home." — Unknown
Ooh la la!
"I'm a lover, not a fighter. Unless you like it rough." — Unknown
Photo: Good Morning Quote
*fans self*
"I want to taste me on your fingers." — Unknown
Photo: Good Morning Quote
Dibs.
"I licked it so it's mine." — Unknown
Photo: Good Morning Quote
YES!
"Your lips are like wine and I want to get drunk!"
Photo: Good Morning Quote
Pretty please?
"Go ahead. Touch it." — Unknown
*FANS SELF*
"Excuse me for being too forward, but your lips make me wonder what the rest of you would taste like ... " — Unknown
Photo: Good Morning Quote
Sounds PERFECT.
"Now spread your legs and try to tell me about your day." — Unknown
Photo: Good Morning Quote
*Wink*
"Spank me. It's the only way I learn." — Unknown
Photo: Good Morning Quote
OH yes!
"The best things in life make you sweaty." — Unknown
Pretty please?
"I need you and I want you. Butt naked. In my bed. Right now." — Unknown
Previous
Next
BEGIN