Please don't.
When it comes to my penis, you might describe me as a meat-and-potatoes kind of guy. (The meat being a sausage, obviously. I could lie and say "kielbasa," but we're among friends here.) What I mean is that I am fairly basic on what I like to have "done" to my penis.
If my penis was a concert, I'd be the guy in the audience, just hoping that the band plays all of the hits. However, I do realize that there are audience members out there, who come to the concert always hoping to hear some experimental new stuff. For some reason, there are people always feel the need to expand on (or, they might argue, improve on) a good thing.
And, in their quest to find something new, those pioneers like to try "new" things with their penises. Some sound fine and others sound… TERRIFYING. Like "Mel Gibson being disemboweled at the end of Braveheart" terrifying.
My concern is that so often sexual partners feel insecure — I know I do — so, they go online and look around for options of things they can do to their partner's penis to spice things up. Those poor insecure souls find a "sex tip" or a blog post by those penis adventurers online, and they think, "So THAT'S what my man wants me to do to his penis."
And… NO. No, no, no. To paraphrase Jeff Goldblum, when it comes to your penis, sometimes sex tip authors are "so preoccupied with whether or not they could, they didn't stop to think if they should."
I'm not saying that NO man would enjoy these things (because clearly some do), but, for us painfully vanilla dudes out there, here are FIVE things that the internet SAYS men like to have done to their penises that you should really, REALLY fact-check before you spring it on them in the bedroom.
Pop Rocks
Ever heard of the expression "don't put a hat on a hat"? It means if you have something awesome, you don't need to tack something on top of it in some vain attempt to make it even more awesome. That's how I feel about blowjobs. They're already pretty fantastic — do we really need to improve on them?
I'm particularly weirded out by the popular online sex tip that suggests that having Pop Rocks, the famous novelty gum, in your mouth while performing oral sex greatly improves the experience. Really? REALLY?
Because the idea of placing my penis inside something filled with exploding gravel fragments does not come across as sexy. It increases friction AND involves flying sugar shards AND leaves your penis coated in gum. AWESOME. And what is your partner supposed to do with the gum? (The obvious answer is swallow, I guess.) But, yeah, no thank you. (I'm sure some bloggers swear by Diet Coke and Mentos blowees too…)
Anything Involving The Pee Hole
Photo: Giphy
NOPE.
NOPE.
Keep on walking. Don't even think about it. There are MANY reasons why this sounds unappealing, but it sounds particularly onerous if you've ever read "Guts," the notorious short story by Chuck Palahniuk (author of Fight Club) that is SO disturbing that people routinely faint when Palahniuk reads it aloud at book signings. The story opens with a horrific cautionary tale about a man stimulating his urethra that will make you never, EVER want to approach that area again (and the story just gets worse from there).
Penis Pump
Photo: Giphy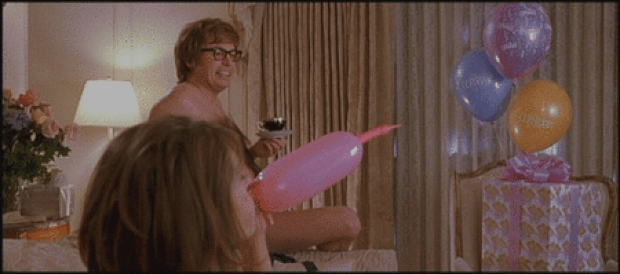 I know these are often used as punchlines in sex comedies and Austin Powers movies, but there are enough penis pumps sold online and enough testimonials to confirm that there's a large contingent of people out there who really like to pump it up. And just… no. Why not? Because have you ever over-inflated a bike tire or a pool float and had it explode in your face? Yeah, well, try getting that image out of your head as someone "inflates" your penis.
I realize that science probably won't let your penis explode like a balloon dog, but, really, why take that chance?
Bouncing
Photo: Giphy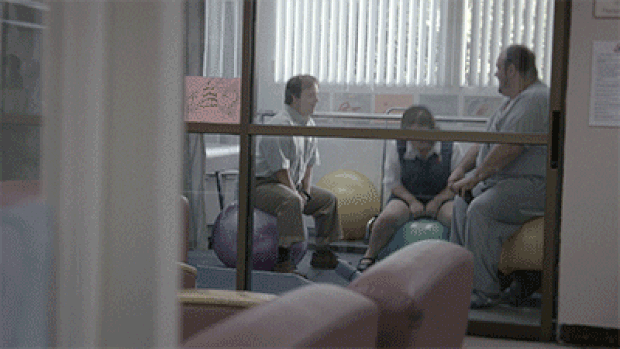 I enjoy vigorous sex as much as anybody, but I am decidedly not a fan of when your partner "bounces" on your penis. Yes, it mimics thrusting and looks very wild and uninhibited, but guess what? Penises can BREAK. I know, it's rare and I know it happened that one time on Grey's Anatomy, but why take the chance? According to Scientific American, those kinds of breaks happen when "the penis, instead of penetrating its normal location, is hitting some solid structure (such as the perineum)." That's right. TAINT COLLISIONS.
It doesn't mean that you have to abandon your favorite position or take it easy, just maybe don't think you're exciting your man by trying to achieve some Michael Jordan-esque hang-time when you bounce, because it's just not worth it.
Food
Photo: Giphy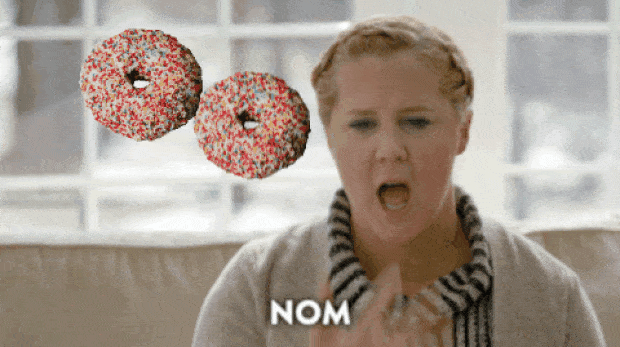 My wife once yelled at me for taking a sandwich into the bathroom, so I don't understand how the idea of using food during sexual intercourse is any less gross. Perhaps my least favorite penis-food mash-up is Cosmo's famous "eat a doughnut off your partner's penis" advice. Sure, it SOUNDS hilarious and the visual is great, but… really? How is that good for anyone? It involves teeth (big no-no), it's messy, it's awkward, and it takes getting hair in your food to a whole new and disgusting level.
Let's not ruin the awesomeness of doughnuts or penises by assuming that they're two great tastes that taste great together. Because, believe it or not, there are some experiences that even doughnuts can't improve on.