Photo: weheartit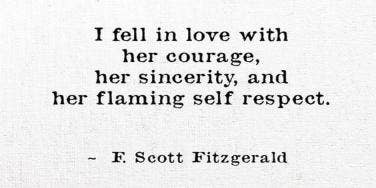 Complicated women FTW.
It's so easy to turn to the internet and find quotes about love. But it's nowhere near as simple to click a button and find words of wisdom and hope for the complicated woman looking for love.
That's because we don't live in a world that is very easy for complicated women. We are fierce, we are moody, we have a sense of the tragic, and mean streak a mile wild.
But it is all of these qualities and more that make us so worthy of love. They are qualities that also make us wonderful partners to the people for whom we fall.
We've collected some inspirational quotes for the complicated woman. Hopefully they help you remember just how important your fiery spirit is. Don't ever give up!
If you're searching for the best quotes and memes to share with the people you love (or just want to feel inspired yourself) ... look no further! From the sweetest love quotes, inspirational sayings, and hilarious relationship truths, we've got you covered.
Hell hath no fury.
"There's fire in her...
If love correctly, she will warm your entire home.
If abused, she will burn it down."
Because heat heals and heat destroys.
We've all got a past.
"If she flinches when you put your arm around her, someone else's hand wasn't so sweet. If she questions you, someone else lied to her. If she doesn't tell you things, it's because someone once betrayed her. Behind every cranky, complicated, or a girl who is scared to be loved, is a girl who is tired of being broken."
We all have baggage, that doesn't make us less deserving of love.
Truer words...
"When were made to be loved, not understood."
Oscar Wilde was in jest when he wrote these words, but there's a germ of truth to them we can all relate to.
There is nothing like a dame.
"I fell in love with her courage, her sincerity, and her flaming self-respect."
F. Scott Fitzgerald could clock a complicated woman from a mile away, and he adored them all, especially Zelda.
She may be little, but she is fierce.
"She was fierce, she was strong, she wasn't simple. She was crazy and sometimes she barely slept. She always had something to say. She had flaws and that was ok. And when she was down, she got right back up. She was a beast in her own way, but one idea described her best. She was unstoppable and she took anything she wanted with a smile. "
RM Drake cuts right through to the heart of the matter.
This thing comes with instructions.
"Every woman's heart has different instructions. They are written through her eyes, in her smile, through her actions and in her tears. She just has to find someone who cares enough to read them."
Yup, buyer beware. This one's on you.
The big secret.
"She was never too complicated, you were just too lazy to make an effort."
That's the secret we all know to be true: we aren't complicated, we're specific and unique and very few deserve our time.
A happy ending.
"And in the end,you were just the empty madness that i heard inside my heart telling me that LOVE is a most beautiful chaos."
See? Love itself is complicated. So how can loving us be wrong?
The heart of things.
"She's a simple woman made to look complicated by a man who isn't enough man to provide her with the things she deserves."
R.H. Sin
That cuts right to the heart of the matter, don't you think?
Previous
Next
BEGIN