Photo: Pinterest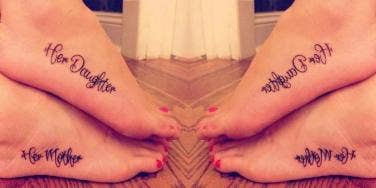 PSA: This is only for the really cool moms.
Tattoos appeal to so many because they are a pure form of creative expression. Not to mention having some tattoos might actually be a good thing! (seriously: there's science to back it up!).
Whatever your reason for a tattoo is, it can be hard to settle on what to get inked. Do you get your favorite quote or maybe something small that means something to you personally or just something that makes you feel like the beautiful woman that you are?
Well, we have a great suggestion for you: get one with your mom.
If you're reading this article, chances are it's because you know you have the most amazing best friend ever: your mom.
She raised you and helped make you who you are. She is there for all of your smiles, laughs and tears.
You already know that your mom is the real superhero in life and you want to let the world know that you are proud to be her daughter.
So get your love and your amazing bond inked in your own personal, unique way.
Doesn't sound like we offered any help to what you should get, though? Well here are 35 tattoos that you didn't even know you needed to help you and your awesome mom narrow it down.
Family
Show your love for each other by displaying your matching infinite love for family.
Shared heartbeats
Two hearts beating as one is a special bond and who better to share that with than the woman who gave you life.
Rock on, mama!
If you and your mother share a love of all things music, get matching tattoos to show your love of rock and of each other.
I love you
Simple and classic, and if you want it more personalized, get it done in each other's handwriting so it looks like you wrote it on each other.
Piece of your heart
Show the world that you and your mom are pieces of each other with missing pieces of a puzzle.
Disney love
Your mom watched Little Mermaid and Finding Nemo how many times with you? If she loved them (and all things Disney) as much as you, then matching tattoos of Mickey Mouse's hands in the shape of a heart might be perfect for the two of you.
Key to my heart
You can get the tattoo key to your mother's tattoo heart. Corny but still adorable.
Musical mom and daughter.
Get matching tattoos representing your musical bond together.
Multiple daughters.
If you have multiple daughters, this is a great way to symbolize your bond together.
Matching sparrows
Symbolize your family loyalty with matching sparrow tattoos.
Infinity tattoo with quote.
Start and end your favorite quote with matching infinity tattoos.
Handwriting tattoos.
Get a message on your arms in each other's handwriting.
Song lyric tattoos.
You are the wings keeping my heart in the clouds, you are the anchor keeping my feet on the ground.
Feather tattoos
Get feather tattoos in your favorite colors to symbolize your familial bond.
Winnie the Pooh tattoo.
Nothing like childhood stories to bring back the bonds of old.
The sun, moon and stars of your life
This is another great tattoo if you want to include a sister. The sun, the moon and the stars all work together in the sky just as you and your mom work together and belong together. Don't have a second sister? You and your mom can just get the sun and moon or the moon and stars on your own and it's just as meaningful.
Elephants never forget
Show your love for each other and your love of animals with this mother and child elephant holding trunks. Aren't they just adorable?
Two parts of a whole
You can have one half and your sister can have the other and your mom will get the completed yin yang symbol to show that you are both halves of her whole. Don't have a sister? You and your mom can just each take a half to symbolize you are both halves of each other.
Not just a heart ...
If you want something classic but different, try changing up your everyday heart tattoo and get one that looks like a fingerprint on the inside.
Birds of a feather
Birds can symbol freedom and love and nurture. What better tattoo to symbolize a mother and daughter than that?
A compass to lead you to love
You can either use the directions and have the heart replace North or you can substitute it with the initials of your family. Either way, the compass to direct you to those you love is a great tattoo to share with your mom.
A cute, silly reminder to always stay connected
If you and your mom aren't afraid to act like kids sometimes, then go with a cute but meaningful tattoo like this one of mother and daughter using cans and string to talk to each other. Plus, it will serve as a reminder to call her if you ever forget!
Celtic knot
Whether you have Celtic roots to embrace or just find the pattern stunning, getting matching knot tattoos is a beautiful way to express eternal love for your family.
Classic heart
There's a reason heart tattoos are classic. They are simple, subtle and totally express how much you cherish your mother-daughter relationship.
We go together ...
Everyone knows that there's nothing that goes together better than peanut butter and jelly. Splitting the sandwich tattoo with your mom is an adorable way to celebrate your relationship.
Infinite love
Relationships with guys come and go ... but the one you have with your mom is forever, like this infinite love tattoo.
Tree of life
Whether it's to symbolize the tree of life or your family tree, these matching tattoos show your attachment and appreciation for both your life and where yours comes from — your mom!
Hugs and kisses
Show your mom some love with some hugs and kisses by splitting an XOXO tattoo with her.
Sending love
Leaving for college? These paper airplane tattoos remind you that your mom is just a flight away.
A permanent reminder of your promises
Remember all those secret promises you and your mother made? To tell each other everything? To always love each other even if you fight? To be best friends? Why not get a reminder of those promises as proof of your awesome relationship with a pinky promise tattoo?
She taught you to fly ...
If you and your mother want there to be a slight difference in your tattoos, try one long continues flight of birds, that way each of you can still make it individual but still connected in the flight toward each other.
Matching bird tattoos.
Get a bird per family member and match your tattoos.
Previous
Next
BEGIN