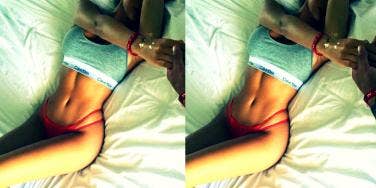 Hey! It's more fun than going to the gym. *wink*
Sex is hot. But wouldn't it be even hotter if sex could make you, well... hotter? Yes! There are sex positions that can help you burn serious belly fat, and it's WAY more fun than going to the gym. There's no such thing as spot training (losing fat from a specific spot), but you CAN spot tone (tone your muscles in a specific spot in order to make that part of your body appear leaner).
"When it comes to using sex for exercise, there are two things that are key: cardio and muscle engagement. Cardio will help to get your heart rate up and burn calories, which burns fat all over your body — including your abs," says dating expert Laurel House.
We're living for options that let us skip gym time for sack time. And while most of us aren't having enough sex to completely replace other exercise, we can absolutely use it as a fun, stress-relieving supplement.
The key in using sex for toning and fitness is to target key spots and find what works — position- and endurance-wise — for that area. Imagine replacing lifting weights with a sex position. Sounds too good to be true, but it can absolutely work. Even better? Gym classes and personal trainers are expensive, but sex is more fun and doesn't cost a cent. (Well, for us. It'd be nice if he bought us dinner first.)
Also remember that beyond targeting muscle groups that will tone and stretch the right places, sex itself also burns calories. It's a win-win proposition. Here are seven positions you should try to burn that belly fat away.
1. Double boat
"Both partners sit on their asses facing one another with their feet on the ground. Then, upon grasping forearms, he enters her to penetrate and she lifts her legs above his. His legs can eventually meet her's, creating a whole new rhythm and angle to penetrate for complete pleasure," says Dr. Kat Van Kirk a licensed marriage and sex therapist.
2. Kegels during sex
A good, strong pelvic floor can help support the abdominal muscles.
"Pelvic floor exercises can help you have stronger PC muscles, leading to more intense orgasms for you and potentially for him. Next time you're doing crunches, try throwing in a few Kegels, too. Kegel exercises or Ben Wa balls can assist with this and be super-pleasurable," says Dr. Kat.
3. Plank
If you want to focus on fighting and toning your abs, plank is an excellent position, says House. Plank over your guy, engage your abs, then press down onto him and pull back up. Remembering to engage your core the entire time.
4. Lunge
You may hate it in boot camp, but lunge positions in bed are great to burn belly fat. Just position yourself on top of your man with one leg ahead of him and one leg behind you. It will extend and tone all those muscles.
5. Cowgirl
This straightforward position can help you burn fat by engaging your core.
"It's a classic girl-on-top maneuver that gives you a lot of freedom. You're going to be flexing your lower abs, pelvic muscles and more. The more you move around and work different areas, the more of a focused exercise this can become," says Tristan Weedmark of We-Vibe.
6. Standing up
This requires balance and serious core muscles, as well as stamina. But it will work your core and strengthen your leg muscles.
7. Bridge
Practice is definitely required for this one. It takes a bit of initial stamina to pull off the bridge position, but it will truly help you burn fat and build muscle.
"Start face up, and use your legs and hands to hold your body up. This position it similar to doggy style, except backwards. While you're holding yourself up, he'll enter you. Don't let your weight allow you to fall back into the bed. If you're not able to stay up for long, add pillows to reduce the strain on your back," says Weedmark.
Previous
Next
BEGIN