Photo: weheartit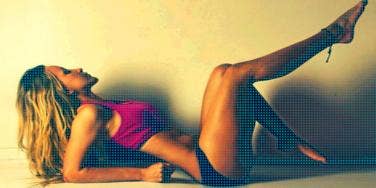 Kill two birds with one stone!
We have a constant love/hate relationship with the gym. We drag ourselves to our workout, looking for any excuse possible not to go, only to be so glad we invested the time once we're done. Our gym stretches are about more than fitness, though.
We chatted with fitness experts, sexperts, and award-winning adult stars, who all agreed that gym stretches are directly related to being fabulous in bed! And when every expert says the same thing, you know it must be good. They each attested to the amazing affect stretching could have in your sex life, in and outside of the bedroom.
It's commonly known that flexibility is a highly desired trait in a person you're looking to have sex with. Someone who knows how to bend and stretch in ways you didn't even know achievable is quite possibly the sexiest thing you'll see. This is how you can really get the most out of your sexual experience with another person — trying new ways to have sex in the best sex positions.
So how can you get to that level of flexibility? Get flexible with these gym stretches that are also amazing sex positions, ladies.
Yes, that's right, you need to work just a little bit here. You may have never considered the sexiness of stretching before (unless you were watching that super buff, hot guy's pre-workout stretches at the gym, in which case, it never looked sexier). As it turns out, parts of our most dreaded workout routines are actually incredible to use as new sex positions.
I mean, think about it: when you workout, you're sweating and releasing pent-up energy in ordered to reach some kind of goal. Sex is no different, except maybe a little more fun. Using some of those tough stretches in your sex life will amp it up to a whole new level.
It's the best feeling in the world to bend your body and stretch those muscles during or after a great workout. Now, imagine having that satisfying feeling while reaching climax in a night of fun, sexual passion. Sign me up!
Whether it's squats to get your body into shape a bit before sex, or a basic form like a downward dog to transform into something not-so-basic in the bedroom, we're got it all covered here. Take your challenging or leisurely stretches into your sex life, you won't regret it.
Behold, the best gym stretches that are also amazing sex positions! (You're welcome.)
1. Lying Waist Twist
Lying on your back, extend your arms at the sides.
"While engaging your core, cross your right knee over toward the floor on your left side. Keep the left knee slightly bent and push your right knee toward the floor while pushing your right hip forward," says fitness expert Nadia Murdock.
This move works in bed, too! Have your partner penetrate you from behind when lying on either side. Hold for 2 breaths and slowly release, repeat on the opposite side.
2. Downward Dog
If you want to hit the cul-de-sac (the space in the very back on the lower wall), this standard yoga pose is one of your best bets, says sexologist Dr. Jess.
3. Feet Over Head
Not only is this stretch great but it can totally be brought into the bedroom, too!
"Lie on your back, bend your knees toward you with a controlled movement (using your abdominal muscles), and bring your feet up and over your head until your toes touch the floor behind you. You will feel the stretch in your back," says Murdock.
While your feet are overhead, have your partner penetrate you from the front while they are on their knees or in a crouching position. Hold the position for 2 breaths and then slowly roll down bringing your feet back to the floor.
4. Squats
Not everyone loves them, but there's no denying that when done over time, they build an ass and even make cowgirl and reverse cowgirl easier, says Guide to Wicked Sex creator Jessica Drake.
5. The Reclined Twist
You lie on your back with your arms outstretched and legs together out to one side to form a 90-degree angle with your upper body, says Dr. Jess. He gets on his knees and slides inside for deep penetration.
6. The Fish
Not only does this stretch feel good but it looks pretty sexy too.
"Lie on your back with your knees slightly bent and feet flat on the ground. With your arms at your side press your elbows into the ground. Pull your navel into your spine and arch your back upward. Keep the top of your head on the floor and chin pointing upward. You will feel this stretch in the chest," says Murdock.
Take this move into the bedroom by having our partner mount you on top while you're in the fish position.
7. Reverse Plank
Tone your pelvic floor and your abs by doing a plan with your back facing the ground. This core exercise doubles as the perfect bottom-position.
8. Seated Spread-Leg Stretch
Done repeatedly, this is great for more flexibility in bed.
"When you reach your limit, pause, take a few deep breaths, and lean forward, taking it a little further," Drake says.
9. Child's Pose
This may be the most basic of yoga stretches, but there's nothing basic about in bed.
"Shallow penetration may be just what you need to reach the big Ohhh. After all, your orgasmic platform and the greatest density of nerve endings are in the outer third of your vagina," says Dr. Jess.
Previous
Next
BEGIN