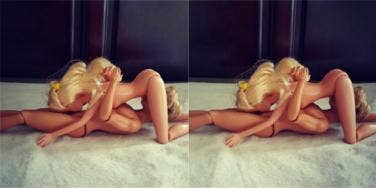 From a standing "O"vation to classic missionary, Barbie & Ken like you've NEVER seen them!
Like any good relationship, sex needs passion to thrive. Oftentimes, the longer a relationship is, the more likely it is for a couple to lose passion and interest in each other. But just because you got comfortable with each other doesn't mean that your sex life has to suffer. So in order to keep that fire alive and the orgasms coming, couples need to find the best sex positions to make things more... interesting.
You can still have your regular, missionary "vanilla" sex if you're more comfortable with that, but don't be afraid to take a risk and take it one step further.
But if you're not into the idea of strangers oogling you as you get it on, there are other things you can do in the privacy of your own home. Try tying each other up or get each other turned on by watching an erotic movie or reading an erotic novel.
And when you're ready, you can take it one step further, and Barbie and Ken are here to demonstrate.
There are as many positions as there are minutes in a day to do it. Sometimes the difference between one sex position to the next can be as subtle as the bending of a leg, while other sex positions seem to require a map and set of instructions on how to get into (and out of) them safely.
While the following sex positions have been portrayed using Ken and Barbie, there is no reason why any couple shouldn't be able to get into them to help them achive better and longer orgasms. Be honest: you never thought you'd be getting sex advice from Ken and Barbie, but they're the ultimate couple in history (since the 60s!).
1. Doggy-style
Doggy-style is a terrible name for such a magnificent position, but it's a little too late to re-brand so we'll stick with it for now. This position is great for morning sex, middle of the night sex, middle of the day sex, we have nowhere to lay down sex, or sitting is not an option sex.
Assuming the lady is wearing a skirt, both parties can stay mostly clothed, making this an easy position to pull off quickly in some saucy places. It's also fantastic if you have terrible morning breath, or are a lazy lady like me and enjoy being humped with very little exertion.
How to make it sexier: Have your guy pull your hair back as he pounds you, or have him press you into the mattress between your shoulders. Bonus if he can pull you up to him by your hair and wrap his hand around your throat. Meow. I mean woof.
2. Cowgirl
This is the money position for me. Something about it gets me off every single time and you know what that something is? Being in control of the depth, the speed, and smacking my partner around with my boobs.
If your fella is a boob man, or you yourself enjoy nipple stimulation during sex? This is the one for you. The man's hands are free, and good golly does he love the view of you sitting atop him. Feeling a little shy? You can still curl into him and be in charge of your own clitoral destiny.
How to make it sexier: Hand your man his phone to take a dirty video as a souvenir, grope yourself, play with yourself, reach around and play with his balls, or simply smother his face with your breasts. Promise he won't complain about something so trivial as breathing.
3. Missionary
Excuse me, but do you have a moment to talk about the foundation of all sex positions: the missionary position? Amen, because have I got some good news for you — this position is loved by men for the view of their partner beneath them and loved by women for all the feel-good-snuggle-love-kissing and adoration that is possible with your partner positioned right over you.
He can go fast, he can go slow, he can go deep, or he can do that infuriatingly arousing clit tease with the end of his dick. Ugh, that first thrust is the beeeeest.
How to make it sexier: If you're bendy, try bringing your legs up to different positions (which of course turns missionary into a whole new position), or try to find that sweet spot of leverage where he can pound the everloving daylights out of you until you're screaming and leaving fingernail tracings in the headboard (or his back). You know the one, the one where you can feel his balls slapping against your ass? Yeah. Mhm. That's the one!
4. Reverse Cowgirl
While this isn't a personal favorite of mine (awkward to get into, weird view of his feet), my man loves gripping my hips and helping me bounce around on his trusty hitchin' post. This one is for the visual men among us, the ones who want to be able to watch everything without any fear or embarrassment of being busted for staring.
How to make it sexier: Play with his balls, rub his perineum, adjust yourself from your knees to your feet, or lie back on him (knees permitting!) and let him take in handfuls of your feed bags.
5. 69
If you and your partner aren't perfectly aligned, this could be a tricky one to pull off, but still worth it to say you tried it. My biggest worry was always my butt being RIGHT OVER my man's face. Turns out, that was the least of his worries.
I'm more of a focus on either giving or receiving type of gal so 69 has never done much for me, but to say we haven't ended up in this position a time or two would be a lie.
How to make it sexier: Have your man slide an anal plug in either during or just before getting into this position, and have him wiggle it around a bit as he noms on you. If you're a competitive couple, he may love knowing the interruptions in your focus on your "job" are thanks to him.
6. Spooning
Ah, another position for those of us with morning breath or a general case of the lazies. No one has to work too hard, it feels good, and the little spoon gets hands all over her body, kisses all over her neck and back, and a general sense of good, cuddly, lovemaking.
This is a position that's meant to be a little slower, a little more gentle. It would be real hard to get into serious thrusting in this position without cramping, so lie on your side and enjoy yourself.
How to make it sexier: Bedside mirror. Duh.
7. Standing
The second position that relies heavily on physical compatibility (and strength). However, if you can pull off standing sex there's a whole new world of possibilities for you. The shower, against an office door, against any door, against a wall, against a mountain, a tree... really anywhere you could stand is now a possible sexual encounter. That feeling of cold hard wall against my back, and warm body against my front, is delightful.
How to make it sexier: Being able to pull this position off in the first place is a feat in and of itself, so you don't have to do much more to make it sexier. An audience perhaps?
Previous
Next
BEGIN